Exposure is everything, that much we know. Whether you're just breaking into the industry or you're a seasoned vet looking to expand into new markets, if you can't gain traction with the clients in your desired markets, then you're going to have a difficult time building your business. It's as simple as that.
Fortunately, The Bash (formerly GigMasters) is now serving up an equally simple solution.
Featured Profiles allow you to maximize your business' exposure by guaranteeing you premium placement at the very top of any search results page. We've seamlessly integrated these windows of ad space so that members like you can ensure your business is the first to be seen by any number of the 30,000 prospective clients that visit our site daily.
WHO WILL BENEFIT:
1. Those who don't rank at the top of the search results for their category and location, whether it's because they just recently signed up, or because they haven't yet built up a strong enough foundation of bookings.
How FPs can help: Gaining a prime spot right off the bat will allow you the immediate exposure needed to grow your business and, in turn, climb in ranking.
2. Those who are already rank at the top of the search results for their primary city, but who don't rank as high in the other locations they'd like to target.
How FPs can help: By acquiring a slot at the top of the pages where you don't yet rank high, you can guarantee your business still gets seen by the clients who search and book there.

WHAT TO CONSIDER:
They're based on the category/location combination of your choosing. When you order your Featured Profile, you'll be given the option of choosing which search results page you'd like it to list on. So when you select "Cover Band" in "Atlanta, GA" that's exactly the page on which you'll appear as a "Featured Vendor" (see below).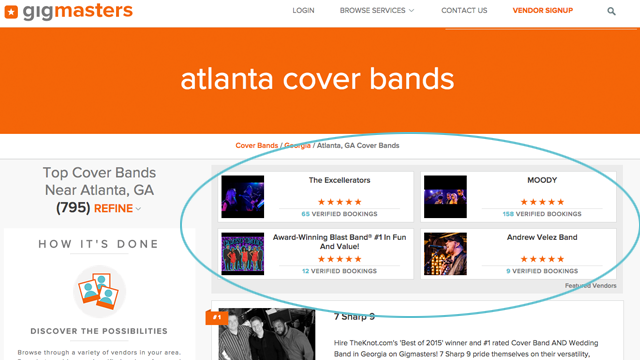 Space is limited. We're currently only accepting four Featured Profiles for any given search results page. Once those spots are filled, you'll have to wait for a future opening before you can purchase a listing in that category/location combination. Because this wait time can be upwards of a year, we advise you reserve and renew your ad space as quickly as possible.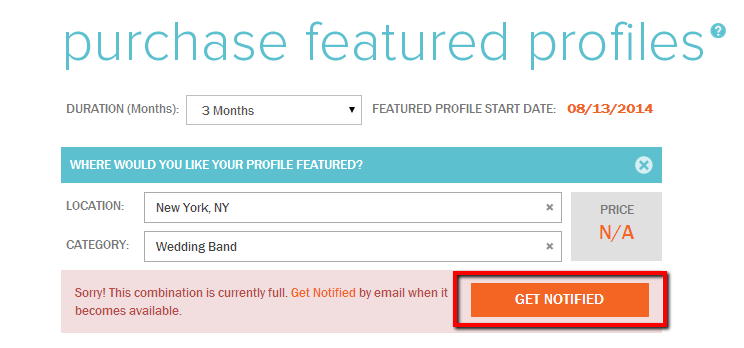 Location, location, location. Just as in the world of real estate, a premium is set here on sought-after locations. The same idea applies to in-demand categories. Featured Profiles for popular categories in major metropolitan areas then will cost you more, as they experience the highest volume of traffic. However, because of that fact, these are the pages with the highest value for you as a vendor. Opt instead for a more obscure category/location combination (i.e. "90s Band" in "Fulton County, GA") and you run the risk that your ad space won't be seen by as many clients. Sure, the package might cost less, but consider the long term value. If the page doesn't experience as much traffic, you won't see the same results as you would were it a major city in which clients habitually search.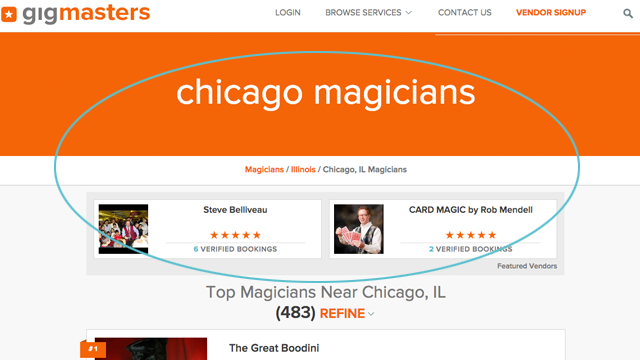 They aren't editable. Once you've purchased a Featured Profile for a specific search results page, it cannot be edited. So really think through which category and location might bring in the most business before you finalize your transaction.

You can call in for advertising assistance. Our team of Account Specialists can help you determine which Featured Profile package will work best for your business. Just give us a call and we can take a closer look at the busiest cities in your area as well as the most popular category labels for your service type. If you land on a page where slots are filling up fast, you can even place an immediate order during your call with any of our reps.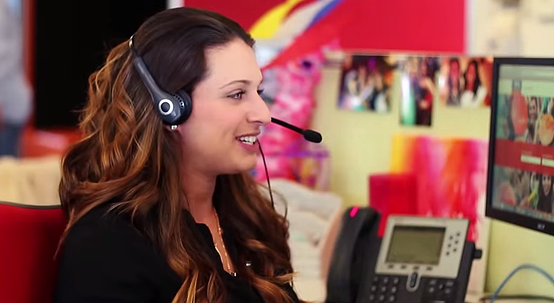 …Or peruse package options at your leisure. Thanks to our Featured Profile Self-Checkout, you can browse package costs and availability for any number of categories and locations. As for managing your active listings, this online tool makes it easier than ever to renew and lock in your business' ad space.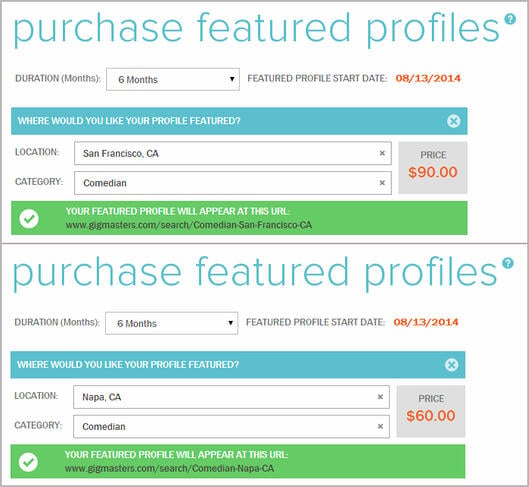 We're constantly looking to develop new ways for local vendors like you to get found. Take our Featured Profiles for a test drive and see how prominent placement can fuel your business with even more leads today.
See here for a complete listing of the Featured Profile Terms and Conditions.