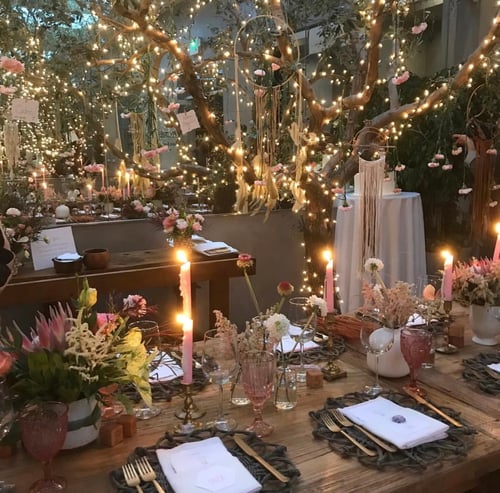 Raise a glass and celebrate the end of the summer! Take advantage of your flowers in full bloom, the beautiful weather winding down, and throw a sophisticated Garden Cocktail Party.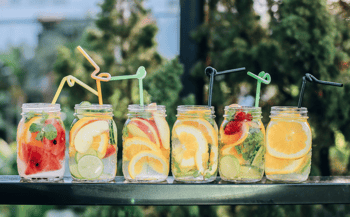 Drinks
Drinks, (arguably the most important part of any party) are definitely the main affair of the Garden Cocktail Party. For this theme, you want to keep your drinks light, bubbly, and fruity. This should definitely include a make your own cocktail station with various types of alcohol, juices, and garnishes (like berries/grapefruit slices/and herbs). Don't forget the tools that go along with cocktail creation like shakers and blenders. This way people can mix and match their preferred bubblies, and everyone can say you served their favorite drink! Frame a few of your most coveted drink recipes and set them out on the bar for inspiration. If you want the hands free host experience, hire a bartender to craft specialty cocktails for your guests. Check out our Pinterest board for more mix and match cocktail inspiration.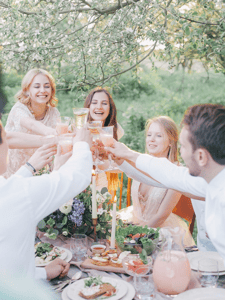 Food
Nothing screams garden party like finger foods! This is the perfect time to make all the foods you love, but serve MINI. Try cranberry brie mini tarts, bite sized spinach quiches, dumplings, and shrimp bites. Stay hands free and hire a caterer to do the cooking and serving. You can also make the party potluck, and have everyone bring their favorite appetizer to share. Put out pretty index cards and colored markers so everyone can label their contributions. Save the best for last & serve mini desserts on stacked cake plates to give off tea party vibes. There's nothing sweeter than being able to have more than one dessert!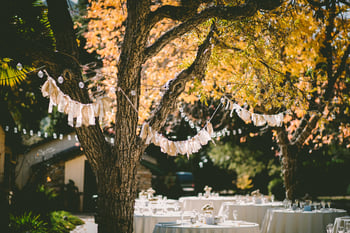 Decorations
Greens and pinks and yellows oh my! A garden party requires a light and fresh color scheme. Decorations come easy if you have any sort of plants growing in your yard. Stock up on interesting vases and cut flowers out of the garden to set on tables. Pull all of the colors together by setting out alternating table cloths. String lights, succulents, and lanterns will also add to the perfect ambiance of a garden cocktail party! Check out our Pinterest Board for more decoration inspiration.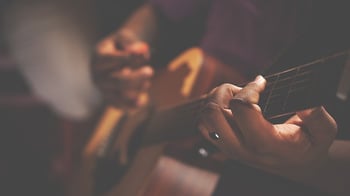 Entertainment & Extras
Add to the light and airy theme, set the mood, and keep the mellow vibes all night long with an acoustic guitarist or pianist. Hire a photo booth and send your guests home with memories that last for more than just one night. Set out flower crowns and champagne bottles for party-goers to use as props. As far as activities go, follow up on the potluck theme by putting colored index cards out for people to write their favorite cocktail recipes on. Collect everyone's index cards at the end of the night and make copies, or email out the newest edition of the Garden Cocktail Party Guide. For a sophisticated crowd, you can never go wrong with setting up a game of croquet. This will be amusing for the seasoned professional as well as the rookie looking to have some fun! Cheers to the party of the season!
Garden Cocktail Party Themed Captions
"You can't buy happiness but you can prepare a cocktail and that's kind of the same thing."

"Why limit happy to an hour?"

"She had a cocktail in her hand and confetti in her hair."

"Alcohol may not solve your problems but neither will water or milk."

"If life gives you lemons, make lemonade and find someone whose life gave them vodka."

"I have mixed drinks about feelings."

"To me, 'drink responsibly' means don't spill it."

"People who wonder if the glass is half full or half empty miss the point, the glass is refillable."
---
Share your very own Garden Cocktail Party posts with us! Comment below, and tag us on Instagram (@gigmasters) - we would love to hear from you!