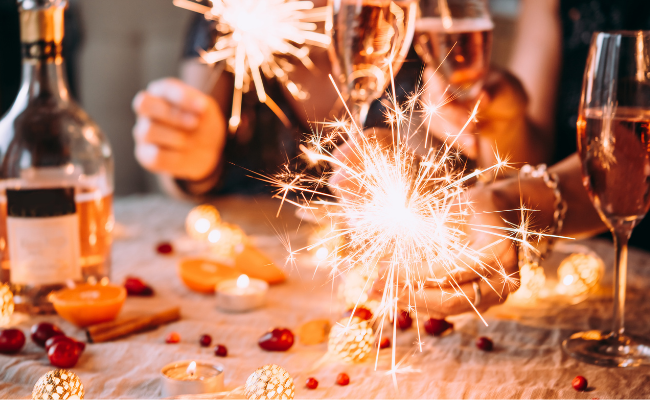 As the holiday season is quickly approaching, party hosts are starting to plan for celebrations with their friends, family, and coworkers. While we expect many more safe in-person celebrations to happen this year compared to last, virtual events may also continue to be popular option for companies that are still working remotely and for family and friends who want to celebrate with those near and far.
Keep reading for tips and advice for booking more holiday events this year.
1. Connect with Past Clients
One way to think about generating more bookings this year is to connect with some of your past holiday clients. All it takes is sending a quick email checking in with them, letting them know you're available for events this year, and sharing any new services or holiday offers available. If they weren't already thinking about booking vendors for their holiday event, they are now!
When reaching out, we also recommend sharing how you plan to adhere to health and safety guidelines, if it's an in-person event. Party planners will feel more comfortable booking you if they know you are following safety guidelines and have a plan in place for keeping them and their guests safe.

"I'm reaching out to all my former clients asking if they would like to experience a NEW virtual visit from Santa this year."
- Around the Town Entertainment | Santa Claus
READ MORE
2. Refresh Your Online Presence
Whether it's your personal website or profile on a booking platform like The Bash's, make sure you are refreshing it with any upcoming holiday photos, services, packages, offers, and more!
Here are some ways to make sure your profile is ready for this holiday season:
Reviews: On The Bash, take a look at the order of your reviews to make sure the best and most recent ones are at the top. Also, if there are any past clients who haven't left you a review yet, consider reaching out. Learn more.

Update your bio/description: We recommend updating your bio to include any special holiday services or packages. You can also add any safety guidelines you are adhering to during this time to give party planners peace of mind when hiring you.

Add new photos & videos: Do you have any photos and videos from holiday events last year? Update and refresh your profile with these to show party planners what it would look like hiring you during the holiday season!
"During your downtime, focus on updating your profile or website. Use this time to do things for your business that you normally wouldn't have time for. "
- Inlikenessofyou | Caricaturist
READ MORE
3. Perfect Your Virtual Offering
We anticipate that the virtual event trend will continue as an option through the holiday season. If you haven't already, start perfecting your virtual performance and think outside of the box on how you can really bring your performance to the next level.
If you are offering virtual services this holiday season, here are some tips:
Put a holiday spin on your virtual services: Try to find a way to incorporate each holiday in a special way. This could be as simple as changing your virtual background (check out our 50 Free and Festive Christmas Zoom Backgrounds) or dressing for the occasion.

Practice & perfect your virtual performance: If possible, practice your virtual performance with friends and family. Rehearsing will help you resolve any technical issues before any live events. Here are some additional tips for your virtual performance.

Create a holiday package: Consider creating a holiday special for your virtual performances. For example, this could be throwing in an extra drawing or two as a caricature artist or offering credit towards a future booking.
If you haven't already, be sure to opt into virtual services on The Bash. By opting in, an icon paired with "virtual services offered" copy will be added to your profile and you'll be listed on our virtual services page.


"Practice, practice, practice. Don't just jump in and think your original show will work online or socially distanced. For example, it took the experience of doing online shows (we've done 500 in the last 4 months) to really help us learn how to switch up our in-person shows to be super interactive, even though we can't get close to one another. Ask friends and family (or past clients to help keep them connected to you) to do practice runs so you can take images and video clips. This helped us a ton!"
- Happily Ever Laughter | Costumed Character
READ MORE
"My #1 tip is to pay attention to your setup! Invest some money in some decent lighting and make your setup something people will enjoy looking at visually. I recommend still getting dressed for your event, just like you're seeing them in person."

- Mystic Kathryn & Associates | Fortune Teller
READ MORE
4. Promote Your Holiday Services and Offers on Social Media
Sharing how you plan to perform this holiday season on social media is a great way to connect with new and past clients. Think about what you want to post for each upcoming holiday that would get party planners excited and interested in booking you this year!
Here are a few ideas on how you can promote your business this holiday season:
Post photos and videos: Sharing photos and/or videos is one of the best ways to promote your business during the holiday. Post some photos from past holiday events, put together some images of past client testimonials, or even share a sneak peek into what a virtual performance would look like this year.

Promote all your holiday services and offers: Make sure to share any special holiday offers, discounts or booking incentives on your social pages to encourage planners to book you now.

Spread the word: Word of mouth can go a long way in terms of generating new business. Consider sharing your holiday services with friends and family members and see if they'll repost or re-share your social posts.
"To promote virtual gigs, I keep posting videos on all major online platforms, publishing stories, and occasionally tweeting my thoughts. To increase your audience, obviously promote the details and specifics on all social media. The time of day, hashtags, and call-outs in the upcoming performance are also pertinent. These have been ways that I have successfully found my virtual audience."
- Rich Barry | Classical Guitarist
READ MORE
-
Do you have any tips or advice for celebrating safely this holiday season? We want to hear! Comment below!
Looking for more booking tips? Check out our complete guide to booking more events for your business.