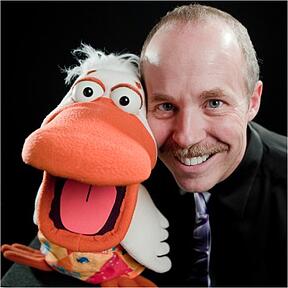 We've all seen one. Whether in person or on TV, we've witnessed their undeniably unique craft in action. From the good old days of Señor Wences to the sold-out shows of Jeff Dunham, they've entranced children and entertained adults alike. But how many of us have ever stopped to think about the actual career trajectory of a ventriloquist? What might inspire an individual to pursue the puppet, if you will, and how might he or she go about becoming a respected professional in the field?
These were the questions at the center of my latest interview with renowned ventriloquist Tom Crowl. The two of us discussed what it means to pursue unconventional passions, and how important that desire to both teach and be taught is to those in this industry.
Veni Vidi Ventriloqism
Tom Crowl is no stranger to the performing arts. For over 30 years now, he's been traveling the country, entertaining audiences of all ages. His partner, however, wasn't always a puppet. "When I was about four years out of high school, I decided to pursue a career as a professional magician… By 1990, I had met the woman who would become my wife and the two of us began performing together," Crowl shared.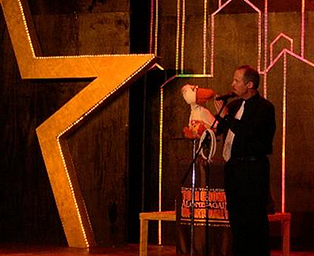 Yet despite their success as a spirited husband and wife duo (think, the Sonny and Cher of magic) Tom and Dierdre's act was eventually called to a halt when she was presented with an idyllic – albeit more traditional – job offer too fitting to pass up. Rather than audition, train, and travel with someone new, Tom decided it was time to try something different. With years of on-stage experience under his belt and a puppet on his hand, Tom set out to redefine his role as a live entertainer.
Educating the Entertainer
So how exactly does one make the leap in status from rookie to professional? Ask Tom and you'll hear a resounding "practice!" He asserted, "There's not a day that goes by that I don't work on this art. If you become comfortable with where you are, your skills will start to deteriorate." Accordingly, Tom has taken to filming all of his performances and, like an athlete, will scrutinize play-by-plays of his lip control, facial expressions, puppet movements, even the audience's reaction time. By watching recorded footage of his act after the fact, he's affording himself the priceless vantage point of a client as well as a springboard for learning from any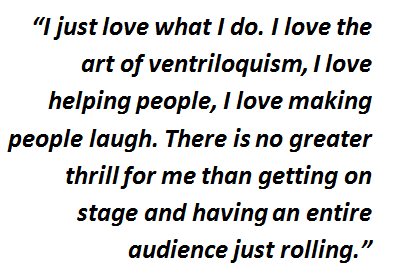 past mistakes. Naturally, his skills have improved tremendously as a result.
But the push for education doesn't stop there. Tom has since taken all of the knowledge and experience he's amassed over the years to create the world's first comprehensive online course in ventriloquism. That's right, Tom has single-handedly constructed the only innovative, interactive series of time-released lessons specifically designed for aspiring ventriloquists. Since launching "Learn Ventriloquism", Tom has worked with more than 2,500 individuals. "I've been thrilled with the number of people who have signed up. It's created not only some great ventriloquists, but really some great friends for me personally."
And that there is the sign of a tried and true professional. One who has taken not only his own education seriously, but who has, in return, made it a point to share that acquired knowledge as a pro-active tutor and motivational coach to fellow entertainers in the community. This is the degree of passion necessary to become a professional in anything, really. So forget that hour here, hour there approach. Adopt Tom's nonstop, you-can-never-know-enough mentality and you're bound to see marked results. But before you take off to hit the books, I leave you with…
Five Fun Facts About Tom Crowl:
The same puppet maker responsible for Jeff Dunham's "Peanut" also builds Tom's signature sidekick, "Dangerous the Duck."
He averages 250-300 performances a year.
At that rate, Tom must rotate through four different dummies of Dangerous to keep up with the constant wear and tear (and even still, he requires an entirely new puppet to be constructed each year.)
Tom is one of the three partners of the legendary Maher Studios.
About six years ago, Tom decided he'd incorporate up-close street shows into his performance schedule, as a way to challenge his ability to perform on his toes. (So keep an eye out the next time you're strolling down the famed Beach Street USA!)
-