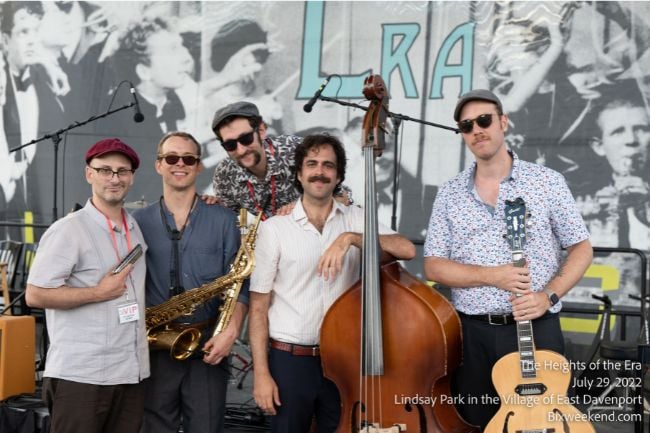 Meet Abraham, bassist and band leader of Sweet Tooth Music, a jazz band based in New York City. Since 2018, Sweet Tooth Music has been bringing pizzazz and sophistication to all types of events with its vintage dance and jazz music. Learn more about their energetic and groovy music!
Sweet Tooth Music provides a unique atmosphere and sound that makes any event memorable. Their attention to detail and personalization ensures each performance is customized to their client, whether they're providing a trio or a big dance band. Continue reading to learn more about how Sweet Tooth Music brings the party to every celebration.
About the Sound of Sweet Tooth Music.
Tell us a little bit about yourself, what you do, and how you got started!
I'm a bass player and band leader out of New York City, specializing in performing jazz, blues, and roots music for all occasions with Sweet Tooth Music. I started working in event music around 2011 with a gypsy jazz band called The Bailsmen. My dad, of all people, who is a solo guitar player out of Seattle, told me about The Bash. He was getting a lot of leads and exposure for his event work out there, and I thought it would be a smart move for my group as well. In the 12 years I've been booking gigs through The Bash, I have performed for Fashion Week, celebrity weddings, and Fortune 500 companies. I've also been very touched by some of the love stories we've participated in at the smaller, intimate weddings.

Can you share some details about a recent event?
During the pandemic, we had absolutely no gigs come in. As things started opening back up in 2021, I was contacted by a woman in Davenport, IA who had a vision to start a traditional jazz music festival called The Heights Of The Era. She saw our videos on The Bash and immediately booked us. It was a lifeline to be able to play in front of an audience after a year hiatus. We got to travel to Chicago and Iowa and play on a festival stage. It was unreal. This summer was our third year there, and we were able to parlay the gig into a three-date tour. Next year, we hope to add more dates and do a full week in the Midwest.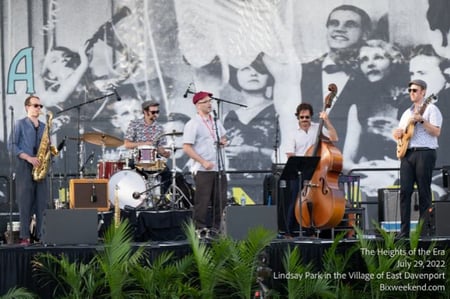 What is your key to closing leads?
I think of this as a hospitality business first and a music trade second. So, when communicating with a potential client, having some flexibility goes a long way. Whether it's changing the band size, being in the background or the life of the party, or just adding a half-hour to load-in, I find that adjusting our offers really helps out. Of course, this doesn't always work. I can't necessarily hire an acoustic jazz trio and play electronic versions of pop covers. The upright bass and saxophone can only do so much!
What type of events are your favorite to get booked for, and why?
I love getting booked for wedding dance parties. Our band is not your typical top 40 band, and we are a bit unexpected. I know that the client who wants our blend of roots, New Orleans, and swing-jazz music for their reception is going to be a little off the beaten path themselves. The party will certainly be memorable and not your typical wedding when we're providing the dance party.
What is your top advice for other jazz bands looking to get booked?
My top advice for other jazz bands is to choose your band members well. So much time is spent in the event world either traveling or waiting in a green room. If you have a talented, professional crew who gets along well, you're going to have a great time on the gig. It also helps for your stage presence to be up there with good friends, smiling and joking around.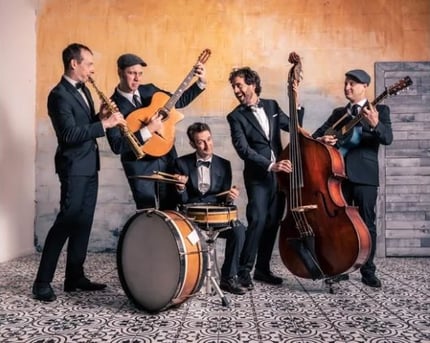 What are you looking forward to most about the future of your business?
I'm looking forward to seeing where the trends in style and venues evolve. When I started out, barn weddings and the rustic feel were very in. Everyone wanted an Edison bulb and suspenders. Now, the look is a little more ritzy, music tastes tend to be more eclectic, and the venues look more like Italian villas. I'm curious to see where it goes from here.
_
"We're a fun band that does a variety of upbeat jazz, Americana, and rootsy music, activating the party with New York edge and sophistication. Our seasoned and passionate team creates tailor-made, toe-tapping events to remember."
- Abraham Pollack | Sweet Tooth Music
---