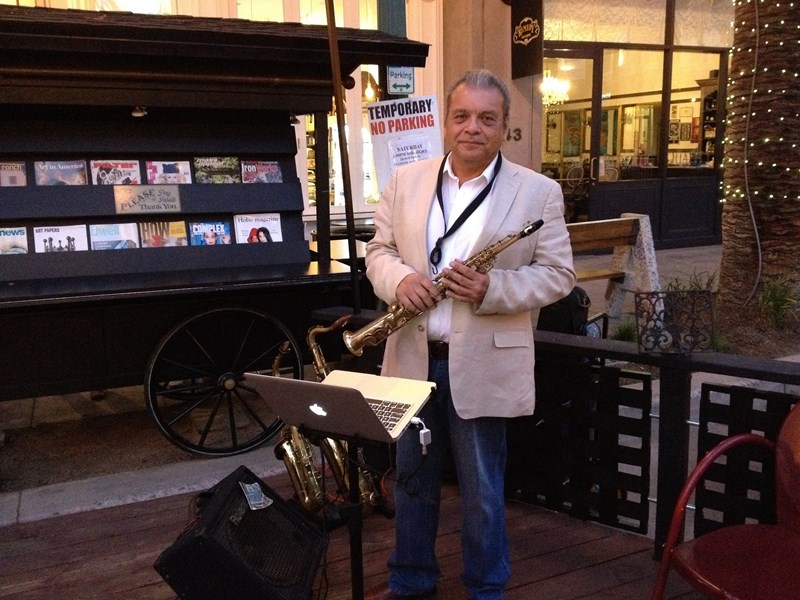 This saxophone player's lucky number is 200 because that's how many bookings he just hit on GigMasters! The man behind the saxophone is Ruben Cantu. Ruben has been performing professionally since the age of 15 and today, he plays a wide variety of music (from Latin to Bollywood to EDM) that wows clients at any occasion. We reached out to Ruben to get his tips and tricks of the trade.
What originally sparked your interest in music and how did you get started playing the saxophone?
I started the saxophone in 4th grade, when I was recruited by the school band teacher. Soon after, I discovered for myself that I was pretty good at it. I was not afraid to show a crowd that I could play, even as a child. In high school, I played in local horn bands and played for a lot of high school dances. In college, I studied how music works. I just kept going. I made my career in music.
What type of music do you typically play?
I would say the vast majority of gig requests are for Latin music, especially dance music. I developed over 4 hours of Latin music alone. Another surprising specialty is playing Indian Bollywood music on the saxophone. I always get a kick out of seeing the faces of Indian guests when they see a non-Indian play Bollywood. When I do, the cameras come out. I grew up listening to and performing soul music in the 1960s. Playing rhythm and blues is a natural for me. Recently, I started getting into EDM (electronic dance music). Again, the cameras come out when guests are in disbelief when they see this old guy playing some Calvin Harris, The Chainsmokers, and Rihanna.
Do you have a favorite genre?
Playing Bollywood music really separates me from the crowd. First, I had to learn the music, then I had to Westernize it and make it palatable to all audiences. Also, I notate every song on my 1000+ song list. EDM is becoming my favorite genre to perform. The music gets people dancing and I love to see that.
What would you say is most unique about your services and offerings?
Living in the Los Angeles area, you have to be willing to play for audiences of all cultures, foreign and domestic. I have performed for Indian, Pakistani, Nigerian, Middle Eastern, Russian, Korean, Cuban and Latin audiences form all over. I try to learn some pop music from their culture, not just to impress them, but to add to my ever-growing song list.
Every year, I am inundated with wedding requests. I have so many wedding requests that I have to turn down more than I can handle. Indian weddings are my number one wedding gig. I tell my friends that playing for senior communities is my day job. There are so many of these communities everywhere. I can do several a week, sometimes twice in one day. Corporate Christmas events are also my main December money-maker. I perform at some amazing venues during this time.
You recently hit 200 bookings (and counting) on GigMasters! What do you feel has attributed to your success?
I try to place a bid on every lead that comes my way, but I also have to decline so many because I am already booked. Playing music IS my day job AND you have to treat it as a business, like your life depends on it. I spend my day preparing, promoting, notating, practicing, researching what to learn next AND driving to gigs. A lot of driving.
What tips would you give to a new member of GigMasters looking to achieve similar success?
For the next upcoming GigMasters saxophone soloist, start by developing a one-hour show and then build from there. Also, dress to impress. Ladies often mention that they like the way I dress. I usually wear a suit or a tux. Speaking of ladies, I notice that the vast majority of customers who do the hiring are ladies. They like recognizable music. Make sure you impress them. Finally, you have to invest in yourself. When you have the best equipment, that's going to help you sound good!
Clients Love Ruben!
"We hired Ruben for our destination wedding in San Diego. I had no idea he would knock it out of the park. He was able to perform every song (both American and Punjabi/Bollywood) live on the saxophone. I had a special request to merge two songs as part of my bridal entrance and again, Ruben delivered. He showed up very early the day of the wedding to set up and started playing earlier than expected and he also stayed later for cocktail and finished up strong. He was honestly the best addition to our special day and I am so glad we stumbled across him. I would recommend his services for any event in the future. Our guests at the wedding were asking for his card. :)"
- ALLISON K. I MANCHACA, TX