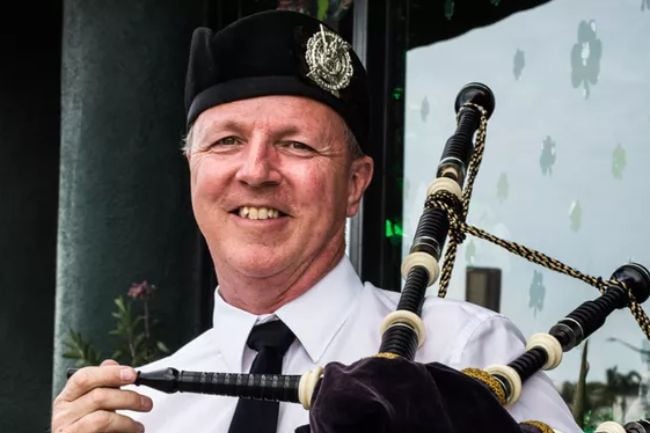 Meet bagpiper Stephen Wilkinson, who has earned 9 Best of Award badges and has over 100 reviews with an average of 5 stars! He is an expert at playing traditional bagpipes with over 25 years of experience.
Stephen has a wide variety of Scottish, Irish, and Celtic songs in his repertoire. He has performed bagpipes for weddings, funerals, celebrations of life, birthday parties, St. Patrick's Day celebrations, and more—always fully dressed in a kilt and jacket! He considers himself an ambassador of the bagpipes as he turned his interest in learning the bagpipes into a passion and a successful career. We recently caught up with Stephen to learn how he got started, his key to getting 5-star reviews, and more!
About Stephen and How He Finds Success as a Bagpiper.
Tell us a little bit about yourself, what you do, and how you got started!
I am a Professional Bagpiper. I got started about 25 years ago. I took my daughters to a Highland Dance teacher and met a bagpiper outside waiting for his daughter, I told him I always wanted to learn to play, and he said that their band would teach me for free! I signed up immediately and loved it! I continued focusing on the bagpipe and how to play it well and make it sound wonderful. Soon I started getting approached to play for events like weddings and funerals. Ever since, I've been getting more popular and really enjoying myself playing at all these different events. I believe I am an ambassador of the bagpipe. My focus is to bring a tuned, beautiful sounding pipe to every event and play it with skill and expression. I am there first and foremost to meet the client's desires.

Can you share some details about a recent event?
I am called upon for many events, but the most popular events are memorials/funerals or weddings. Here are two examples of reviews I've recently received.
Memorial ceremony:
"I booked Stephen for my fathers memorial party. I had high hopes… but was not prepared to be as totally blown away as I was.
Stephen was amazing. He was so good at returning emails and phone calls during the planning phase, and kept me at ease throughout. Very professional and kind. On the day of the big event, he was on time, looked fantastic, and… those PIPES. What a true talent. Not a dry eye in the house. He then proceeded to stay awhile and play for some of the guests. He helped me pick the correct songs to honor my father, and I can confidently say he really made our day. I highly recommend Stephen and his glorious bagpipes."
A Scottish Wedding in Southern California:
"I booked Stephen Wilkinson for my destination wedding in Orange County. We wanted to add a touch of home to our ceremony (my husband and I are both Scottish). We were delighted with Stephen's performance. He played our song choices perfectly. I had kept one of the song choices a secret from my husband and Stephen did a fantastic job with the surprise. Our guests, who had mostly all travelled from Scotland, were overcome with emotion and there were a few happy tears when he gave a magnificent performance of 'Rowan Tree'. Communicating with Stephen from overseas was seamless via email and he also kept in touch on our arrival in CA. His professionalism and kind manner made him a pleasure to work with. I would highly recommend Stephen."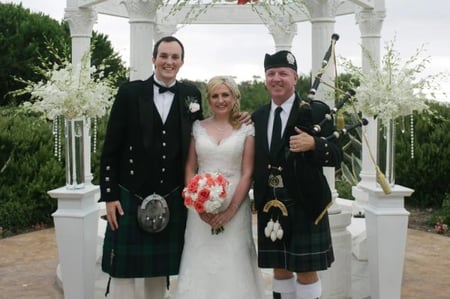 What is your key to getting booked for events?
I think the key to getting booked is a prompt response, a great profile, and being personable. For some people, this is the first time they've hired a bagpiper, and they may not know what they want, so I try to be as approachable as possible. Flexibility is also key on the day of the event. Last-minute changes are never a problem.
What is your key to getting 5-star reviews?
Preparation is key. Show up on time and sounding good goes a long way to getting a 5-star review.
What is your #1 tip for other vendors looking to get booked?
Be kind. It's a busy world out there, and people are stressed more than ever. Take your time, and get to know the client and their wishes, and do your best to make them come true.
What is your favorite feature on The Bash that most helps you get booked?
I like the videos. I've got a super one of me playing Amazing Grace. It's hard to record a bagpipe because the sound is coming from four directions at once, but that day I had a true pro set up the microphone, and it was magic. I also like getting texts which help me get that response in and provide all the details I need to develop an accurate quote.
---