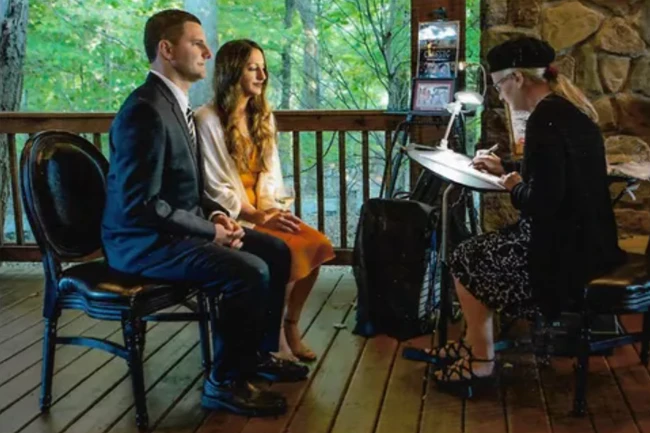 Meet Emily Byrne, a caricaturist and long-time member of The Bash. She has over 20 years of professional experience creating caricatures and silhouettes for everyone from babies to one-hundred-year-olds.
Party guests are amazed by her ability to create spot-on and light-hearted likenesses in only a matter of minutes by pen or scissors. The best part is, her caricatures and silhouettes are not only a customized experience for every guest, but also a party memento!
Emily offers in-person and virtual caricatures and silhouettes that can be enjoyed no matter where clients are based. She's an award-winning Gold member of the International Society of Caricature Artists, proving her passion for her talent! We recently caught up with Emily to learn more about her successful career and what she's looking forward to most in 2022.
Learn More About Emily and Her Success as a Caricaturist and Silhouette Artist
Tell us a little bit about yourself, what you do, and how you got started!
I'm a live caricature and silhouette artist! I mostly do weddings, and corporate events now. People are always amazed to see an artist turn a blank piece of paper into a fabulous memento of an event. As for starting out, I was the kid who always drew faces, from the time I was a toddler with crayons on the walls to this morning when I was doodling in my sketchbook. I had no idea that live caricatures were a viable career until I was in my 30s when I saw a live caricaturist displaying her craft at an art festival. I was hooked and started practicing right then.
To this day, what has been your favorite memory as a caricaturist?
I would definitely not be able to choose, each event brings something special to it. I'll tell you about the most recent wedding I did—the groom had picked up the wrong pants the morning of his wedding...they were way too LARGE! Someone had to drive back to the seamstress who had altered HIS pants and get them before the ceremony (they got back in time, whew!) Of course, when I drew the bridal couple's caricature, I drew him in droopy, oversize pants. They laughed SO HARD when they saw it!

Another standout memory was when I cut live silhouettes at the official Star Trek convention (for four days!) in Las Vegas a few years ago! All kinds of alien profiles! Folks were inserting my silhouettes into their albums of celebrity photos and autographs.

Can you share some details about a recent event?
One of the below photos is from my most recent event for The Bash, an "ugly sweater" holiday party. So much fun drawing folks wearing these! Ho ho ho! The other photo is a silhouette I cut of a caricature artist friend and colleague Courtney (who is also on the Bash) at a gig we worked together.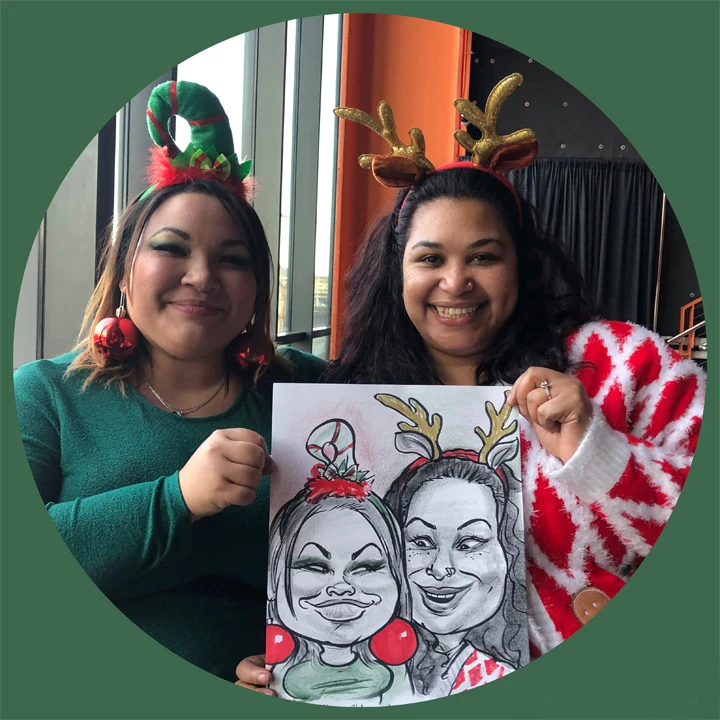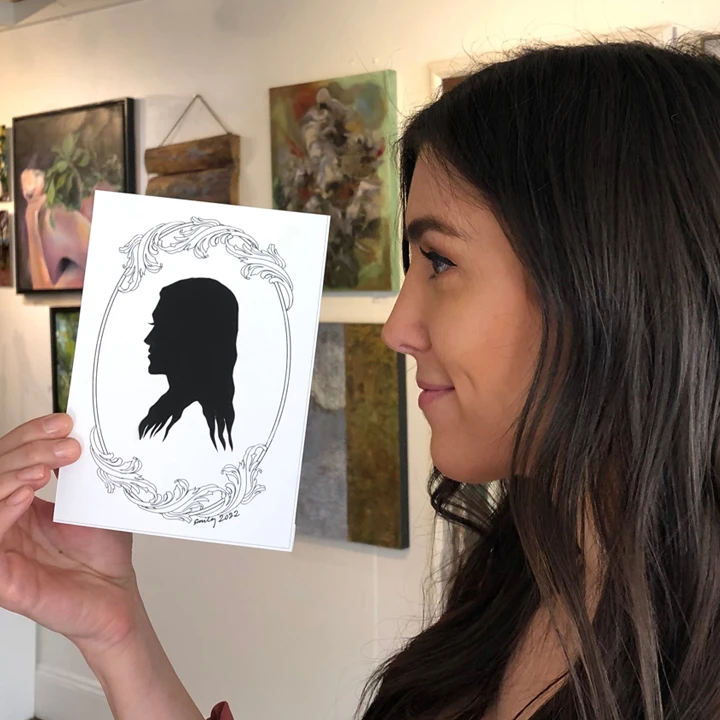 What is your key to getting booked?
I am very proud of my profile on The Bash. I believe my photos speak better than words about my work, and my reviews reveal my professionalism. I try to answer quickly, offer suggestions about how I can better serve clients for their particular event, and be flexible about everything—other than my rate. That's fixed because it's fair to all my clients and me!
What are you most looking forward to in 2022?
Being busy putting smiles on faces, both literally and figuratively, after a long period of gloom for everyone! I am thankful my job makes people happy both at the party and long after. I also look forward to booking more silhouette gigs! Every year I do more of them and I'd love to get to 50/50 caricatures/silhouettes.

What is your #1 tip or piece of advice for other vendors looking to get booked for events next year?
Make sure you show prospective clients what makes you unique—that's why they should book you! Then at the event, put 100% into giving them the best experience.
---
What's your top advice for other vendors? We want to hear! Comment below.