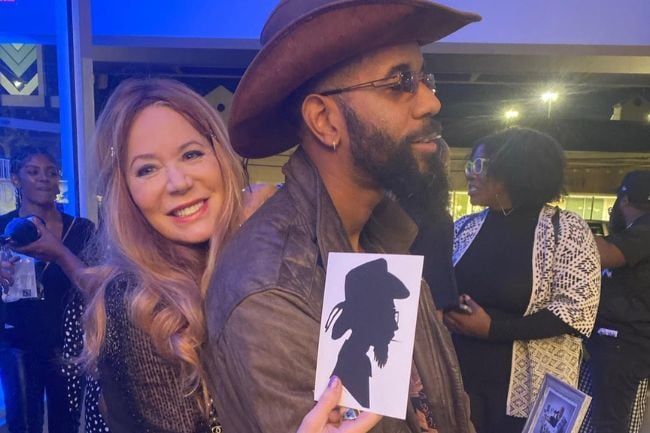 Meet Cindi Harwood Rose, a longtime member of The Bash and the world's fastest silhouette artist! Her average rating is 5.0, and she's received 14 awards for her success on The Bash.
Cindi can cut between 60 and 100 detailed silhouettes within one hour! Her specialty is entertaining guests while also providing them with a lasting keepsake. She has experience providing her service at weddings, fundraisers, corporate events, and more. She's even performed her silhouette artistry all over the world! We recently caught up with Cindi to learn more about how she got started, her success as a master silhouette artist, and her top tips for other vendors. Keep reading to find out what she had to say!
About Cindi and Her Success as a Silhouette Artist.
Tell us a little bit about yourself, what you do, and how you got started!
My mother was an architect and Papercutter in the German, French, English, and Polish styles. I've been drawing portraits since I was 8. I could just cut profiles, Valentines, and snowflakes too. I got an amusement park job at 16 upon auditioning. It paid for my two college degrees from UT Austin in art and communications. I flew to Paris and studied French Impressionism.
As a teen, I did portraits and silhouettes at Disneyland, Disney World, and Astroworld while earning 5 degrees! I had agents and my Screen Actors Card from appearing in national movies, TV shows, and commercials. I was Miss Austin, Miss Texas Elite, Miss Houston, Miss OU, and this was because of my art and platforms to help children with disabilities and cancer survivors. The agents saw me on magazine covers and booked me nationwide, including London to silhouette HRH for The Queen. I silhouetted Mickey Rooney, Muhamed Ali, Elvis Costello, Sarah Duchess of York, MaMa Cass, and many more.

Fast forward, my agents passed, and we are now in the world of social media. My hometowns (Houston and Aspen) are not convention cities. Eagerly, over 10 years ago, I joined The Bash in Houston, NYC, and California. I am able to travel and see our beautiful USA and Canada. I have done over 12 Google and Hermes events around the USA and Canada through The Bash. If you include my 3 listings, I have over 100 bookings from The Bash and over 60 5-star reviews. Yes, I also do silhouettes in my areas of Houston, Austin, NJ, Dallas, San Antonio, Nashville, Louisiana, Denver, and Boulder.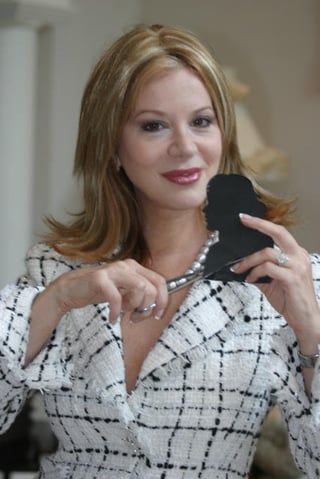 What is your favorite memory as a silhouette artist?
My most fun event was a military wedding in Oklahoma City. The love in the room was overwhelming. I adored doing silhouettes in the World Trade Center, Mac Cosmetics NYC, and for Major League Baseball in NYC. Google gave me the T-shirt, gift bag, and their five-star food!
My second favorite booking from The Bash includes the museum of NY and the museum of San Diego for the patrons. I understand giving back to patrons. They appreciated my hands-on talents. NY had some Broadway stars present. My motto is "have scissors, will travel." In 1983 pregnant with my first child, I made a world record; 144 great silhouettes in one hour. It has not been met again. At parties, I can cut 200 beautiful silhouettes in 4 hours while conversing and empowering others.
What is your key to getting booked?
I answer bids right away. I tell clients I will arrive early at no extra fee. I do explain there is a three to four-hour booking minimum. I tell them I stay late to clean up. I try to get and pay for my hotels, and transportation to all airports and destinations. I explain I am not opposed to being a servant to them, it's their day! I follow up with a phone call. I send a contract. If they ask me to also marry them (I have the certificate) or babysit an hour early free, I say yes. I will help set up the room and put the party favors together. I also tell them about my extra talents. I am a psychic and can do tarot too while I do silhouettes. I also offer many free extras.

I am very down-to-earth, engaging, and funny, and am the only silhouette artist in the world to take DisneyWorld's training in public personality. This really helps. My friendly personality attracts a crowd non-stop while I work. I can cut more silhouettes per hour than 2 other silhouette artists together with more detailed quality. It's a natural talent and passion. I do not use a scientific formula to do this. I channel the third eye where the subject and I meet.
Do you have any tips for other vendors on how to get 5-star reviews?
I will dress in/costume, and I give free guest books at weddings with duplicate silhouettes. I arrive early, and I have even babysat children free when early. I also stay in communication before and after all events.
What is your #1 tip or piece of advice for other vendors looking to get booked for events this year?
Don't just do your job, do 150 percent more. Arrive early, that's a must, be clean, dressed classy in theme, do not refuse anyone's requests, and stay late free if possible. Don't take a break, unless you worked 4 1/2 hours, and prepare ahead of time. Make sure to do the CEO, hosts, and family, and give extras silhouettes. Don't put a sign up about you, it's not a circus. Don't have a write-up about your history. If they are interested then they will look you up. Please be kind. Stay in touch twice weekly with the person who hired you. Don't stick silhouettes or art on your mats. Let the art team do this, it cheapens your work. Sign your art by hand, in front of everyone, it is worth something. Charge for your work, unless you are a teen or 20. You cheapen the art (and are rarely hired unless in LA), and it lowers the value of your work.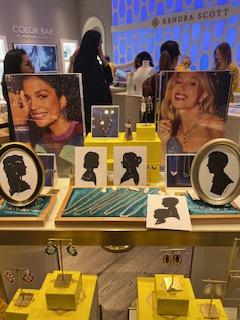 ---