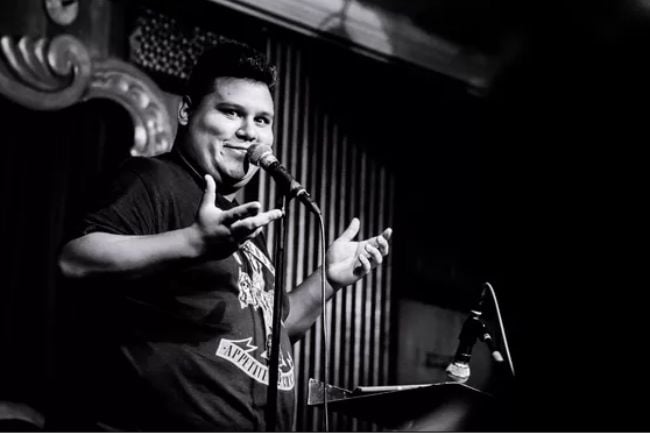 Meet Jayson "Avocado" Acevedo, a standup comedian from Chicago, IL. From traditional standup to musical improvisation comedy, Jayson provides an entertaining and funny experience for any event.
Jayson has performed comedy for every event type, including birthday parties, baby showers, weddings, anniversary parties, corporate functions, and more. He has also performed nationwide, in 5 countries, and in two languages! Plus, he caters each show to a specific guest, event, or holiday. We recently caught up with Jayson to learn about how he got started and how he finds success as a comedian.
About Jayson and His Success as a Comedian.
Tell us a little bit about yourself, what you do, and how you got started!
"For me, being on stage, making people laugh, smile, and helping them momentarily forget all the unpleasantness in their lives… that isn't a job or a hobby… it's how I stay alive."
I never really start any interview this way, but I need to stress how monumental my older sister was in introducing me to the concept of performing. When I was three, my sister apparently had nothing else better to do than to use the family camcorder & stage these mini but elaborate shows in the living room of our little Rogers Park (Chicago) apartment. She would line up every stuffed animal we owned behind me, set up/hang up a nice bed sheet behind me, and tell me to "Go." So, I did. I wasn't shy. I wasn't afraid or ever at a loss for words or ever tired of "going." I guess I went to a place where I felt most free, secure, and playful. I wasn't just playing. I was putting on a show. Thanks to her, I haven't been able to stop, and I never really let her know how influential she's been to my overall journey.
As I got older, I knew I wanted to become a multitude of things. I also started to understand that stand-up comedy was actually a thing that people could do. Improvisation was also something I picked up through the television show most improvisers reference as the first time they knew they wanted to improvise, and that show is "Whose Line Is It Anyway?" As a kid, I was always a talker. I was the class clown and wasn't afraid to get sent to the principal's office or afraid to have any one of my teachers ask to have a "conference" with my parents.
I got into theater in high school, performing in musicals and plays. I finally got introduced to improv around the age of 16 and I fell in love with it immediately. That led to some classes and eventually, opportunities to perform at the Second City. Stand-up wasn't on my radar then, but I was slowly getting into it. I never really saw myself as a stand-up to be honest. But with shows in France (Paris), Scotland (Edinburgh) at the world's largest arts festival, Los Angeles, & of course, Chicago under my belt, I guess you can say I am. I call myself a performer. I've been called a comic. I consider myself a multifaceted performer. I do more than tell jokes in my act. I put my body into my jokes, move a lot, I yell, scream, sing, and mean what I say when I'm up there. A person once described my set as "showing an audience all that I can do creatively & comedically in an incredibly short amount of time. Leaving them wanting more and wondering what more I could've done." One question I get asked a lot is, "what do you talk about up there?" And the answer is simple: whatever may be going through my mind that day. I touch a lot on race, politics, everyday life, absurdity, silly observations, random thoughts and the occasional joke about my belly. I like to think I have a joke for everybody. Even you vegans… even you.
I want to be recognizable and respected all over the world. I want to be a universal attraction, and I'm happily and steadily working towards becoming that. I'm trying to tell jokes in as many parts of the world as I can. I wish to see the world and brighten up each place I go to just a bit. At the end of the day, yes, I do this comedy thing to spread joy, laughter and to help people momentarily forget all the unpleasantness they may be going through, but I'm also doing it for me. Not for attention, accolades or because of the high I get during every performance. I do it so I can stay alive, and that's real.
Hopefully, that's enough. As far as The Bash goes, I remember always seeing or hearing about other online platforms specifically geared towards booking both public and private gigs. Once I decided I was in a good place creatively and financially, I made the leap into the world of The Bash and have found many wonderful opportunities that have led to so many unique experiences, people, and memories. One of the best professional moves I've ever made.

Can you share some details about a recent event?
I'll go with my first gig from The Bash, which still feels recent. It was also just so memorable due to the fact that it was indeed my first gig booked through The Bash, but an event that can easily fit into the category of "Don't Judge a Book by Its Cover." Do yourself a favor and read the back of the book or even the inside sleeve with a blurb or two about the author. You'll learn more that way. Just my advice.

November 19th, 2022. LaPorte, Indiana. The Fraternal Order of Police Lodge #75. I was a bit worried as I know my energy, which is very high, is not for everyone. Although I pride myself on making sure I entertain the whole room, this gig almost felt like a gamble. Why? Cause in LaPorte, Indiana, I stick out like a sore thumb. For a multitude of reasons (culturally, city boy and very loud and proud of being me: a Latino American entertainer who isn't afraid to be upfront and loud in anyone's face to get a laugh.)
I'm fearless, outspoken, and unapologetically me. My act also isn't politically charged, but I am of the school of thought that when I do pick up a mic, it's because I'm ready to start a revolution. And if that doesn't already make you feel some type of way, then we're in for a good time. Not just me. I got some hot takes is what I'm saying. Silly hot takes. I'm not running for office. I'm also not running. Period. Eww.

So, long story short, I ended up performing in between an old-timey Las Vegas impressionist who to his credit was not a snooze fest. He fit the vibe. He fit the room. His Rocky impression was wonderful. But I also knew that wasn't me and that the vibe I was going to bring was either going to flip the room upside down on its head or a laugh riot was going to ensue. You never know. You just don't. But hey! I went up there, did my thing for 30 minutes, and it felt like I was recording an HBO Comedy Special in the 90s. The crowd reacted with joy, acceptance, glee, and laughter. They wanted to see more and were almost mesmerized by each second I was up there. There was much anticipation in the air, almost as if the entire room were collectively thinking "What's next…what else is this guy about to do?" Cause I will say once I got them on my side (which was fairly quick), I held them in the palm of my hand and said, "Hey. This is what I do. I go on a journey up here. A journey through my silly, abnormally large mind, and if you want, we can go on this journey together cause fun is the name of the game. Let's have fun."
After I got offstage, people rushed over to congratulate me, almost as if what I did won me the Nobel Peace Prize for Physics. I sold so much merch that night, and my client, the man who booked me, loved my set so much and asked me why I was charging so criminally low for my services. I told him I wanted to be accessible to everyone. But soon after that, another gig came up, and the same discussion was had…why are you undercharging? In fact, I would even receive tips from my points of contact for that very reason. Very unexpected, but hey, when you exceed expectations, stuff like that happens, and I am very thankful. Just being on The Bash and the experiences I've had made me realize how much of what I do is truly worth. I thank The Bash for opening my eyes to that, among other things. But, hey, I'm always willing to negotiate. I'm not that expensive (especially if you throw in some dinner too. That always helps). Also…fun fact! This same client has asked me to come out again later this year for another show. They asked back in January. Awesome sauce!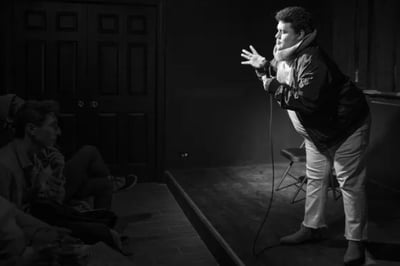 What is your key to closing leads?
Not only do I make it a priority to send out quotes within 2-3 hours of every booking request, but I manage to make the experience very personable. I would say a management team helps me out with all the booking, paperwork, emails, and even the messages I send out through The Bash. But it's just me. I do all of that. So when I call ya, it's not just anyone. It's me.
I make sure to LISTEN. It's your event. It's your time. How can I add to your experience? How can we create some memories together? I know I shine when onstage, but who are we highlighting at your event? I'm here to add to your event. I'm not by any means the main event. You are. I'm here to make you look and feel good. You brought us all together, so let's celebrate and laugh together.
What is your key to making clients happy?
LISTENING! Listen to what a client tells you, not what you want to hear. Text 'em. Call 'em. E-mail 'em. Send a carrier pigeon. However you need to get in contact and stay in contact with them. Remember, you're not the only part of the event, and sometimes you're not the only performer, so make sure to always stay in direct communication with them. Reach out with care. Forget the money or forget that this is just another "gig". Find a way to show you care by being there for the client to ensure that their day/event goes well. Show you care (attention to detail, sending personalized messages/updates, and proposing ideas on how else they can make their event interesting). You have the talent. Now all you have to do is cater to their needs and wants. Be the missing piece. Be creative. Be excited. Be you.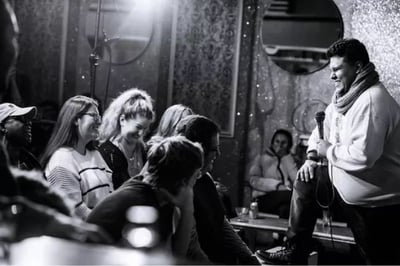 How do you prepare for events that differ in event type and audience?
Always find out what kind of show your client wants and doesn't want. Once you find that out, it's smooth sailing from there. Also, what kind of event is it? Is it a fundraiser? Company outing? Birthday? Anniversary? Make it personable. Find out about the guests of honor, company, or not-for-profit and work some stuff in about them and what they do. People want to feel involved. Invite them into your art, your expression, and your journey. Be there with them. Be present. Read the room. And more importantly, have fun!
What is your #1 tip or advice for other vendors looking to get booked for events this year?
Treat every gig like it's your first time. Pay close attention to everything, from the overall experience to how the client feels before and after you've performed your talents. Remember how good it feels when everything turns out how you and the client hoped it would. Hold onto that feeling and carry that magic onto the next event. Be positive, think positive, and show them a good time. Cause that's why we do what we do, for the good times and to have a good time.
---