How many of you have a personal website for your business? Considering quite a few of you are probably raising your hands right now, we thought it was essential for us to revamp the all-important Portable Contact Form (or PCF). After all, it's the primary tool we offer to help you reel in more leads outside of your profile on The Bash (formerly GigMasters). So whether you're currently using the old PCF, or had no idea what it was prior to reading this post, be sure to scroll on. We're explaining the ins and outs of the feature – and trust us, you're going to want to take advantage of this one.
What is the Portable Contact Form? How does it work?
The Portable Contact Form is a tool we created to help you easily receive and manage leads from your own website. All you have to do is embed the unique HTML code we provide you with onto your own website and voilà! This new and improved form will appear:
Why did you change the original Portable Contact Form?
That's an easy one! We want to provide you with the best and most up-to-date tools available to help you secure more bookings. The Portable Contact Form was due for a facelift, so that's just what we did. In designing this new version, we had two primary goals in mind: simple and sleek. A simple interface that makes requesting a quote as easy as possible for the client, and a sleek look that doesn't overwhelm the rest of your site.
Why should I post the Portable Contact Form on my website?
Two words: MORE leads! Who doesn't want more leads? Sure, you can bank on having clients just email you the details of their event. But who's to say they're going to provide you with all the information needed to accurately offer them a price quote? And don't overlook the time-consuming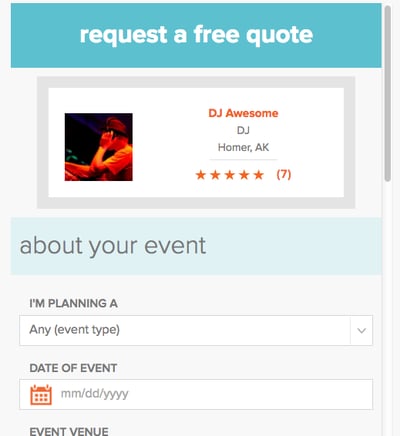 task of having to constantly check back in multiple places for incoming lead information. With the PCF, all of your leads (both from your personal website and your profile) will be funneled into a single source— your inbox on The Bash!
How do I post one to my own website?
You can access the Portable Contact Form through the following steps:
Log into your account on The Bash
Click on the "Tools" tab
Locate where it says "Add the GigMasters Portable Contact form to Your Website" and click the "View" button next to it
Adjust the size of the PCF according to your website's layout
Copy the HTML code
Embed (or paste) the PCF HTML code onto your personal website
…You should now see the form appear on your site!
What's the best way for me to display one on my website?
The Portable Contact Form can easily be formatted to fit any design, so it really just depends on the layout of your personal website.
You'll see a slider under the "Options" section of the PCF page in your Member Control Panel. Slide the toggle left or right to determine how you'd like the PCF to display on your website.
(Note: If you have less horizontal space available to post it, we recommend setting the width to 350 pixels. See right. If you have more vertical space to work with, a wider width of 768 pixels looks great, too! See above.)
There you have it folks – the nuts and bolts of the Portable Contact Form. It's a feature that's optimized to secure you more solid leads. But it only works if you use it! So go on and post one to your own site today. The code is now accessible through your Member Control Panel.
Should you run into any questions along the way, you know where to find us! (Hint: 866-342-9794 or info@thebash.com).