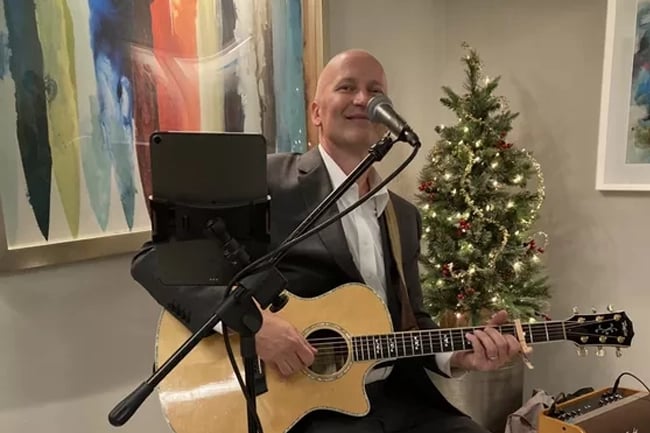 Meet Kevin Krieg, acoustic guitarist from Chino Hills, CA. He has over 20 years of experience playing the guitar and singing. Kevin performs music from various artists and genres, from Ed Sheeran to Frank Sinatra, to Chris Stapelton, and much more.
Kevin customizes every event to the host's preferences, whether that's playing light instrumental music or upbeat lively guitar and vocals. He has experience performing at venues and events such as weddings, receptions, parties, corporate events, and more. Excellent communication with clients from their first message through the booking process and the event is one of his keys to getting booked and receiving 5-star reviews. Keep reading to learn more about Kevin's passion for music, performing and how he secures bookings!
About Kevin Krieg & His Success as an Acoustic Guitarist
Tell us a little bit about yourself, what you do, and how you got started!
I'm a full-time, professional acoustic guitarist and vocalist. I've been playing for close to 30 years, and have played hundreds of venues from weddings, receptions, and corporate events to backyard birthday parties. I have been working hard to build up my skills and song repertoire to give clients a large selection of music for their events. I feel fortunate to be doing what I love for a living- and I love playing music!
To this day, what has been your favorite memory as an acoustic guitarist?
Playing Jenna Fischer's wedding was fun. The whole cast from The Office was there, and they were all wonderful people - everyone had a great time!

Can you share some details about a recent event?
A recent gig I booked through The Bash at the Renaissance Esmeralda Resort in Indian Wells was great. I brought upbeat acoustic guitar music and sang, taking requests which people loved. The crowd was very enthusiastic and really seemed to love the music - and it feels good to make people happy! It was an overall great experience!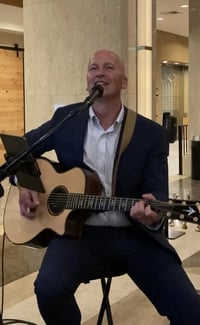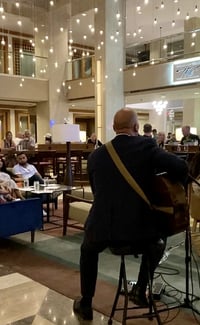 What is your key to converting leads?
I respond quickly to leads, and I'm flexible with pricing depending upon the day of the week, time of the day, type of event, and distance. I follow up on leads and take note of my contacts to keep communication frequent and professional.
What are you most excited about for the future of your business?
I'm always looking for ways to improve what I do. To me, music is about telling stories. The better I'm able to do that, the more memorable the experience I can give an audience.

What feature on The Bash most helps you to get booked?
I think the ability to build my profile with plenty of videos and pictures has been very helpful in getting booked.
---
What are you most excited about for the future of your business? Comment below!