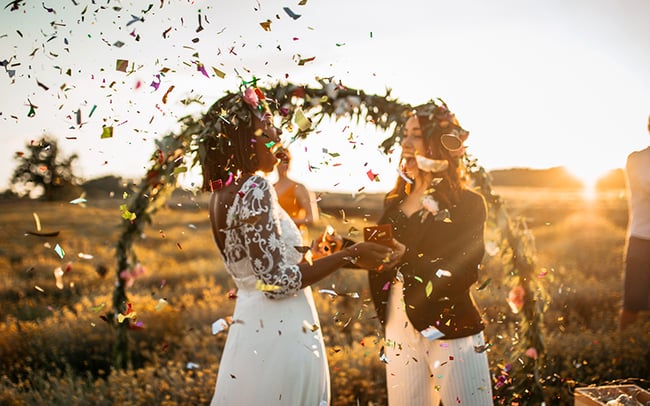 For those vendors who are currently working with couples to reschedule wedding dates or book future celebrations amid COVID-19, make sure to check out these top 5 resources from our friends at WeddingPro.
5 COVID-19 Resources for Wedding Pros
1. How to Evolve Your Wedding Business for a Post-COVID World
In this free download, get tips on how to adjust your business right now and adapt to the changes to weddings as a result of COVID-19.

2. Weddings in the Season of COVID-19: 6 Ways to Prepare for a Second Reschedule
While many states are slowly starting to permit safe gatherings again, there are still regulations and areas where there are greater limitations. In this blog, get tips for how to continue maintaining a relationship with your clients and how to prepare for a possible second reschedule.

3. Wedding Planning During COVID-19: When to Check In With Your Couples
Not sure when or how to check in with your couples right now? Take a look at these ideas and different ways to touch base with them throughout their planning journey. There's even a free email template included to get you started!

4. State of the Wedding Industry Report
In this free download, see the findings from over 8,000 wedding pros on how weddings are being impacted due to COVID-19, how they're adapting their business, and much more!

5. 5 Major Safety Considerations Wedding Pros Are Addressing Right Now
Safety is a key concern at gatherings right now and there are many questions about what that actually looks like. In this blog, get some tips from pros on how they are keeping themselves, their staff, and their guests safe at events.