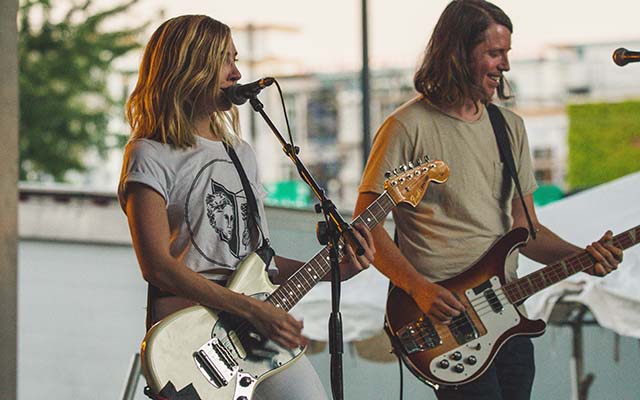 Warm weather is right around the corner and planning for safe outdoor events has begun—which means vendors like live bands are in high demand. We reached out to 5 of our top booked vendors for their tips on how to get more live band gigs.
These members shared how they drive bookings and their top advice for others in the industry looking to get gigs. Here's what they had to say!
Here are tips from 5 vendors on how to get more live band gigs right now
What is the number one way you get more bookings for your band?
"We receive inquiries through sites like The Bash and we are pretty good at answering fast. From there, we follow up with a call or text to push that sale a bit."
-Mariachi Romanza. Duo, Trio, Quartet or More., Mariachi Band
"Being proactive and contacting organizations that have hired me one or more times per year, but not clients that were for one-time birthday/anniversary/wedding events. I do this with email and/or phone, and often mail to them a handwritten note to thank them for hiring me, and I include a small, inexpensive token of appreciation emblazoned with my band name."
-Steel Happiness®, Steel Drum Band
"Recommendations and public viewings."
-Face 2 Face Band, Cover Band
"The number #1 way we drive more bookings is with our response time to leads. First contact is most effective because it allows you (the vendor) to set the standards, expectations and build rapport with the client. Our intended response time is typically within 5-10 minutes of receiving a lead on average."
-Steel Band Delight, Steel Drum Band
"Staying active on social media with appropriate tags and hashtags to show that we're still active and are looking to play."
-B.D. Lenz, Jazz Band
What steps are you currently taking to perform virtually or at contactless events?
"We focus on discussing with clients the precautions that are required prior to performing including mask wearing, social distancing, accessibility to hand sanitizers, etc. If attendees aren't required to wear a mask, we often request that the band be placed in a designated area at least 10-15 feet from the audience or simply follow CDC guidelines. In reference to booking virtual gigs, we use primarily Facebook Live to stream our performances. It's a great tool that allows the audience to request songs and provide feedback about your performance in real time. This is valuable because you can gauge the audience's reception virtually."
-Steel Band Delight, Steel Drum Band
"I discuss with my client over the phone what their expectations are, and then I add additional things I can do virtually, including ideas they haven't thought about. As example, one client asked me to perform for 15 minutes virtually as part of a larger virtual event. I offered not only to play a few songs, but to show them the inside of my steel drum instrument, and to discuss the history of the instrument and how it's made. Of course, it's critical to test all my equipment and internet connections, and I do a virtual dry run before my performance begins. When the performance begins, introduce yourself, thank them, and most importantly, get to the music immediately."
-Steel Happiness®, Steel Drum Band
"It's still all new but, after doing a few virtual gigs, we're getting the hang of how to do it. That includes where to stream from, how to get good sound, how to make a nice background, and how to interact with a camera instead of an audience. After having done a few successfully, we've gotten a few more just by word of mouth."
-B.D. Lenz, Jazz Band
"We do a lot of serenades where we perform from outside the window, or the balcony of the house where we are serenading. Sometimes we locate on the backyard, always keeping a safe distance from the party so there is no contact."
-Mariachi Romanza. Duo, Trio, Quartet or More., Mariachi Band
What is your #1 tip or piece of advice for other live bands on how to get virtual or contactless gigs?
"You need to be flexible in many respects, particularly in using whatever platform the client wants you to use (Zoom, Teams, Facebook, etc.). You also need to be able to oblige their wishes if they have particular preferences about the space or background you'll be using. You also need to make sure you have a way of getting good sound since it can be difficult to make it sound good while streaming. Again, it all comes back to being flexible and doing your best to give the client an experience that will make the virtual one as close to the real thing as possible."
-B.D. Lenz, Jazz Band
"Promote the option a lot, many times clients do not realize how convenient it could be for them to do a virtual event."
-Mariachi Romanza. Duo, Trio, Quartet or More., Mariachi Band
"To really think outside-the-box about what you can offer "on screen" instead of just performing music, and throw around some ideas when you talk with your client."
-Steel Happiness®, Steel Drum Band
"Try to keep the band line-up consistent. Work hard at improving your vocals and harmonies and expand your song list for all genres."
-Face 2 Face Band, Cover Band
"Our #1 tip is to be adaptable. Instead of trying to provide a service, try to provide a solution. Every client's safety concerns for their event will be different. Ask questions and collaborate with the client to ensure that all participants feel confident about the process. Once all expectations are met, then it's easier to focus on letting your talent shine through!"
-Steel Band Delight, Steel Drum Band
---
While we expect traditional in-person events to safely resume this year, we also anticipate that virtual and contactless celebrations will maintain popularity as COVID-19 precautions persist. Find more tips on
how to get gigs for your band
here on The Bash.
---
What's your #1 piece of advice on how to get gigs? We want to hear! Comment below.