You asked, we answered. Featured Profiles can now be purchased online. That means no more calling in to compare rates, place an order, or renew a listing. Simply place into your cart the category and location combination of your choosing and head straight to the checkout. (Talk about stress-free shopping.) But before we officially cut the ribbon, let's have a closer look at what's included in this latest feature…
How to access your new Featured Profile options:
Log into your MCP
Click on the "Profile" tab
Scroll down to "Additional Features"
If purchasing a new FP: Click the edit button alongside "Buy Featured Profiles"
If managing an active FP: Click the edit button alongside "Manage Your Featured Profiles"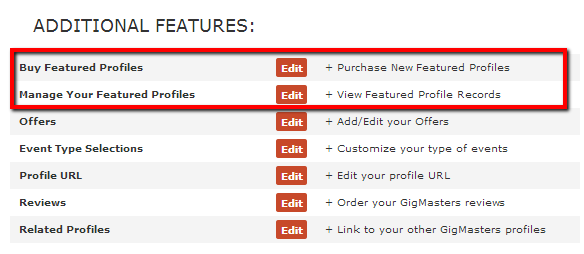 Using the Self-Checkout: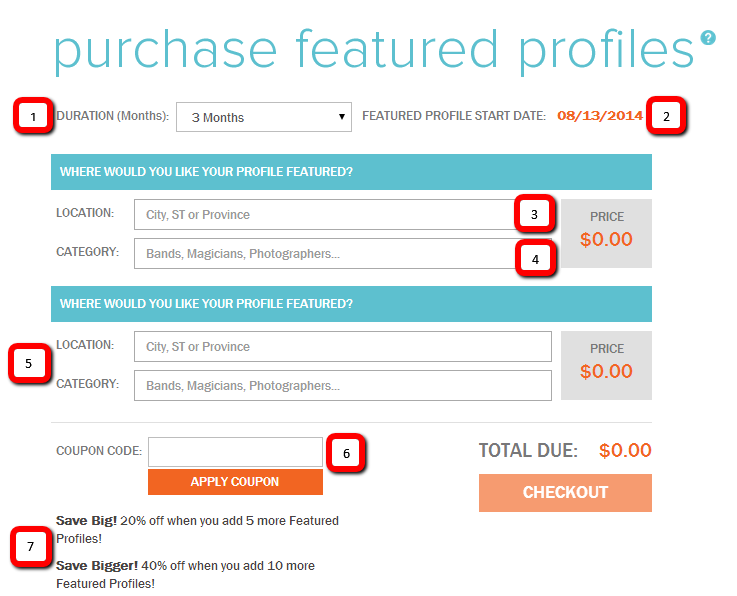 1. Select your duration.
Here you can select the length of your Featured Profile package. You can purchase a listing for anywhere between 1-12 months at a time.
2. View your start date.
You'll notice that your start date coincides with the day you complete your transaction. This means that any Featured Profiles you purchase will appear live on our site on their date of purchase.
3. Pick a location.*
Think about the areas where you'd like to target new clients. For the best results, many vendors opt for their nearest major city, being that they're the most frequently searched for (and therefore the most often viewed) pages on our site.
4. Choose your category.*
Just as it's important that you choose your profile categories wisely, it's equally important here to think through the category tied to each of your Featured Profile listings. Shoot for the most generic label that best describes your service, as those are often the pages that experience the highest volume of visitor traffic. (Think: "Jazz Band" > "Smooth Jazz Band")
5. Set the parameters for additional Featured Profiles.
If you'd like to purchase multiple Featured Profile listings, repeat steps 3 and 4 on the second line. Once filled in, additional lines will subsequently generate below, allowing you to purchase unlimited Featured Profiles in a single transaction.
6. Save with special discounts.
We're often sharing coupon codes (Hint: check us out on social media for special deals!) that can be redeemed for discounts on Featured Profile purchases. If you have a code that is currently active, enter it here before proceeding to the checkout.
7. Big discounts on all of your big purchases.
Discounts are automatically applied to bulk orders of Featured Profiles. If purchasing 5-9 in a single transaction you'll receive an automatic 20% discount, while orders of 10 or more are marked down 40% from their list price.
Managing Your Existing Featured Profiles:

1. Renew before your expiration date.
Once your Featured Profile enters its renewal period (7 days before the stated expiration date) you will see a "Renew" button appear alongside that listing. (Note: You will not have the option to renew an active profile prior to this period. It's critical then that you renew your listing within this 7-day window to avoid losing your slot to another member awaiting ad space in your category/location combination.)
2. View a profile's expiration date.
We'll send you email notifications leading up to your Featured Profile's expiration date, in order to ensure you ample time to secure your space within the renewal period.
3. Purchase additional Featured Profiles.
If while managing your active profiles, you'd like to purchase additional ones for other categories and/or locations, click here to be taken straight to the self-checkout page.
*If the category/location combination you'd like to reserve is already full, you can choose to get notified when space becomes available (see below).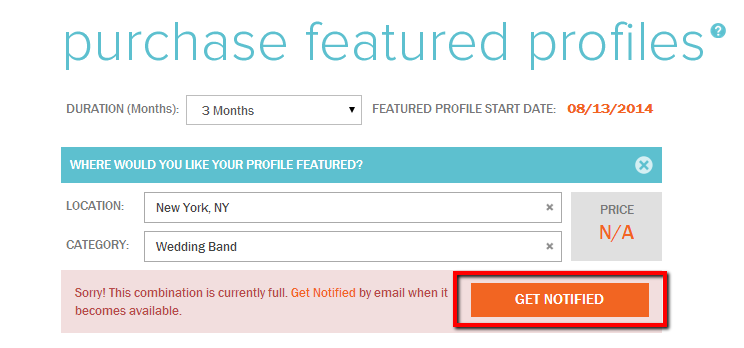 By allowing you the ability to peruse package options and price points on your own time, our interactive self-checkout is opening the door to a whole new level of flexible advertising. Once you've secured premium placements for your business, the option to quickly log in and renew each one ensures you'll get first dibs on those high-demand ad spaces over your competitors.
We're constantly looking for your user feedback as we continue to develop tools such as this. As you add items to your cart, let us know if you run into any questions. Our team of Account Specialists is here to help you maximize your marketing efforts as you choose the listing that works best for your business and your budget. So even though you no longer have to, you can still give us a call with any of your Featured Profile inquiries!
-