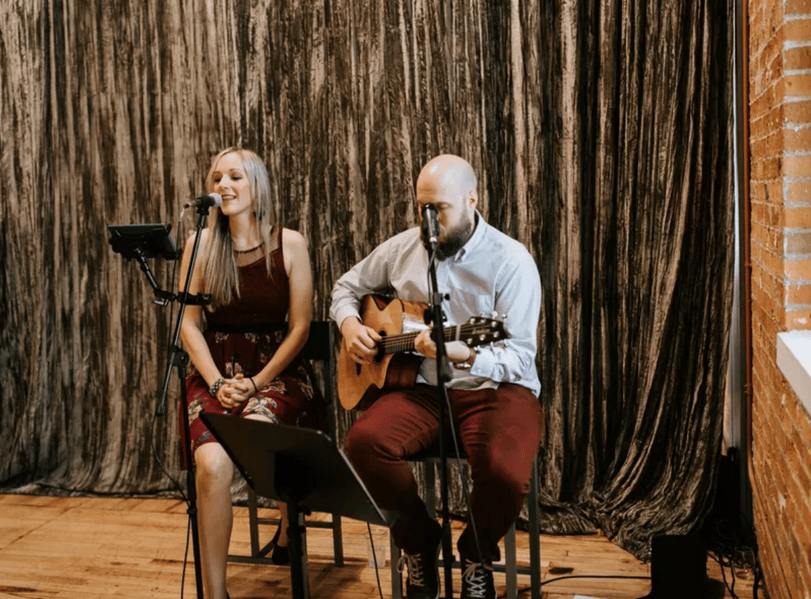 Meet singer and songwriter, Maygen Lacey, of the Maygen Lacey Music acoustic duo from Minneapolis. Her love for singing began in high school and now her songs have millions of streams on Spotify. Along the way, she met master of guitar and musical partner, Noah Neumann, who she regularly sings with. Together, they perform a variety of acoustic music ranging from Folk, Pop, and Americana to R&B, Country, and Oldies.
Maygen and Noah have performed for various types of events including weddings, cocktail hours, concerts, and more. We caught up with Maygen to learn more about how this acoustic duo got together and what vendor qualities they prioritize when it comes to getting booked.
Learn more about Maygen Lacey Music and how communication and flexibility are their
keys to getting booked.
Tell us a little bit about yourself, what you do, and how you got started!
I began singing in high school and realized I could make people cry! I guess that was a "good" thing, they said! I had a long journey to actually singing for a living because I was incredibly terrified to sing in front of people and had quite a bit of stage fright but I loved music so, so much. I decided to go to school for music business instead of music performance...which lead me down the path of audio engineering and also to working at a record label in my early twenties. Long story short, it wasn't until I was about 26 that I decided to face my fear of singing, and just do what filled my soul. I recorded some songs in my home studio and they received quite a bit of success on Spotify, which has propelled me in many directions over the years. I met my (musical) partner Noah in the middle of all the commotion and we have made a great team. One of our favorite things to do now is sing those pretty songs for weddings! Coming full-circle, back to singing songs that people can (happy) cry to!
To this day, what has been your favorite memory as a singer guitarist duo?
I'd say one of our favorite memories was traveling to Saint Louis, MO for a wedding at a cottage. We love to travel. This one in particular was just a dream. A little cottage, down by a stream, on a perfect day, with one of the sweetest couples that we have met. It felt like a movie and we were so honored to be a part of it.

Can you share some details about a recent virtual, contactless, or in-person event?
We still had plenty of weddings during 2020. We did have MANY move to this year and even into 2022. The weddings that we had were all VERY intimate, but still in spaces that allowed for social distancing. Many of the couples had their initials and date printed on masks for guests to use at their event. I thought that was a nice touch!

What is your key to getting booked?
I place priority on responding quickly and making sure I actually read the emails and requests. I've noticed in my personal life, that sometimes even when someone responds quickly to an email from me, a lot of times it feels abrupt and they don't actually address the questions that I had in the initial email. This isn't helpful! So, professionally, I try to make a point to thoroughly address any questions couples have. Noah and I are also big on trying to "make wishes come true" as far as learning new songs or following through with requests that we can tell are important to a couple- like doing a "secret surprise song." I think it also helps that Noah is a lovely singer as well, so booking our duo really gives couples an opportunity for variety in what they are hearing throughout a ceremony/cocktail hour/dinner hour/first dances/etc. Lastly, flexibility and just being friendly and in a partnership with a couple! Planning a wedding can be SO stressful, so I try to make all my interactions as easy-breezy as possible so they never have to feel stress related to the music of their day. Like it's one thing they DON'T have to worry about.
What is your #1 tip or piece of advice for other musicians?
The biggest tip would be to make sure you're doing something that you love. It really comes across if you ENJOY playing weddings. Yes, you are doing the couple a service and you're getting paid for it, but don't ever make a couple feel (in email or on the day of) like you're being inconvenienced or that you'd rather be doing something else. I love what I do, and I feel like that is apparent.
What are you currently doing to focus on your business and prepare for safe in-person events in 2021?
I've got my sanitizer wipes in my gig bag, and extra (clean) mic covers for the officiant's mics. Noah and I are both vaccinated. But I have to say...I DO still hug the couples on their day! Can't help it! It's all too exciting when it all comes to fruition!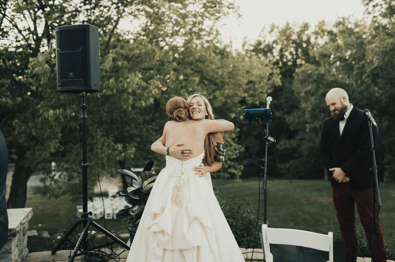 ---
What's your key to getting booked? We want to hear! Comment below.