It's hard to believe that the holiday season is just a few short months away and that celebrations might look a little different this year. However, as we speak with Santas nationwide, they are still planning to spread holiday cheer through safe in-person celebrations and even virtual events.

We caught up with two longtime Santa Clauses to find out what they are doing to safely perform at events this holiday season. See what they had to say!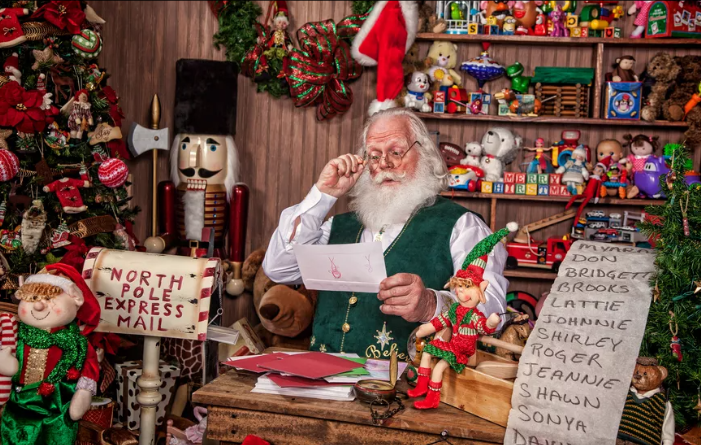 Around the Town Entertainment started servicing events with clowns, magicians, face painters, and caricature artists. Then about 10 years ago, a business coach, Santa Bob, shared how he volunteered as Santa and was looking to venture out to make extra money from performing. Santa Bob was Around the Town's first Santa of what is now over 35 Santas and they recruit about 1-2 more every year.
Below you can find tips and advice from Around the Town Entertainment on performing virtual and contactless events this holiday season, how they communicate with party planners, and much more!
How are you working with and communicating with your current and potential party planners right now?
This season is definitely a lot different than previous years because of COVID-19. I'm reaching out to all my former clients asking if they would like to experience a NEW virtual visit from Santa this year.
What can party planners expect when hiring you for
virtual events this year
?
I'm anticipating about 80% of sales will be from virtual visits. With that said, I've added both pre-recorded messages and live interactive Zoom visits to my website. Santa will check his nice list and talk to the children, praising them for all the good things they've done. Afterwords, a certificate signed by the man himself will be sent to each family. The pre-recorded message is also personalized for each child so they can watch it over and over again.
What can party planners expect when hiring one of your Santas this year?
I'm giving my customers the option to have in-person visits following CDC, city, and state guidelines. All performers and guests must wear proper PPE equipment and practice social distancing.
How do you plan to share your new virtual and contactless service offerings with party planners?
In the past, I've relied on repeat customers for about 80% of my business. This year I'm relying on social media and The Bash to inform new clients that Santa is looking forward to visiting with you virtually or safely in-person.
How do you plan to spread holiday cheer this Christmas?
We'll be spreading cheer with smiles, kindness, and laughter which will go a long way during these crazy and uncertain times.
Meet Michael, a Santa Claus character from Bristol, RI. Along with his five star reviews, he also gives all of his proceeds as donations towards his nonprofit!
Below find more from Michael on how he got started as a Santa, his plans to spread cheer this holiday season, and more about his James D Rielly Foundation!
Tell us a little bit about yourself and how you got started as a Santa!
This year will be my 49th year wearing the red suit. I began my journey as one of Santa's Ambassadors in 1971 at the age of 8.
Unlike other Santas, I take zero payment for my appearances as Santa Claus. I only ask for donations to go towards my all volunteer 501c3 nonprofit foundation. All proceeds go to support Veterans and the children and families of our military, law enforcement, firefighters, and first responders.
In 2007, I launched the ClausNet Santa Claus Network, the largest and longest running community for Santa Claus and Mrs. Claus performers. We have over 5,000 registered members on the site.
In 2019, I was inducted into the International Santa Claus Hall of Fame.
Find more information at James D Rielly Foundation.
What can party planners expect when hiring you for
safe in-person events as Santa this year
?
Although my scheduled events are down from last year, I still have a fair number of visits booked. I plan to provide all services safely and following social distancing guidelines of course.
What advice do you have for other Santas this holiday season?
It's not about you, Santa! It's all about the children and their families!
How do you plan to spread holiday cheer this Christmas?
We plan to spread holiday cheer by bringing joy to those in need. A few things we do to give back with our generous donations are, provide a grand holiday feast around a beautifully decorated table, fulfillment of a Christmas or Holiday wish list, plan a special family get-away, and much more! See more about what we do!
-
Do you have advice surrounding holiday social distancing/contactless events you'd like to share? We want to hear! Comment below.