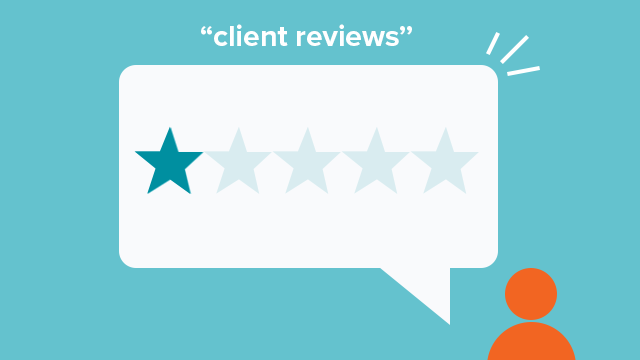 We all know that client reviews matter—the more positive reviews your business gets, the more trust and confidence potential clients will have in your services. The bottom line - positive reviews lead to more bookings! But, what happens when you receive a negative review? What's the best way to handle it?
Although it's ideal to have all 4 and 5 star reviews from past clients, it's not always the case. Here are a few things you can do if you receive a review that you're not happy with.
Communicate
It's important to put yourself in the client's shoes and try to understand where they are coming from. Whatever you do, don't ignore the review - replying to it is your opportunity to make things right. Your response not only shows future clients your side of the story, but also that you're taking the necessary steps to make sure it doesn't happen again.
If the client has clearly stated why they were disappointed with your services in their review, sympathize with them, apologize that you didn't meet their expectations, explain your side of the story (in a friendly and non-defensive way), and offer to speak with them further about it. If you already spoke to them before they left the review, make sure to mention that in your response to show future clients that you made a proactive effort to resolve it.


If the client didn't leave many details and you're surprised by their negative ranking, explain that your business strives for 5-star service, apologize that you weren't able to provide that level of service for their event, and state that you will be reaching out to them to follow-up. Try and walk away knowing what you could have done differently to provide 5-star service so that you can better serve your future clients.
On The Bash, you're free to leave a response to any client review. Here's an example of a simple response you can use or customize depending on the circumstances of the review:
"I'm very sorry that my services did not meet your expectations. [My business] strives to provide exceptional service to our clients and we are extremely disappointed that this wasn't the case for your event. I'd love the opportunity to talk with you further on what I could have done better so that I can exceed my clients' expectations in the future."
Put Your Best and Most Recent Reviews First
On The Bash, you have the ability to display your reviews in any order that you would like on your profile. We recommend reading through your reviews and placing the best and most recent ones at the top. Clients will see these first when coming to your profile. Once you get more than 3 reviews, the client will have to click "View More" to see the rest of the reviews on your profile, so the more positive reviews you receive, the further down that negative review will go.
Remember, you can always reorder your reviews in your Control Panel.
Keep Working Hard
Continue working hard to get those positive reviews. These will make the negative reviews less harmful and will start to increase your overall rating. The more great reviews on your profile, the better you will look, so, keep booking! When you do get a positive one, be sure to promote it! Share it on your social media pages and feature it on your personal website.
Just like negative reviews, it's also important to respond to your positive reviews with a thank you because it gives you a chance to show your personality to other potential clients. We encourage vendors to write up a short, personalized thank you response specific to the client's event. Illusions by Vick does a fantastic job of responding to positive reviews - take a look and try out some of his techniques on your next positive review!
Have examples of how you've successfully handled negative client reviews? Share your tips below on what you've found works best!