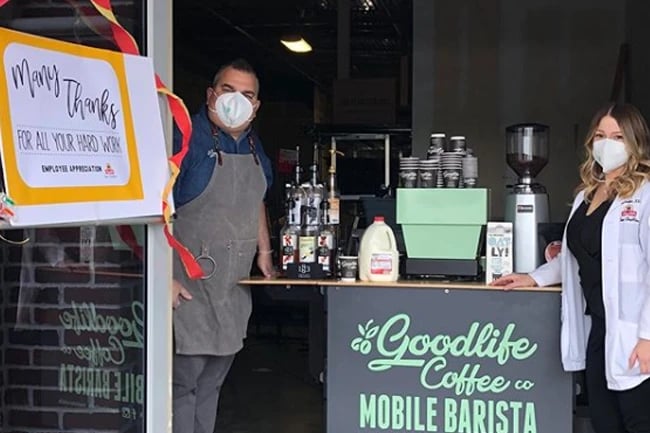 Meet The Mobile Barista from Goodlife Coffee Company out of New York City. The Mobile Barista caters all types of events and specializes in in latte art, putting a unique spin on something everyone already loves, coffee.
We caught up with Michael from Goodlife Coffee Company to learn more about how he got started, what he loves about being a barista, and his tips for catering contactless events happening this summer and beyond.
Tell us about yourself and how you got started as a mobile barista:
Through my Italian upbringing and time spent in Italy, the traditional Italian coffee experience was ingrained in me. My Nonno & Nonna would serve us a little espresso as young as 4 years old. I was hooked, As a young adult, I spent some time on the West Coast and Pacific Northwest learning about 3rd Wave Coffee. Eventually, becoming a barista was so natural to me. This was always my passion, so I immersed myself in all things coffee and ultimately created Goodlife Coffee Company. Once established in the coffee business, a friend voiced his displeasure about the awful coffee usually served at wedding venues. He was not looking forward to the coffee being served at his wedding. I knew that catering venues have so many other things to tend to which is the reason why coffee suffers. Coffee and espresso are not finished products; TLC is needed to produce an amazing cup. This conversation gave me the idea to give coffee catering a try. I asked him if he would like me to cater the dessert portion of his wedding by serving espresso and cappuccino. The response was overwhelming. After that event, more people began asking us to provide our coffee bar experience at their events. The Mobile Barista was born.
What's your favorite part of being a mobile barista and servicing events?
We love to serve kick-ass coffee drinks to the crowd that loves to drink them. We know that our lattes, espresso, americanos, frozen coffee drinks, and cold brew enhance every event. Our goal is to provide our clients with THE perfect finishing touch to their event. Coffee, espresso, and specialty drinks is the final impression they take away from the event. The impressed reaction guests have from experiencing our coffee cart station is the best compliment we receive. It is a lot of work to set-up and tear down, but it is all worthwhile once we see how happy we make people.
What are you doing differently to offer your services for contactless/social distancing events?
We are practicing safety, distance, and continuous sanitizing. Our baristas have their temperature taken upon arrival. They are wearing masks and face shields. We have also added a shield guard on our coffee cart to protect the barista from the guest and vice-versa. We have hand sanitizer for both the barista and the guests.
How do you prepare for a
contactless/social distancing event and make sure you adhere to safety protocols?
We prepare by limiting close contact with guests and maintaining distance. The safety protocols require more set-up and tear down time. The Mobile Barista recently serviced a social distancing event and all went smoothly. Our baristas followed our new protocol, as well as those followed by the venue. This event made certain that everyone felt safe. Those wearing a mask and wanting to stay 6 feet apart had to wear a red bracelet. Guests who didn't want to wear a mask, but wanted to converse with one another, by maintaining 6 feet wore a yellow bracelet. Those guests who did not want a mask, and did not mind conversing within 6 feet wore a green bracelet. From what we have seen, venues and guests have been committed to keeping things safe.
What feedback or advice do you have for other caterers servicing contactless/social distancing events?
These are trying and stressful times. Be mindful that not everyone has the same mindset and some folks are on edge. Your staff has to be patient in serving. Contactless/social distancing events take more prep and execution time. Prepare the guests and staff to be patient and that serving safely takes a little more time, but is extremely necessary.
What are you currently doing to promote your contactless services?
We are promoting safety via social media. We reached out to all of our clients, venues, and event planners, and provided photos of our new COVID-19 safe coffee cart and shield guard.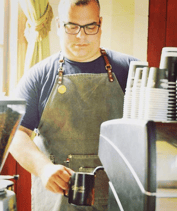 Clients Love The Mobile Barista!
"I wish I could have given them more than 5 stars! Michael was very responsive and passionate about our 3 events we hired him for. He even came up with a custom recipe highlighting the use of our client's product in the beverages he created for our guests. His enthusiasm and collaboration were top notch making for stellar events showcasing the brand. We couldn't recommend them more!"
-Beth H. From New York City, NY
-
Do you have advice surrounding social distancing/contactless events you'd like to share? We want to hear! Comment below.