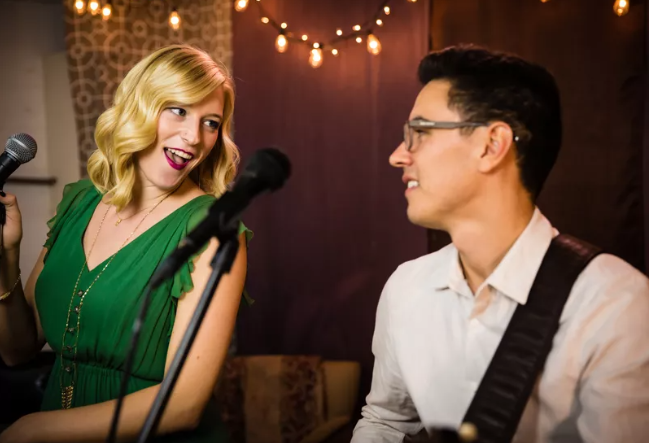 Meet Carly & the King, a talented and successful cover band from Los Angeles, California. The musical duo, Carly and Sebastian, perform at many different types of private parties and at renowned venues throughout Southern California. They have also been performing together virtually and are sharing some advice and tips they have for other musicians who are looking to perfect their virtual performance right now.
How This Cover Band is Offering Virtual Performances
Tell us a little bit about Carly & the King and how you got started as an cover band:
Sebastian and I got started as a band by playing songs together when we first started dating—he would accompany me singing! This was more than seven years ago now. We posted some videos online and were offered to perform on cruise ships throughout Northern Europe, The British Isles and the Caribbean. To sing, travel, AND get paid...it was the dream.
What are you doing currently to offer your service virtually?
I've done a few live-streams on Instagram & Facebook, as well as a few pre-recorded events. Both have their pros and cons, especially with the fact there is no direct feedback from the audience—the performance into the vacuum is quite strange.
H
ow do you prepare for a virtual performance to ensure it runs smoothly?
Preparation starts with the clothes, lights, and making sure the cameras are charged and their memory is clear. Then, we connect all of our sound equipment and instruments to be recorded into the QSC Touchmix-16. We also set up a floor monitor for ourselves to hear. We check our systems with a song, review it, make necessary adjustments, and do this process again until it is just right.
Can you share some details about a recent virtual event?
The most recent virtual event we did was for a medical conference which was streamed on a video call (with an internal streaming service of the conference) in Europe and in America.
We pre-recorded the hour-long performance, which had its own glitches (camera memory filled up or it would sometimes stop recording after twelve minutes). Once we realized this, things ran smoothly until we had to upload the file which was 30GB+ (the client requested a high quality file) and our internet kept cutting out and would stop the upload, so Baz stayed up all night to make sure it would be uploaded with enough time for the client to present the video to his colleagues. In the future, we would have broken the file into small chunks and sent separately.
What is your #1 tip or piece of advice for other bands performing virtually right now?
Our top two pieces of advice for other live bands performing virtually right now would be:
Prepare your setup: This includes selecting the right outfits, setting up lights, making sure the cameras are charged, and the camera memory is clear.


Troubleshoot before the performance: Do a test run prior to the performance to ensure all sound, lighting, and technical equipment is working properly.
Do you have any equipment or technical recommendations for other bands performing virtually?
See below for some of our favorite technical gear that we use for performing virtually.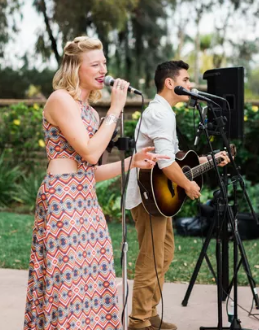 Clients Love Carly & the King!
"Carly & the King did an absolutely amazing job at our wedding. We really wanted Neil Young's Harvest Moon to be played at our wedding, and Carly & the King learned the song perfectly. They even created a demo of the song and emailed it to us before the wedding so we could have it at our rehearsal. They were very professional, a pleasure to work with and our guests thoroughly enjoyed the music as Carly & the King sang and played beautifully. Carly & the King created a lovely, intimate and fun vibe that was perfect for our wedding. We couldn't have asked for anything better!"
-Frank S. From Dana Point, CA
-
Find more tips on how to get gigs—whether virtual, contactless, or in-person—here on The Bash.
-
Do you have advice for live bands performing virtually right now? We want to hear! Comment below.