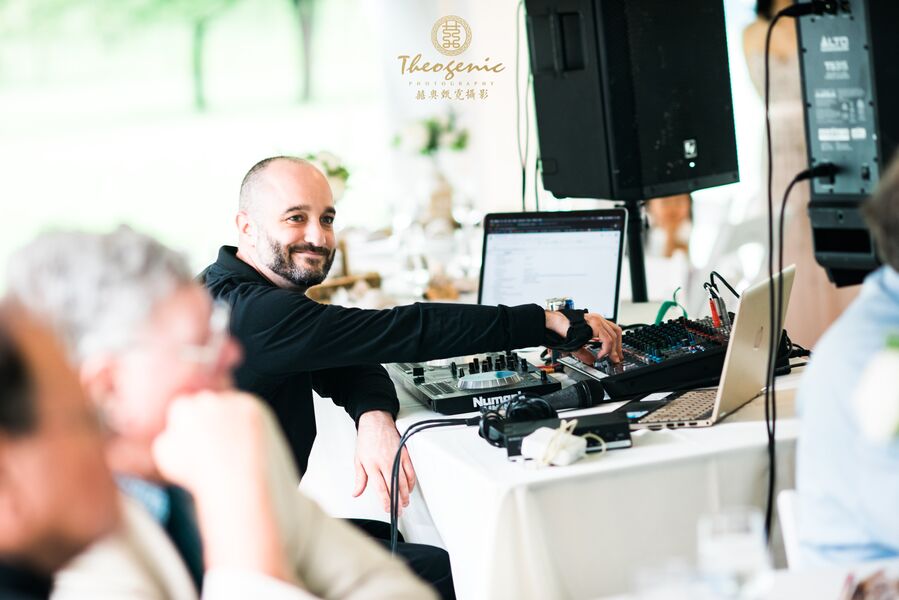 Meet DJ Luccio, a DJ out of Reston, Virginia. DJ Luccio has performed over 150 bookings through The Bash and has rave reviews from previous party planners! We caught up with him to learn his secret to success, how he makes party planners happy, and his advice on navigating the new landscape of virtual events.
Tell us a little bit about yourself and how you got started as a DJ:
I grew up playing all the instruments of a rock band and writing music was my main hobby. I'll never forget the day my Dad and I went to the music store and he bought me a 4-track recorder so I could record myself playing the drums, then the piano over top of it, then the guitar, then vocals, and so on. I was 15 years old and thought it was the coolest thing in the world. I never realized I was actually honing in on skills that would prove to be extremely helpful later in life. After college, I used what I taught myself to build a podcast from the ground up which then turned into a career in radio all across the country. That's where I really learned how to speak into a microphone efficiently and with personality. So, when you take a musician who thoroughly understands music theory and give him the skills of speaking into a microphone with poise and polish, and a business degree to boot...it was just the perfect mix for a high-end Event/wedding DJ/MC.
What's your favorite part of being a DJ?
The best thing about being a DJ is that I'm the one who's solely responsible for creating the atmosphere. Whether it's a wedding, a party, a virtual live-stream, or a Bar Mitzvah, every client has a vision that they hope can come to life. Seeing the look on their faces during and after each event when that comes true is what makes this all worth it at the end of the day. And the best part is, for weddings at least, those memories last for a lifetime.

You have almost 70 5-star reviews. What's your key to making party planners happy?
My main focus from the moment a couple reaches out to me is to be as up-front and transparent as possible. I don't promise things I can't provide, and I work hard to maintain expectations for couples since most of them have never been through the planning process before. It can be DAUNTING — so my job, as I see it, is to make this as simple as possible from the moment they book with me all the way up to the last dance of the reception. I'm the one with the experience and the one who has been here before so I should be the one providing my clients with the peace of mind that any time an issue comes up, I'm the one they can come to. Even if it's not about the music, I want them to know they can come to me. Even if I don't know an answer, I'll know how to find it...and that's what alleviates stress for most of my couples. They just don't know who to ask or what to expect — they've never done this before! So, I always say, let me be your wedding Sherpa, and whenever you feel yourself wondering what to do, just start with me and we'll go from there. Providing my clients with peace of mind is something I pride myself on, and it's a valuable part of mine, or any other wedding vendors' job.
What are you doing to stay productive and focus on your business right now?
Practice, Practice, Practice. That's the beginning of it — keeping up with my skills. A lot of what a DJ does has to do with doing two different things at once with your hands, like patting your head and rubbing your belly — so that's something that needs to be continuously honed. But, once I'm done practicing I'm lucky enough to have a full music/podcast studio in my apartment where I can play my instruments and also produce live streams and recording services for a national podcast in order to bring in some side revenue.
What are you doing currently to offer your services virtually?
I have a full broadcasting studio in my apartment where I can live-stream, record, produce music, and film videos...so really, I'm built for this. I produce and host live-streams throughout the week both for myself and also clients like Sara Carter, a journalist who contributes regularly on national TV broadcasts. I've interviewed and hosted congressmen and women, Senators, Company Figure-heads, and even political campaign strategists — all from my home studio. So, clients on The Bash can totally take advantage of these capabilities, where I can live-stream parties and host them on their Social Media channels either privately or publicly, and I can even record voice notes for clients who want to send a special, personalized note to a loved one. I'm proud to say that I can still do all these things, and it all goes back to the skills I learned on that 4-track recorder that my dad bought me when I was a kid.

We'd love to hear more about your virtual performances!
I use multiple platforms but mainly OBS to live stream, and then I use restream.io to send that stream to multiple places at once. I can send the live stream of a birthday party to my clients' Facebook page and their YouTube page at their same time, for example. Just more places to watch the fun!
What feedback do you have for others considering hosting virtual events?
Do your homework and practice before you go live. I've been learning this for years and it still isn't easy — don't just think you can buy some equipment and download a program and away you go. Streaming virtual events takes a lot of moving parts coming together at once so the more you prepare ahead of time, the more comfortable you'll be during the actual event/performance.

What are you currently doing to promote your virtual offering?
I do a lot on my IG @Luccio_thedj to promote what I'm up to, but the best thing I ever did was make a video about what I can provide and what I have to offer, so I can explain that to my clients in a way that shows off my voice and my personality. That's what we're selling at the end of the day, so the more I can do to show my personality online, the better. That way, the client knows exactly what they're getting when they book with me.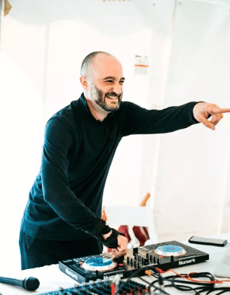 Clients Love DJ Luccio!
"Let me be clear: If you hire DJ Luccio, you can stop worrying about your party. DJ Luccio always knew the perfect songs to play to keep the party going and even got people dancing (and jumping into the splits) at an office party!!! There wasn't a single moment in which I thought to suggest a song, because he was always already playing it! He emceed for us as well and did a fantastic job--even though we gave him a very last-minute list of things to say, he made it sound as if we were much more prepared. He seems to work effortlessly in front of a party crowd, and we can't recommend him enough. Thank you, DJ Luccio!"
-Sophie S. | Falls Church, VA
---
Find more tips on how to get DJ gigs, download our recent report.