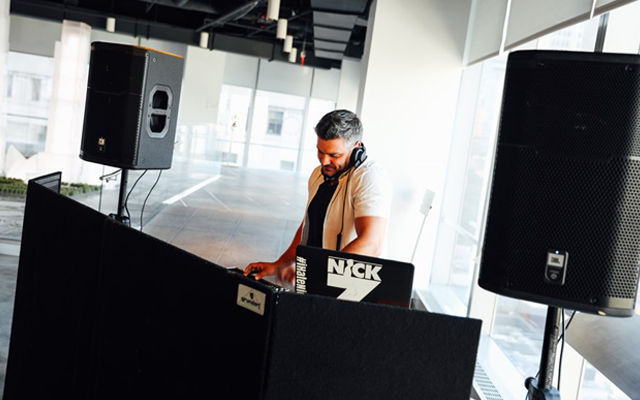 Nick Z is a talented and experienced DJ based in Astoria, NY, and a member of The Bash since September 2017. Nick started as a DJ at a very young age doing YMCA teen nights and school dances/proms. Today, he is a highly sought-after DJ in the NYC area, providing entertainment for Mercedes-Benz Fashion Week, L'Oréal headquarters, and most recently Kleinfeld Bridal.
Nick is also friend of The Bash! This month, Nick provided entertainment at a Kleinfled event that we were lucky enough to be invited to and a part of. After speaking with Nick at the event, we wanted to know more about how he has grown his DJ business over the past 16 years and see if he has any tips for his fellow DJs.
How did you get started as a DJ?
My name is Nick Z and I have been a DJ/Producer for approximately 16 years. I was inspired at a young age by turntablists and turntablism itself. I was fascinated in the art of how they manipulated sounds and created their own music, the different sound effects used, and the way they would mix and scratch. Influenced, I decided to work harder at my little job and purchased my first pair of turntables at 17 (yes, the same year I got my first driver's license). Before then, I would recruit my mother and friends to drive me to the record shops in my home state of New Jersey, so that I could discover and start building up my vinyl collection. Purchasing a pair of DJ Rectangle sample records and a "how to scratch" video tape so I could begin practicing. My career was born at my local YMCA doing teen nights. In the beginning, I promoted my business using flyers and business cards. No social media meant cold calling. I would even harass my friends to DJ their parties for practice. I would pitch my DJ business to my neighborhood, local businesses, and to my teachers (who would inevitably let me DJ our proms and school dances).
My business started gaining traction, and at 21, I was asked to DJ in Philadelphia, and at some of the hottest night clubs in Atlantic City. Once I started to make a name for myself, I was addicted. Before I knew it, I was spinning in NYC club scenes, high-profile weddings, corporate events, and charity events that are close to my heart.
My addiction didn't stop at just being a DJ. I was also pursuing stand-up comedy and a career in acting. Over the years I have performed at some of the top comedy clubs in NY, including Caroline's on Broadway and New York Comedy Club. My reputation in entertainment grew, taking me to other cities in the U.S., such as Philadelphia and Houston.
My hard work had finally helped me obtain international exposure, including corporate parties, colleges, and fundraisers, and even a tour of Portugal and France.
You have an impressive list of past clients/events (Mercedes Benz Fashion week, L'Oreal, American Cancer Society, and more). Do you have a favorite event or one that you're looking forward to this year?
I love my job, and because of that, I look forward to and welcome my next event no matter what the occasion. I just appreciate you choosing the Nick Z Brand and letting me be a part of your vision of the perfect event. I have always loved creating memories for my clients.
Do you have any tips for getting booked?
The truth is, when someone hires you to do an event for them, it is an important day for them. Treat every client the same way you would like to be treated. Hear them out and really tailor their experience to suit them. Always go above and beyond for your clients. There were times that I traveled hours in my car when my career was in its infancy, just to get lights that a client wanted for their event. I have learned over my years that being your authentic self is very important. Clients have a good BS radar and know when you are being a "sales person" or you're being genuine to them and yourself. Just create an amazing experience and make their vision work for them, not you.
What made you join The Bash in 2017 and how has your experience been since?
Wanting to reach a larger audience (aside from "word of mouth"), I decided to join a reputable site like The Bash in order to expand my reach. Making this decision has allowed me to be part of some amazing corporate events with XO Group, The Bash themselves, and TLC's "Say Yes to the Dress" at Kleinfeld Bridal in NYC! So, my experience has been nothing short of amazing and I will surely be starting my second account for stand-up comedy with The Bash.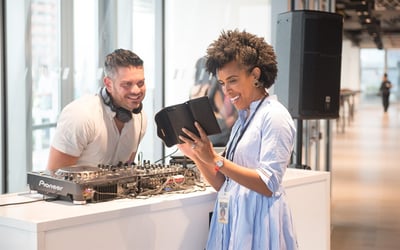 Clients Love Nick Z!
"Nick is an amazing DJ. Without a doubt you need to hire him for your next event. He was attentive to our questions, helped guide me in the right direction (e.g. order of events), and did everything I requested. On the day of, everything went beyond smoothly. The cocktail music was exactly as I wanted and where Nick shined was the dinner/dancing portion. He LITERALLY started the party with his fantastic mixes. He got everyone, from teenagers to octogenarians, up & dancing. I had guests coming up to me and saying how great he was. And he's also a charismatic MC. Our wedding would not have been the same without Nick. I would wholeheartedly recommend him."
- MEIMEI W. I PRINCETON, NJ