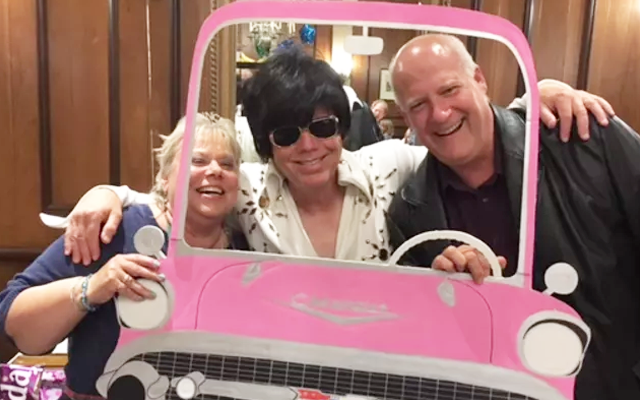 Meet Elvis By Dano, a professional Elvis impersonator, based out of Washington! We caught up with Dano Peterson, to learn how he developed a passion for performing and impersonating the King of Rock 'n' Roll himself, Elvis!
Tell us a little about your company and how you got started as an Elvis Impersonator:
My mom and four of my sisters were big Elvis fans and so I became one also around the age of 11. I bought my mom several Elvis albums, but they were actually for me to enjoy as well. As an adult when driving to work I would often sing along with the King. I often felt that I was hitting his notes quite well but would never sing in front of anyone. Finally, around the late 90's, I was at a church celebration dinner that included a karaoke DJ. Luckily, they served alcohol and after two or three beers, I worked up the courage to get up and sing "All Shook Up." Well, the crowd loved it and went crazy for me. To top things off, the DJ thought I was a professional Elvis impersonator.
That planted the idea in my head for sure. I was also a member of a classic rock band with some work friends at that time and started performing an Elvis set which our audiences loved. Very soon after that I came up with the "ELVIS By Dano" name and started using my home stereo equipment plus my guitar amp and microphone while performing at retirement homes for free or very low fees.
Not too long after I quit the band and bought my own equipment because they were way more interested in playing 70's and 80's classic rock than Elvis music. I have had two personal "Elvis" websites during my career. One for about a dozen years created by a co-worker of mine, and after he got too busy with other things, I created my own for another year. In both cases I only found them somewhat effective. What really established my Elvis impersonator career was joining Gigmasters in early 2005. I also provide a Johnny Cash opening act when requested. Since I joined Gigmasters/The Bash I have landed nearly 200 gigs. Yes they were, and still are "the bread and butter" of my "ELVIS By Dano" business.
You have over 100 5-star reviews from past clients. What's your key to making clients happy?
As far as making my clients happy, I always try to do whatever they ask of me, as long as it's something within my abilities. I have a fairly large song list and only once was an Elvis song requested that I didn't know. Plus, although my Johnny Cash opening act set is limited, there was also only one time a person called out for a tune that I didn't know. I also pay close attention to specific requests from my clients, like special songs for my guest of honor, announcements, arrival times, etc.
What advice would you give to other performers for growing their booking numbers and overall business on The Bash?
What I would tell other members to expand their horizons a bit as far as trying for gigs. For example, I love performing but have also bid for jobs that only involve "roaming the crowd" with no singing involved, though it's not what I enjoy the most. Also, sometimes in order to book a gig I need to lower my price some if necessary.
What's your favorite part of being an impersonator?
That's an easy question. What I like the very most about being an impersonator or tribute artist is making my audience and guest of honor feel very entertained, happy and special. It makes me feel good thinking that I helped make them forget their troubles and worries for a while.
You've been a long-time member of The Bash for over 15 years now, what's your favorite part of being a member?
My favorite part of being a member of The Bash is the way potential clients are sent to me rather than trying to drum up business on my own. Plus their customer service is awesome!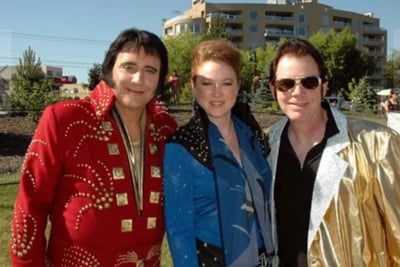 Clients Love Elvis By Dano!
"I hired Dan to perform at our Model A Club's annual banquet. He did a marvelous job. He mixed with the crowd and posed for pictures with them. His performance was great. He sang all the Elvis favorites continuously for one hour. He has so much energy. He came down into the crowd and sang to almost everyone woman at each table. He made all of us feel young again. The Club members loved him! He was delightful to work with. I recommend him highly."
-Patricia F. | Clackamas, OR