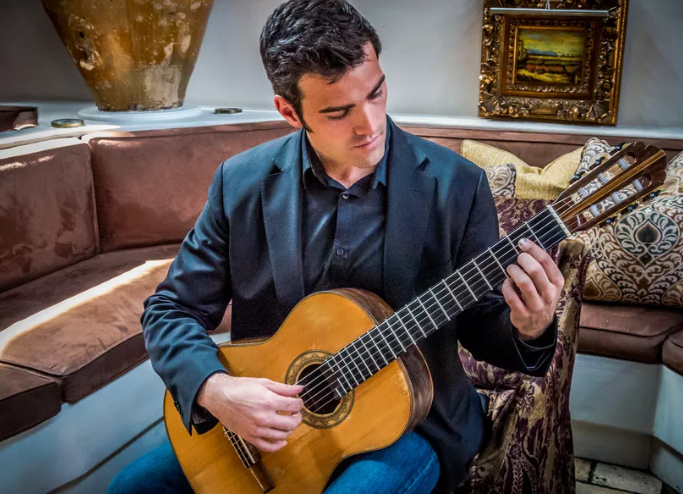 Meet Rich Barry, a classical guitarist from Washington, DC. His repertoire ranges from Classical, Spanish, Jazz, and Basso Nova to Acoustic Alternative Rock and Pop covers. His over 30 years of experience playing the guitar comes with many rave reviews—just check them all out his profile!
We caught up Rich to learn how he kicked off his career, what tips he has for virtual performances, and his secret to success.
Tell us a little bit about yourself and how you got started as a musician:
My career started at age five with lessons from a local musician in the back room of a radio station in Coudersport, surrounded by the great hilltop plateaus of the Allegheny highlands in Northern Pennsylvania. Throughout my youth, I studied with Dr. Pablo Cohen, and my parents enrolled me into amazing summer music festivals and pre-college programs. I went to The Interlochen Center for the Arts, Domaine Forget Music and Dance Academy, The Eastman School of Music, and National Guitar Summit. These experiences and academic training bridged my adolescence to my collegiate and graduate studies at The Peabody Institute of Johns Hopkins University.
After my acceptance into Peabody, it was clear music would be my committed career path. The environment of Peabody surrounded me with a range of world class musicians: Julien Gray, Ray Chester and Manuel Barrueco. I was pushed to reach my fullest potential of musicianship. Initially, music education was my declared major. However, my focus of guitar performance drove me to earn a Bachelor of Music, a Bachelor of Music Education, and a Masters of Guitar and Pedagogy in my six years at Peabody.
What's your favorite part of performing live at events?
Performing at live events provides an opportunity to connect my music to people, so many delicate and intimate moments that you can only share with a live audience. I mostly perform as a solo musician, so much practicing can feel a bit isolated. I'm able to practice in the company of my wife, who loves it for some reason. Being a part of events for household name brands, institutes, or companies helps to feel like my music is part of something larger than myself, but the live moments are what I live for.
What's your key to getting so many 5-star reviews?
Across your entire site, I have earned a total of 150 5-star reviews, and every one of them I can clearly recall in my mind. As a member since 2007, I have found three things that are key to making clients happy:
First, I respond to their request immediately with a personalized message which covers logistics, repertoire, and links for my website. These links include my social media, podcasts, and articles such as this one. When I am booked, I thank them, send them any needed paperwork and a music selection guide that they can listen to. This helps clients to choose any and all desired repertoire, especially when some are not aware of the wide range of music I can play. Many of them are surprised that I am adept to other styles than just Spanish guitar.

Second, I keep a calendar to touch base with clients to check in periodically before their event. Do they need an extra mic? Are they keeping their event outdoors, or should I be ready for moving inside? What style of suit would best complement their event? There are many questions clients don't know they have until I ask. The day before their event, I send out a short note of confirmation and on the day, I arrive early. I always aim to be set up at least 1 hour before the start of the event, unless otherwise directed by my client.

Third, and most importantly, I come prepared to perform at my best with the repertoire memorized, a tablet of set lists, backtracks and the ability to look up songs, should the client want to make changes during the event. This also covers me for any extra time that the client often requests.
What are you doing currently to offer your services virtually?
Making the switch from in-person services to virtual services has been an adjustment. During the quarantine, I recorded, posted, and stockpiled a lot of quality videos. I then sent out a mass invitation via an email to all of my past clients, event planners, friends, students, and colleagues inviting them to watch my online concerts. The posts led to several intimate Zoom sessions, virtual guitar lessons, and even a music accompaniment for a yoga class. Of course, I updated my profile to say that these services are offered.
For the brides and grooms who rescheduled their wedding days, I have been sending recordings of their processionals to give them a preview to enjoy and share with family. At least twice a week, I try to post dedicated and thank-you videos to my favorite past clients via social media. This way, I am connecting with current and former clients virtually.
What feedback do you have for others considering hosting virtual events?
Virtual events should have high-quality audio, and the video frame, background, lighting, and dress should also be considered. Posts for social media seem to come out at a higher quality with a computer and hardwired audio and video gear. However, some of the online social media sites compress the audio and video into a standard H264 video with AAC audio. So, whether you have a professional setup or not, you can still host virtual events.
What are you currently doing to promote your virtual offering?
The biggest obstacle in hosting virtual events is finding an audience. To promote virtual gigs, I keep posting videos on all major online platforms, publishing stories, and occasionally tweeting my thoughts. I may even coordinate another virtual concert with the publication of this very article. To increase your audience, obviously promote the details and specifics on all social media. The time of day, hashtags, and call-outs in the upcoming performance are also pertinent. These have been ways that I have successfully found my virtual audience.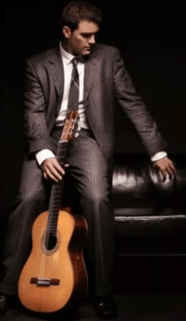 Clients Love Rich Barry!
"Sheesh, what a performance! Rich played his beautiful Spanish Romance Music at my beach-side wedding this past weekend. His unconventional yet extraordinarily professional approach to wedding ceremonies and receptions were refreshing, and so extremely well received by our guests. I would recommend Rich for his undeniable professionalism, extremely well rounded talent, and awesome ability to accommodate our needs. Not one ounce of push-back or negativity. Such a pleasure. You deserve every compliment, Rich."
-Justin A. From Cape May, NJ
-
Do you have advice surrounding virtual events you'd like to share? We want to hear! Comment below.