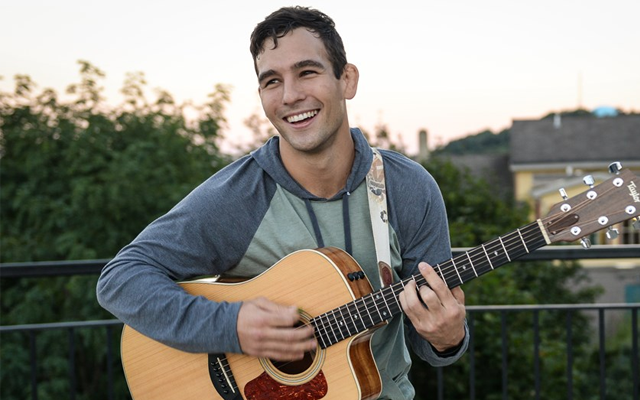 Meet singer guitarist, Johnny Walylko. Johnny's professional music career really took off after winning the University of Pittsburgh's 'Battle of the Bands' competition during his senior year. Ever since then, he's been on fire.
Johnny is based in Cincinnati today but has traveled throughout the East Coast to perform for weddings, wineries, parties, corporate events, and more. His style is most similar to Jack Johnson and the Counting Crows, but he plays all types of genres (modern pop, rock, country, and even some Elvis!) - he loves the challenge of learning a new song.
As a successful musician and member on The Bash, we just had to hear from Johnny on what has helped him get to where he is today and what tips he has for other performers.
Tell us about yourself:
Growing up, I focused on baseball and my high school years were spent at a sports training school. During my junior year, I had a pitching injury, which landed me on the bench. My mom noticed that I was struggling and bought me an acoustic Seagull guitar. I immediately took to songwriting as a means to find myself and learn about life. During weekends I would play for tips on the sidewalks of shopping plazas.
After high school, I joined the Pennsylvania Army National Guard, which gave me tools that I'm constantly using — planning, training, and discipline. I then enrolled at the University of Pittsburgh where my fascination with song lyrics landed me as a double major, Music and English Writing.
A highlight of my college experience was winning the University's 'Battle of the Bands' competition, which gave me the opportunity to perform for the school's Fall Festival. It was an incredible experience, and opened up opportunities to professionally perform for weddings, wineries, parties, and corporate events.
Since I graduated in 2018, my time is spent writing, recording, working on my setlist, and performing. I've had the opportunity to play throughout the East Coast between Indiana, Ohio, Kentucky, West Virginia, Pennsylvania, Maryland, Washington D.C. and North Carolina.
How would you describe your sound and type of songs that you typically play at events?
I play songs from all over the map: from modern pop, rock, folk, country, all the way back to Elvis. I strive to play songs that tap into people's memory banks and makes them feel nostalgic. I use the emotion of the song and transfer that into the performance.
Many of my favorite songs to perform have stemmed from requests taken for weddings and parties. I'm often pushed to tackle songs that I would have never considered learning (and sometimes have never heard before). This process of learning a variety of genres has helped me become a more well-rounded artist. So, a big thank you to my clients for that!
What do you feel makes you and your performances stand out from other singer guitarists?
I aim to exceed the client's expectations at every step of the process — from the first meeting to the final song of the performance.
I have a lot of fun when I'm performing and I think that energy transfers into events. After parties die down, I often stay late and continue playing for those still sitting around and enjoying conversation. It's a super intimate time, inspiring some of my best performances.
You have an amazing 5-star average rating with rave reviews from your past clients. How do you ensure events and your performances go off without a hitch?
In the Art of War, there is a quote, "We have the right to our labor, not to the fruits of our labor." Ultimately, this captures my philosophy in regards to how I approach my work. My focus is on the performance and I just let the results come as they may. I've just been super fortunate to have worked for some of the sweetest people in the world. Sometimes I'll get done playing late, and they ask if I want to crash in their guest bedroom. I tell them that I like driving at night, so they request that I text them when I get home. It's like I have family all over the East Coast!
What tips do you have for other performers that are just starting out?
Always put the client first. Once you're hired, their event becomes your event. Go out of your way to make it perfect.
Find a mentor. Reach out to someone that you admire. I became a much better performer after reaching out to Rich Berry, a classical guitarist who has been performing privately since 2005. As a friend and mentor, he shares a wealth of knowledge and helps me set goals.
Take your performance full-time. Pouring all of your time and energy into your craft will do wonders for your career.
Don't worry about the money. "Wealth consists not in having great possessions, but in having few wants." -Epictetus
ALWAYS give more than is expected. This is an incredible lesson that I picked up from Rich Berry.
Tell us about your experience on the Bash! What made you join in 2017 and what has your experience been like since?
I'm a huge fan of GigMasters/The Bash and believe in the company's business model. I'm incredibly thankful for everything the company has helped me accomplish. When I first started performing, the site helped me get in front of audiences. Since then, GigMasters/The Bash has supported a lifestyle and career I could have only dreamed of.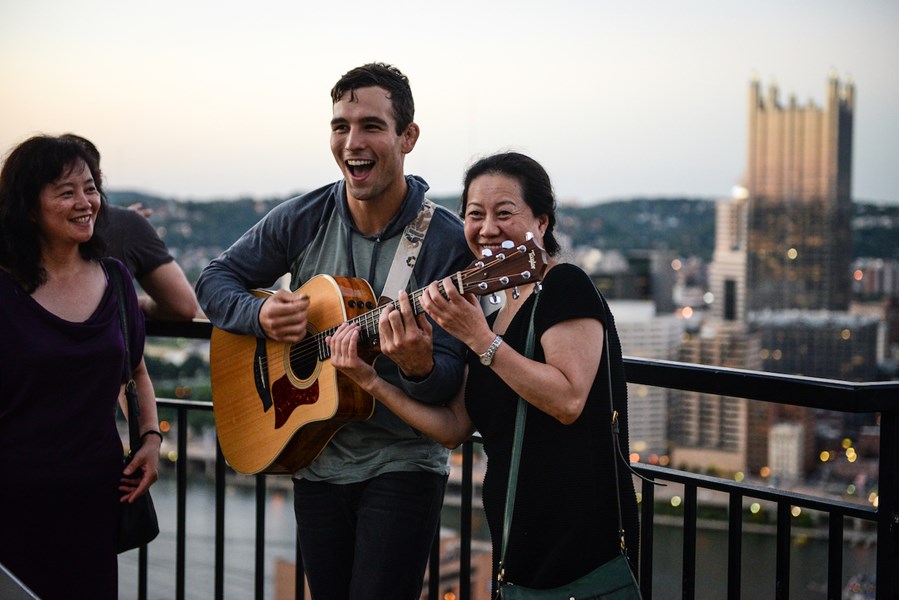 Clients Love Johnny!
"Johnny was amazing! From the moment I contacted him for a quote, he was so pleasant to work with. He replied to messages quickly, kept me updated on his progress in learning a few songs for the ceremony, & just made it very clear that he wanted to make sure our wedding was perfect. I had a few other vendors that were not as professional, so it was wonderful to have Johnny who I had no doubt in my mind would be there on time and organized. He plays beautifully. Before I even walked down the aisle, I got multiple texts from guests telling me how amazing he is. Every person I spoke to at the reception made a comment about his talent. He really made our wedding special."
- ALYSSA V. | MORGANTOWN, WV