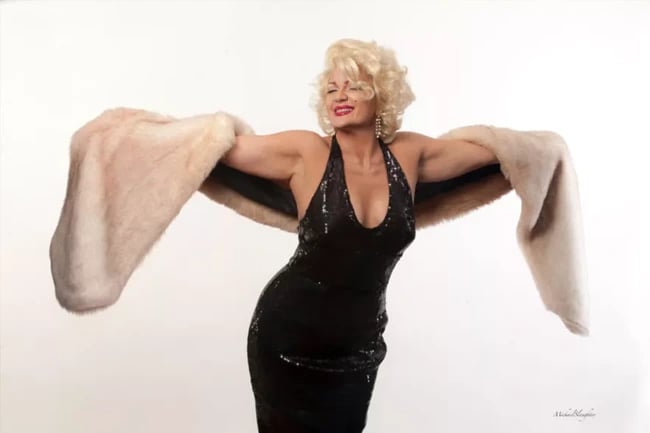 Meet Sheri, a Marilyn Monroe Impersonator from Atlanta, GA! She's an award-winning actress and celebrity with a background in theater, film, television, choreography, and more. In her versatile "Marilyn Shows", she performs hit songs from Marilyn Monroe's films live and interacts with the audience in her Marilyn voice, costuming, and personality!
This successful Marilyn Monroe Impersonator has been a member on The Bash since 2007 and is currently offering her performances virtually! We checked in with Sheri to learn more about her Marilyn Monroe Impersonator background and what she's doing right now to perform at virtual and contactless events.
Here's How Marilyn Monroe is Accommodating Virtual & Contactless Events
Tell us a little bit about yourself, what you do, and how you got started!
I'm a professional actress and singer and have worked in theater, film, and TV both nationally and internationally for the past 25 years. I was testing the waters with starting an entertainment company 15 years ago so I could have my own business in between theater bookings. Creating a Marilyn Monroe Tribute was the last thing on my mind, but the phone kept ringing with people asking for a "Marilyn" or "Elvis" appearance and I realized there was a huge demand. Since I love acting, singing and comedy improv, I decided to create a one hour 'Tribute to Marilyn Show' which is filled with Marilyn's top hit songs, comedy, anecdotal jokes and stories from Marilyn's life—with live audience participation. Most recently, I added a 'Tribute to Connie Francis' to my repertoire, and I have a full two hour evening called 'Double the Divas' with an hour of Marilyn, an intermission, and an hour of Connie Francis hits.
To this day, what has been your favorite memory as a Marilyn Monroe Impersonator?
One highlight as a Marilyn and Connie Tribute Artist includes being a featured regular on the Malt Shop Memories Cruise Ship and getting to perform onstage with the legendary Beach Boys! I was working on the cruise with legends Frankie Avalon, Bobby Rydell, Chubby Checker, and others when The Beach Boys asked me to come up as "Marilyn" and do a fun guitar solo opposite John Stamos, who was on tour with them. We played dueling guitars back and forth (I mimed my solo!) I also had the pleasure of bringing "Marilyn and the Rat Pack Revue" to the Grand Hyatt in Dubai, with a full Las Vegas dance revue that I choreographed and staged.
What steps are you currently taking to perform virtually or at contactless events?
I have been doing Virtual Shows from my home studio. Some are live, and some are pre-recorded for clients who would like to give the taped show as a gift to a loved one. I include their personal requests and messages to their beloved to make it a memory they can have forever—and that they'll never forget! I've been using Zoom for the live shows. I've also performed at a wonderful venue in Wisconsin, the Fireside Theater, which had limited social distanced seating, and I was on a platform on a stage in the round that worked beautifully. I am happy to do live shows with the proper distancing and COVID-19 protocols in place.
Can you share some details about a recent virtual or contactless event?
I recently pre-recorded shows for a Veterans Home and one for an 80th Birthday Celebration at home. It felt great to sing to folks that need some entertainment, and to fill it with personal messages from their wives or family makes it so special. For the Veterans, I dedicated different songs to them and spoke to them as if I was there in person. The Fireside Theater Show was very successful in terms of getting to speak and interact with the audience from a safe distance as the round platform slowly turned the entire time, allowing me to see them and them to see me from all angles. I am happy to reach people any way possible right now. It feels so good to send out the much needed joy and laughter!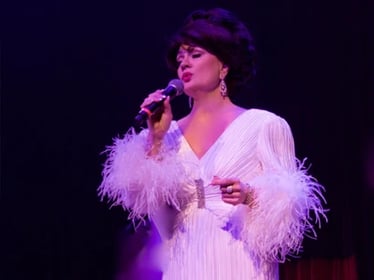 What is your #1 tip or piece of advice for party planners looking to book you for virtual or contactless events?
Let us know what's most important to you, and it is always our pleasure to make your dreams for your event come true!
What are you currently doing to focus on your business right now?
I am offering clients many different options to accommodate their comfort levels during this time. From virtual live, to pre-recorded, to in-person with safety protocols in place, I simply love to make people happy and I find it can be done all these different ways!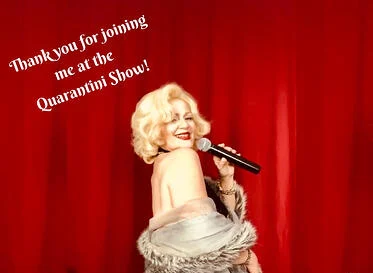 ---
Do you have advice surrounding virtual/contactless events you'd like to share? We want to hear! Comment below.