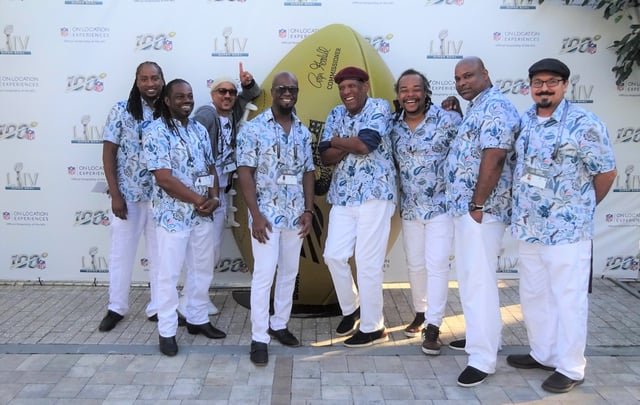 Meet Steel Band Delight, a steel drum band out of Miami Beach, Florida. Steel Band Delight had the honor of performing at Super Bowl LIV in Miami this month! We caught up with the band to learn their secret to scoring such a big time gig and how The Bash helped them facilitate this awesome opportunity!
Tell us a little about your business and how you got started as Steel Band Delight:
My name is Omarie B. Williams and I'm the steel drum performer for the musical group Steel Band Delight.
I started playing the steel drums at the age of 4 yrs old with my Dad, who is also a professional steel drum player.
I'm originally from island of St. Croix, but in
1999, I moved to Florida to attend college for business management.
After graduating for college, I worked in the corporate sector for over 10 years.
I was building a successful career but I wasn't passionate about my job.
Eventually, I decided to leave my 9-5 career and follow my passion of doing music full-time.
I started performing solo gigs locally around town which allowed me to build relationships with other live performing musicians and people in the entertainment industry.
This process ultimately led to us forming a band consisting of 8 members.
In an effort to expand our reach, we started a partnership with The Bash!
What was the best part of performing on such a big stage?
The best part of performing at Super Bowl LIV was feeling the energy from the crowd during our performance, it was electric! From the moment we arrived at the stadium, it was evident that we were at the Super Bowl. The entire atmosphere was amazing. We performed on two different stages and there were tens of thousands of people at each location. Seeing all the people in football jerseys dancing and singing to the music was a moment we will always remember!
How do you stand out against competition in order to land gigs like the Super Bowl and how does Bash help facilitate those inquiries?
We stand out by focusing on delivering the most memorable experience through presentation and performance. We are detail-oriented with a commitment to customer service and professionalism. Having the client's best interest in mind at all times really helps grow our business, leading to opportunities like performing at the Super Bowl.
The Bash helps facilitate those inquiries by creating a platform where we can interact with prospective clients. The platform allows us to showcase our talent and gives clients the opportunity to provide feedback about our services. The entire process is very efficient for the client and also the vendor. The Bash also has one of the highest rankings in Google searches for people who are looking for entertainment, so it really gives your brand a great spotlight.
What advice would you give to other performers for growing their booking numbers and overall business on The Bash?
It is important to create an efficient and effective approach in all areas of your business from your opening sales pitch to the final thank-you letter to a client. Always set the correct expectations with each client, communication is essential. Most importantly, set follow-ups with as many clients as possible within the early stages of the booking process to show that you're interested in being part of their event. This goes a long way in a competitive market.
You have over 40 5-star reviews from past clients. What's your key to making clients happy?
We always think about everything from the client's perspective and try to simplify the entire process. We ask probing questions to learn what their expectations are and then we work towards meeting those expectations, if possible. Being professional also facilitates getting positive reviews. It includes your punctuality (we always show up at least an hour in advance of the event start time), your attire, the sound level, the playlists, interaction with guests, etc. These are all important factors to ensure a client will be satisfied with your service and will likely leave a positive review.
What do you attribute your success on The Bash to?
Our success on the Bash comes from learning the platform and all the advantages it provides. It's very easy to respond to a client's request for a quote, especially utilizing the "saved response" templates. We have 74 bookings since August 2018, which has moved us to the top of the rankings in our category and customers respond favorably to that. Also, the staff at the Bash is very responsive with phenomenal customer service. We really appreciate our partnership with the Bash and how it has helped our business grow immensely.
What's your key to having a successful performance on a big stage like at Super Bowl LIV?
Most importantly, enjoy the moment because it's a once in a lifetime opportunity! All the countless hours of practice, rehearsals and performing at other events were designed to prepare you for this moment. Performing at the Super Bowl is an experience that will last a lifetime!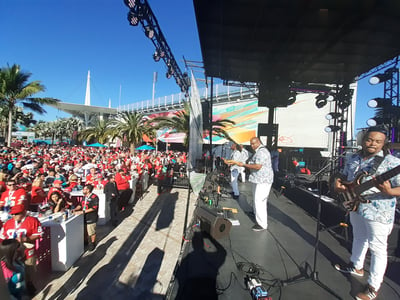 Clients Love Steel Band Delight!
"Steel Band Delight was awesome. The music was perfect and the guys were great, very professional and accommodating. They kept the party going and took the party to the next level. I would definitely recommend them for your next event. I will be using them again for sure."
-Rod M. | Miami Beach, Florida