Meet Rachael Miller, a classically trained violinist from Chicago, IL. Rachael has been playing violin ever since she was 4 years old and today, she performs at all types of events—from wedding celebrations, to corporate functions, and now virtual events! Since joining The Bash in 2017, Rachael has booked almost 100 events and earned over 50 reviews.
We caught up with Rachael to learn more about her experience as a violinist, see what tips she has for others who are performing virtually, and much more.
Tell us a little bit about yourself and how you got started as a violinist:
I've been playing violin since I was 4 years old! My aunt has been my teacher from the start. Everyone in my family plays violin so it's extremely motivating and uplifting to have had all of us playing together for all these years. I am currently based in Chicago, IL as a full time freelance violinist.
What's your favorite part of performing live at events?
My favorite part of performing live is getting to do what I love. I feel secure and completely content when playing violin. I also get to be a part of someone's special day whether it's a wedding, personal occasion, etc. Overall, it feels extremely rewarding.
What's your key to getting so many 5-star reviews?
My three key attributes for rave reviews are:
1. Being accommodating
2. Remaining flexible
3. Organization
What are you doing to stay productive and focus on your business right now?
To focus on my business right now, I'm currently:
1. Revamping my website
2. Planning new projects
3. Refining my skills as a player through practice
4. Working with other musicians virtually
5. Coordinating international group classes with guest artists each week. These are sponsored by Trala: Learn Violin.
What are you doing currently to offer your services virtually or at contactless celebrations?
I teach and perform virtually through Zoom! I play for happy hours, corporate meetings, and surprise 'Happy Birthday' videos! For teaching, I work with a handful of students privately, and I am very involved with the company Trala: Learn Violin.
A few weeks back, I played at a contactless/socially distanced wedding. The couple rented a beautiful Airbnb in downtown Chicago with only 15 close family and friends. In addition, there was me (violinist), photographer, bartender/chef, and wedding planner all in masks at a safe distance apart.
This worked well because I could wear a mask while playing which was totally fine! If I were a vocalist or a wind/brass player that would be a different story, unfortunately.
What are your top 5 tips for performing virtually?
My must haves for performing virtually are as follows:
1. Ring Light
2. Quality Webcam
3. Good WiFi
4. Zoom
5. Portable Amp for backtracks if modern requests
What are you currently doing to promote your virtual offering?
Simply expressing that this is an option when any client reaches out to book for an event (through social media, a gig platform, my website, etc.)
What feedback do you have for others considering hosting virtual events?
I recommend trying a test run with the client 10 minutes before everyone gets on the call to do a sound check and sort out any issues.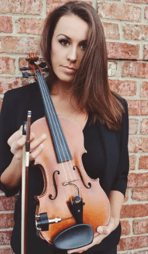 Clients Love Rachael Miller!
"Rachael was outstanding with her accommodation before our wedding and so engaging during her performance at our reception! Her attention to detail, her excitement for our wedding, her engagement with our guests, and just PURE beautiful talent. A few of my guests have already reached out to Rachael to book her for their weddings!! THANK YOU for all of it and more!!!!!! You blew our guests away and made everyone feel so special!!!"
-Elizabeth A. From Chicago, IL
-
Do you have advice surrounding virtual events you'd like to share? We want to hear! Comment below.