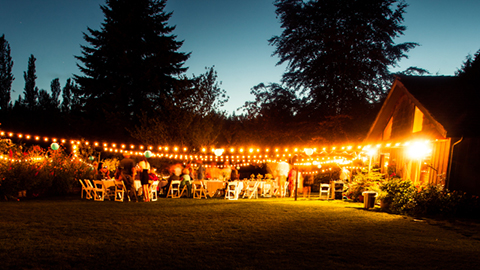 The summer is one of the busiest times of years for many entertainers. While some folks are off enjoying vacations, many performers are booked solid with summer gigs. And summer gigs often mean outdoor gigs, which, as every performer knows, are a whole different animal.
There is nothing quite like seeing an outdoor concert under a blue sky or a starry night BUT there are about a million things that go into pulling off a great outdoor gig. A whole lot can go wrong if you aren't careful. That's why we picked the brains of a few of our performers to get their tips for outdoor gigs.
Lesson #1 – Be Prepared (For Everything)
Great outdoor amphitheaters like Colorado's Red Rocks or Washington's Gorge have all the equipment needed to put on an amazing outdoor concert. There is a pretty good chance that the backyard barbecue you are performing at next weekend will not. It's up to you to communicate your needs to your client and, in many cases, to supply the equipment you may need.
It may seem obvious but you should always make sure the client understands you need a power source (assuming you are plugging in). As Matthew Cutillo (Amityville, NY) told us "always discuss (power) with client unless your battery-powered, then you should make that very clear as people generally do not understand your capability and mobility, save them some hassle and let them know." Matt suggests packing at least 50 feet of extension cords. If you do you are a "self-contained MacGyver" ready to plug in just about anywhere.
Ted Hefko, of Ted Hefko's New Orleans Band, explained his outdoor gig essentials as "If you're reading charts you'll need some clothes pins, but a pen with a pocket clip, or a pair of sunglasses will work in a pinch"
Lesson #2 –Shelter from the Storm (or Sun)
When planning an outdoor event, clients don't want to even hear the "R" word, but rain can put a serious damper on any outdoor show. That said, we all know that summer showers come and go so a little drizzle might not mean the end of the fun IF your gear is covered. Make sure you discuss the possibility of rain with your client and explain that no matter what you need a dry space to perform.
Mike Dangeroux (Chicago, IL) suggests "the band performance area should be covered with a tent, umbrellas or some type of shaded area in case of bad weather." Neil Smith of Dandy Dj (North Hollywood, CA) agrees: "I require my clients to either have an alternate protected setup area or adequate shelter in case of inclement weather to protect my equipment." He adds "I bought a pop up sun shade as well."
You want shelter not only from storms but also from intense sun. Cutillo warns "make it very clear that you need to perform in an area free from direct sunlight. You can collapse (or) pass out in the direct sun."
You are wise to spell all of these things out not only over the phone but also in writing. Matt Stedman, of the Matt Stedman Band (Chicago, IL) puts it right in his contracts: "If performing outdoors in a tent, the Matt Stedman Band will be provided with staging or flat concrete with the dimensions of at least 16 x 12 feet and COMPLETELY COVERED OVERHEAD AND IN BACK OF THE GROUP..." It's all in the details, people.
Other suggestions from our performers: water, water and more water! And maybe an electric fan or two. One of our performers suggested clip-on fans that can attach right to a music stand - cool idea.
Lesson #3 – So Fresh, So Clean
Last but not least, you want to look good and not like a sweaty, wilted mess. Dangeroux smartly suggests separate outfits for setting up and performing. Harkey had a similar suggestion: "Have a small towel close by, and use it to keep the sweat off of your face, hands, and guitar."
Another accessory that will help you get nearly every extreme summer gig (and make you look a lot cooler) are sunglasses. You might want to check with very particular clients (e.g. brides) about wearing shades at a gig, but if they are cool with it, sunglasses can be a lifesaver.
---
These are all great lessons to learn about outdoor gigs, though of course there is a lot more that goes into pulling off an amazing outdoor show. The most important thing you can do is coordinate with your client ahead of time. The more you talk and plan things out, the more time you will have to focus on your performance when the big days finally rolls around.
Have fun this summer and remember to wear sunblock!
---
Playing any outdoor gigs this summer? Tell us about them and give us your summer gig survival tips by leaving a comment below!