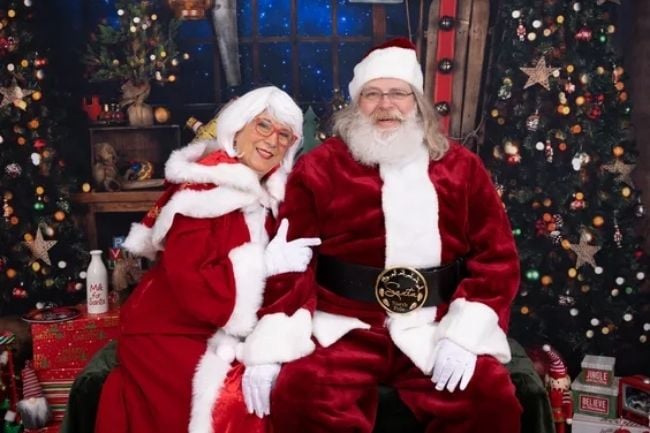 Meet Santa Phil and Mrs. Claus, a dynamic duo ready to spread Christmas cheer this holiday season. Their portrayal of Santa and Mrs. Claus always has clients and their guests believing in the spirit of Christmas!
Santa Phil's authentic appearance amazes children, and his love for Christmas shines through with each interaction. Not only is this duo experienced, but they're also certified as proud members of the International Brotherhood of Real-Bearded Santas and graduates of the Worldwide Santa Network Santa School, ensuring they bring professionalism and expertise to every event. The personalized and magical experience they provide makes a memorable event for all ages. Learn more about Santa Phil, Mrs. Claus, and their magic Tesla below!
About Santa Phil and Mrs. Claus.
Tell us a little bit about yourself, what you do, and how you got started!
My husband was saying goodbye to our granddaughter. I looked at him with his white hair and handlebar mustache and said if you grow a beard, you will look like Santa Claus. Then we bought a Tesla with a Santa Claus mode and a Christmas light show.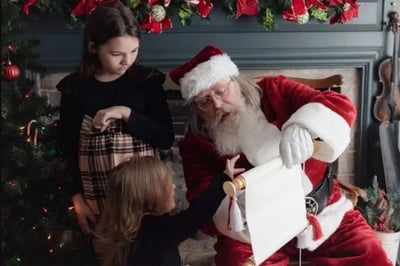 To this day, what has been your favorite memory as Santa Claus?
One we thought was going to be a hard one was a visit with a 6-year-old boy on his 3rd battle with cancer. Someone contacted us and wanted to hire us anonymously. We refused to take payment but asked the woman to buy 2 Christmas presents we could deliver the morning of Christmas Eve. We treated it like any other visit, no mention of his illness.
We always go with some 'inside info' like the elf on the shelf name, what grade the child is in, the teacher's name, and what Santa left last year for the child. When we leave, I tell the child to tell their teacher that we said hello and that they were always on the "good" list. For some reason, that's the detail that seals the deal. After we left one event, the mom texted me to let us know that her children thought we were the "REAL DEAL" and not one of Santa's helpers!
What are you most excited about for holiday events this year?
We have spent a lot of time investing in education, Santa Gatherings, Santa Suppers, and even Santa Camp (Google it—HBO did a documentary!). We have learned so much, including posing for photos, beard maintenance, magic tricks, games to play, answers to trick questions, and building our personal backstory.
What is your key to making holiday event clients happy?
Personalization at their visit. A few weeks before a scheduled visit, we ask for some inside info on the children. It makes a big difference. Now, we can't remember every detail, but a few here and there create magic!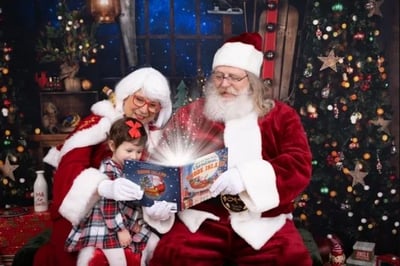 What is your guess as to what the most asked Christmas gift will be this upcoming holiday season?
For girls, anything Barbie! For boys, video games or legos!
---