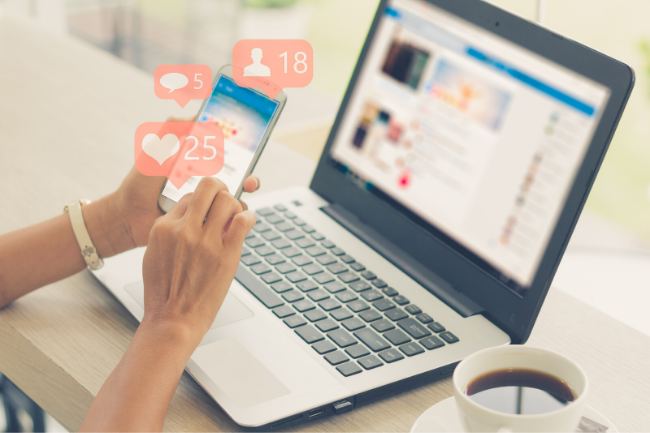 Social media is a great way to stay connected and engaged with your clients and followers, especially right now. If you're finding you have some extra time to focus on your business, consider developing a new strategy to drive more followers and engagement across your platforms.
We put together a few ways to get started with revamping your social media strategy below.
Make Sure Your Social Media Presence Is Up-To-Date
First things first: Take some time to update your profile picture and cover photo (where applicable). Switch out those pictures from 2015 and upload some new high-resolution photos that clearly represent your business and what it is you do. Also, if you haven't posted a photo or video on your feed in a while, now is a great time to do that. You want to make sure your feed has a steady flow of recent posts so clients know you're actively working and booking events!

Also, ensure your messaging and imagery across all your platforms is consistent, and don't forget to double check that all your bio information is clear and accurate to represent the services you're currently providing.

Create a Professional Instagram Account
If you don't have one already, create a professional account for your business on Instagram. This will allow you view insights like engagement, reach, and views for your specific posts. You'll also be able to see who your audience is and when your engagement rate is the highest so you can determine the best day and time to post.
If you already have an Instagram account for your business, follow these quick steps to switch it to a professional account:
Go to "Settings"

Click "Account"

At the bottom you'll see "Switch to Professional Account"

Select "Business" and complete the final steps
Create a Business Page on Facebook
Facebook is a great place to advertise your business. It's also an easy place for friends, family, and previous party planners to stay in touch and show support! Facebook makes it easy to create a separate page for your business and it's another platform to receive and feature reviews on! Follow these easy steps to set up your business page:
Log into your personal account (or create one)

Click "Create" (located in the upper right hand corner)

Click "Page"

Select "Business" and complete the final steps

Now you can manage your personal and business pages all in one place!
Follow Some Fresh Faces
Look at who your following now. Do you feel inspired? It's important to follow and interact with some new faces, whether it's other vendors in the industry, influencers, or brands that inspire you. Now is the best time to start networking and supporting other professionals in the events industry — social media is one of the best ways to do that right now!

Create a New Strategy
Try to look further into the strategy behind each of your social media platforms. Ask yourself a few important questions so you can find a stronger purpose behind what you're posting.
What are your goals?

Who is your target audience?

What key message do you want to get across?

Why should people follow you?

How will your posts be unique?

Use the answers to these questions to help form your new go-forward strategy.
Schedule Your Posts
Scheduling your social media posts weekly or monthly can assist in taking your social media game to the next level and help keep you committed to posting consistently.

There are several platforms available to assist with automatically scheduling posts like Hootsuite, Later, Plaonly, and Buffer. Do your research and pick the platform that works best for your needs! See below for a few tips on scheduling your future posts:
Take a look at your Instagram engagement and do some general research on when the best days/times are to post — some of the platforms like Later will calculate the best posting times for you!

Outline your social media calendar with posts ahead of time — doing this on a weekly basis typically works well!

Create your written copy and determine which photo/video to include with each post.

Get all those posts scheduled using your your favorite platform! We recommend at least 4 posts per week.
Our friends at WeddingPro recently hosted a webinar sharing the best practices for navigating your social media accounts during COVID-19. We encourage you to watch the recording for more tips from the experts.
_
What are you doing on social media right now? Comment below.