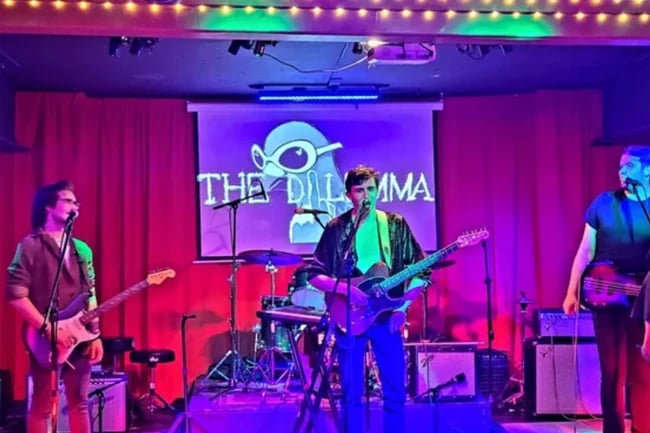 Meet The Dilemma, a party band that mixes popular covers with their own original songs and is extremely passionate about their work. They are one of the top booked live bands on The Bash, have been a member since 2014, and have been awarded several badges! The Dilemma puts on a captivating show every time they are on stage and have performed at some of the most famous venues in the country.
The band released their debut album in 2019 and their music is available on all major music streaming platforms. They've also performed at a variety of shows including community events, festivals, and private events. We caught up with The Dilemma to learn more about the band and its members, their key to getting booked, advice for other vendors, and their experience on The Bash. Hear what they had to say!
Here's What Goes Into Making The Dilemma a Top Booked Band
Tell us a little bit about yourself, what you do, and how you got started!
We are a multi-regional party band that throws down everything we have everywhere we go. Every member of every audience deserves to feel front and center as though they are getting a private show at Madison Square Garden. We take our job of getting people to have the best time dancing the night away very seriously. We bring a party to every venue, club, house, etc. We all have a love for rock, the blues, new wave, Disco, funk, soul, and world music. Our specialty is dynamics. No party is complete without sultry lows and feverish highs. Our styles morph like the skin of a chameleon to fit the situation but stand out boldly and brightly like a peacock full strut. Our band members include:
Corey Rieman, the best frontman in the business, whose attitude is at par with his vocal range. With a guitar slung over his shoulders, or keys before his fingers, his voice doesn't falter, from smooth tones to soothe the soul to full-out banshee cries. And just when you thought there wasn't more mercury in the thermometer, it shoots to 1000 degrees when he dances upon the stage with wild whirlwind blasting from his harmonica. He dresses sharp and cuts through the floor sharper.





Cole Morson is the epitome of the archetypal rock and roll guitarist. Born out of the blues and mused in molten metal. The bar gets set higher than 12 bars, and his amp doesn't need to be set to 11 to set the floor on fire. The cliché of making the guitar sing gets ever truer when he opens his mouth and the honey-on-gravel baritone voice busts through. The blues requires you to testify, and there is never a note he plays that seems untrue.




Cody Bondra is a tall order that always gets fulfilled. He's big on bass and his business is getting the bass in everyone's face, without overwhelming you. Getting the rump to thump is the duty of the bass player, and he most certainly delivers there. He can go from phat and funky to smooth and soulful in less time a Porsche can go from zero to 60. On top of the low end, that pretty face has an even prettier voice behind it. That's right, The Dilemma sings in 3 part harmony.


Rounding out the Dilemma's lineup is the man behind the kit and in front of the beat, Nick Saccary. He is the mean beat machine with the infectious groove you don't want to cure. Somehow, he can bring thunder from the skins without ever breaking an eardrum. The job of the drummer is not to be loud, but to be present, full, and lead the band through the river of rhythm. On that ship, there is no greater skipper. He may not sing, but if you see him open his mouth, expect to end up on the floor laughing. Every band needs a joker and a prankster, and we have the king jester in our court.
To this day, what has been your favorite memory as a band?
We are an original music band that plays covers our own unique style. Once in a while, we like to get down-home and funky to get the groove going in the crowd. We've been known to play "Nights on Broadway" by the Bee Gees or "I Feel Love" by Donna Summer one minute, then playing "Whole Lotta Love" by Led Zeppelin and "Baba O'Reilly" by The Who the next minute. After that, we play one of our originals, and people on the floor ask for us to play a few more. This is all to accomplish our mission of making music maniacs and the meek alike.

Our favorite memory? It's when we get people's butts out of their seats and dance. It's part of our mission statement. We take our mission very seriously. For us to have a favorite memory would go against all of our principles, every single show we play gets our all.

Can you share some details about a recent event?
We recently played a private 40th birthday party in Garden City, New York. We explained our mission statement to the audience through our songs. We asked the audience if they would accept this mission statement with us. They accepted. We rocked out. They had fun. Mission accomplished.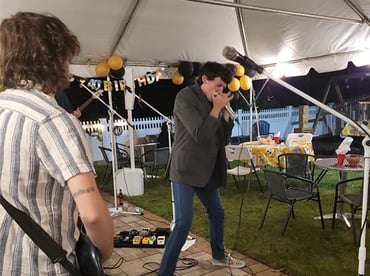 What is your key to getting booked?
Always respond immediately. When you see a lead come in that fits your band, respond immediately, then private message, and place a phone call. Also, we have a professional team, including a publicist, website designer, and manager. We have a pit crew that makes sure our engines are tuned up so we can drive down the sonic highways.
What is your #1 tip or piece of advice for other vendors?
Answer and respond quickly! Get those videos and photography work done! Give nothing but your best the day of the show, and that allows you to know you did everything within your power.

How has The Bash helped you expand your business?
We get 140 leads a week from The Bash and we are booked solid because of you guys! Thank you, The Bash! Because of the Bash, we've had amazing opportunities that lead to some of the most artistically fulfilling work we have done.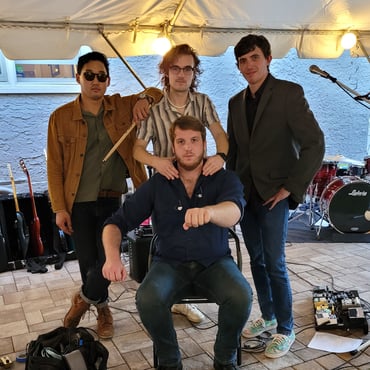 ---
What's your top advice for other vendors? We want to hear! Comment below.