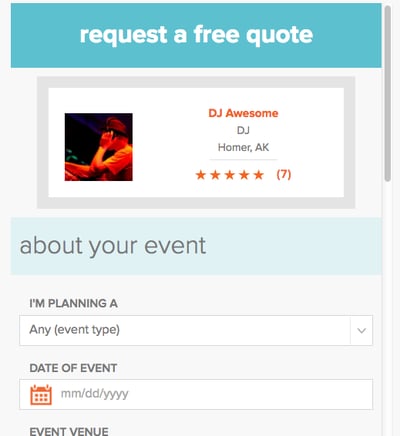 Introducing our Portable Contact Form on The Bash..

The wait is over! Today, we officially launched the Portable Contact Form. Now, you, our members, can have the contact form right on your own website, giving you the ability to manage more leads and bookings through The Bash while showcasing your hard-earned star rating.
Sounds cool, but tell me more.
With this new form, prospective clients can contact you through The Bash without ever leaving your website. This means you can manage more of your business in one place, and you'll be able to take even greater advantage of your membership benefits:
Our end-to-end bidding and booking system makes it easy for you to bid on leads, secure bookings and manage the details of your gigs.
Clients can pay your deposits online by credit card or Paypal via our totally secure e-commerce system.
Any bookings that come in through this form will count toward your search results ranking on The Bash and those clients can leave feedback for you.
You and your clients can trust that our dedicated Customer Specialists will be there to help throughout the booking process, available by email and phone. They have two goals in life: to help clients book great entertainment and to help performers get bookings!
How do I get it?
We added your customized form to your control panel so you can see exactly what it looks like. In just a few simple steps, you (or your webmaster) can embed the form onto your own website. Simply go to the tools tab in your control panel and look for "Portable Contact Form." We've made it easy for you to adjust the size of the form to fit your website. Once you have it the way you want it, you can copy the HTML code that we provide. If you need help, feel free to contact us at info@thebash.com or call 866-342-9794.
Still not sure?
In our last member newsletter, we asked our members if they'd be interested in a portable contact form, and the response was overwhelmingly positive. A few members were concerned that we'd be recommending competitors to their clients via our "auto add" function. We can assure you that we are very sensitive to this issue and we will never suggest other performers to clients that found you on YOUR website (unless, of course, you want us to because you can't do the gig). In other words, the "auto add" feature will be turned off for any leads that come in through your portable contact form.
We hope you see the Portable Contact Form as another way that The Bash helps you build and manage your business -- so that you can focus on your talent.
Try it out, and let us know what you think in the comments section below.