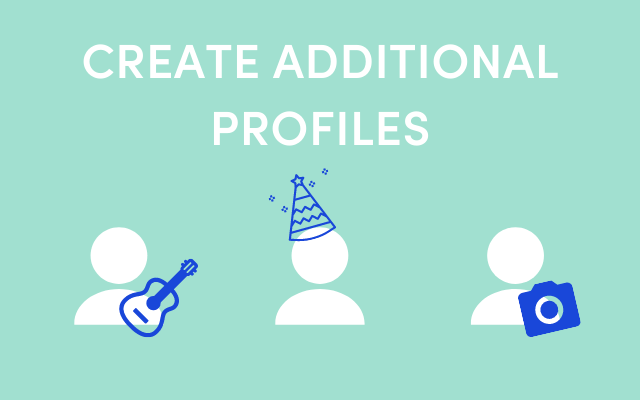 Are you multi-talented? Do you service multiple locations? Are you looking to get group gigs as well as solo gigs? If the answer is yes to any of these, we recommend creating additional profiles for your business.
Utilizing additional profiles on The Bash allows you to create more targeted and service-specific profiles that help drive more relevant leads and booking opportunities to your business.
Why Create an Additional Profile?
Here are a few reasons why members create additional profiles on The Bash.
Many Talents, Many Profiles
Many of our members are multi-talented! If you're both a DJ and Photo Booth, for example, creating an additional profile would help promote both of those businesses. This allows you to tailor each profile (your photos, videos, bio, etc.) to the unique services you provide. Party planners are more likely to request your service if your profile matches the service they are looking for. This also helps to ensure you're receiving relevant leads for each service.
Go it Alone
If you're part of a group act and are a soloist (e.g., you're the lead in a cover band, but are also looking for gigs as a singer guitarist), creating separate profiles allows you to book band gigs as well as some solo gigs.
Location, Location, Location
Let's say you live halfway between two major markets or cities. Maybe you're between Philadelphia and New York or L.A. and San Diego. If you want a strong presence in both places you absolutely should establish a profile in each city to maximize your exposure, search results, and leads.
Tips for Creating Additional Profiles
When creating an additional profile, the content of each profile should be unique and specific to the service you're advertising. This not only benefits the party planner's vendor search experience, but it also helps your and The Bash's chances of appearing high in search results.
For example, let's say you only had one profile for both your DJ service and photo both service. A party planner comes to The Bash looking for a photo booth for their event and sees your profile in search results, but scrolls past it because your profile photo is a picture of you DJing an event and your profile name and description are tailored towards your DJ business. That planner is likely to find another vendor who has photo booth services reflected on their profile.
Here are the top sections of your profile to customize:
Profile Name and Bio
Create a unique profile name and craft a new profile description that's tailored to the service you're advertising.
Photos and Videos
Upload photos and videos that match the service you are promoting on your profile.
Starting Price
If your pricing is different than the other services you provide or is different based on which market you're advertising in, make sure to update that on your profiles.
Reviews
Once your additional profile is live, you'll start earning reviews. Don't forget, you can always add an outside booking to kick-start your reviews on that new profile!
How to Create an Additional Profile
Ready to create additional profiles? Just log in to your Control Panel and look for this button on your dashboard:

How to Link Your Additional Profiles
Once you create additional profiles on The Bash, you can easily link them and display them all under the "Related Profiles" section on your profile. This allows clients to see all the other services you provide and visit your other profiles.


Follow these steps to link your profiles:
Log in to your Account

Go to the "Profile" tab

Click the "edit" button next to "Related Profiles"

Search for and select the profile you are looking to link

Click the "save" button.
If you have any questions about creating or managing additional profiles, don't hesitate to contact us at info@thebash.com.