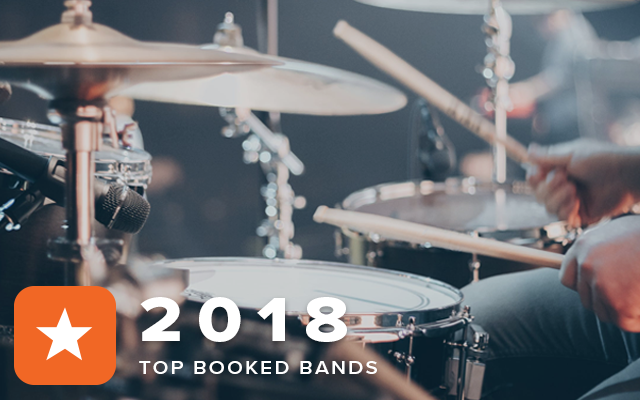 A live band is the perfect addition to just about any celebration. The Bash has thousands of live bands for party throwers to choose from, but today we're putting the spotlight on the top booked bands of 2018. We reached out to these top bookers to learn a little bit more about them and see what helpful tips they have for other live bands and new members.
Top Booked Live Bands in 2018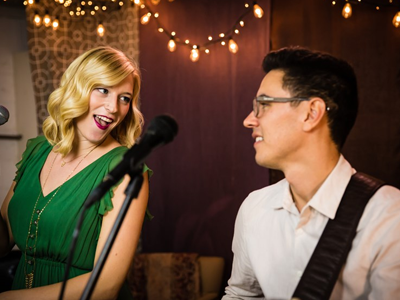 Fun Fact: Carly and the King's first gig was on a Celebrity Cruise ship going through the Caribbean.
Most Memorable Event: Venue-wise, the most memorable was when we played center court at the Staple's Center last year!
#1 Tip for New Members of The Bash: Make high quality demo reels, and be consistent and prompt with responding to inquiries!
B.D. Lenz | Jazz Band | Jersey City, NJ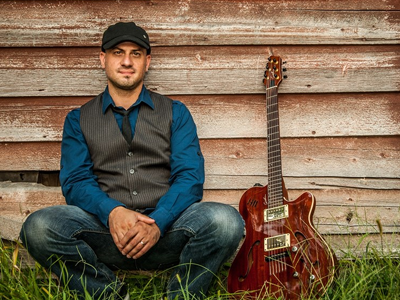 Fun Fact: I was once a "stand in" for one of the 'New Kids On The Block' during the filming of their coke commercial.
Most Memorable Event: We once played a private party during a hurricane. The client (who lived on a lake) didn't want to cancel so they had to ferry people to their house. When the power went out they had to pull out a generator for us to continue playing. We played this party while a storm raged outside!
#1 Tip for New Members of The Bash: Have a quality press kit (especially good video!)
Mike Dangeroux Band | Rock Band | Chicago, IL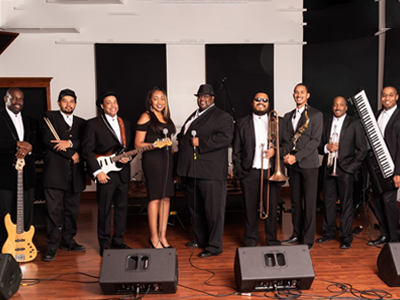 Fun Fact: The Mike Dangeroux Band is an 11-time winner of the Rising Star Award for the Top Rock Band.
Most Memorable Event: Mike Dangeroux Chicago Blues Festival on June 15, 2014.
Favorite Part of Being a member of The Bash: On behalf of the Mike Dangeroux Band, I am deeply honored to have been selected as one of the top 10 booked bands in 2018 on The Bash. I am sincerely grateful for the recognition from The Bash.
Those Guys | Dance Band | Waterbury, CT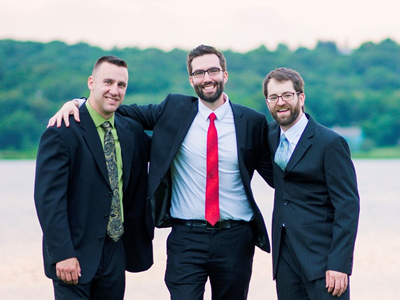 Fun Fact: All of us also work as music educators locally throughout the tri-state area, and work with students on a variety of instruments and voice from 5 to 80+ years old.
Most Memorable Event: We have played some AMAZING events over the last decade, but it would be tough to top a wedding we played in a heavy thunderstorm in August of 2016. The power blew out in the beautiful rustic New England barn leaving the guests in the dark with only the emergency exit signs for lights and no juice for the band RIGHT BEFORE the bride and groom were coming out to their first dance. I had a stroke of genius, and using the acoustic backup gear we always bring, I had all 140+ guests form a huge circle around the bride and groom, with myself singing, our drummer on just his snare with brushes and our guitarist on acoustic next to them mid-circle. The closeness allowed EVERYONE to hear us even without power; guests lit the area with cellphones, and as the couple danced EVERYONE joined in and sang their first dance song with us....It was the most magical moment of my professional career and saved what would have been a disastrous night. We played the rest of the reception just like that, with everyone singing and dancing like family. I will never forget it!!!
Favorite Part of Being a Member of The Bash: My favorite part of being a member of The Bash is the relationships I have built with clients past and present. I meet clients for dinners, grab coffee and chat details about the upcoming performances, and have taken several clients out on boat rides and fishing trips across New England and New York state. The way I get to work closely with couples and companies to help them plan out the perfect wedding or a flawless private event is one of my greatest joys. The Bash helps put me in touch with new clients and gives my company and myself a chance to do what we do best!


7 Sharp 9 | Cover Band | Atlanta, GA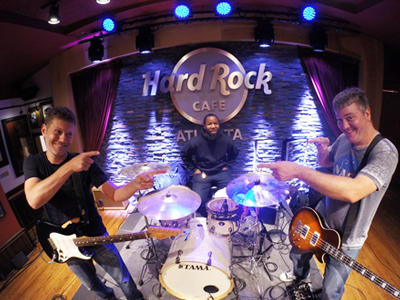 Fun Fact: During setup and/or load out for every gig, we end up referencing or quoting 'Back To The Future' at least once.
Most Memorable Event: I can't pick just one! There have been so many; weddings of close friends, opening for national acts, our record release parties, beach gigs every summer in Florida for years…the list goes on!
#1 Tip for New Members of The Bash: Say yes to EVERYTHING.
The Creswell Club | Jazz Band | New York City, NY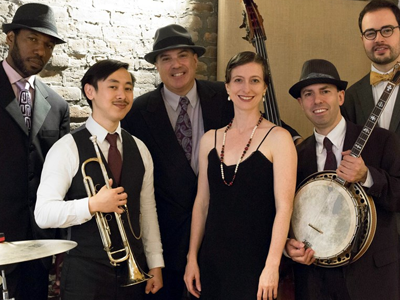 Fun Fact: A lot of what we play is music from the 1920s and early 1930s. It's a very particular style of music that you really need to dig deep into to "get" it. But at weddings, there's often a segment of the guests who would rather dance to pop/R&B than the Charleston. We're not purists—we also love more modern music. So sometimes we play 20s music for two hours, then time-travel ahead 50 years for a dance set at the end of a reception.
Most Memorable Event: We once played for a Doctor Who–themed wedding at the Queens County Farm Museum. There were costumes, and a Dallek-shaped cake! Among the song requests from the couple that we learned for the wedding:
—A piece of music from the video game Final Fantasy, for when the couple were pronounced husband and wife
—The Doctor Who theme
—Love Is an Open Door (from "Frozen") for their processional
—The Super Mario Bros theme song
#1 Tip for New Members of The Bash: Everyone starts as a member with the same empty page. Each section is an opportunity to tell potential clients something about yourself. It's worth thinking carefully about every section, and how you can put your best foot forward.
EJ & AlpineSound | German Band | Menlo Park, CA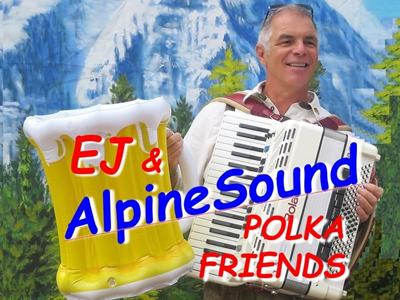 A Fun Fact: Apart from playing traditional and also more modern German/Oktoberfest songs, we really enjoy ENGAGING with the audience. The more FUN the audience has, the more fun we have!
Most Memorable Event: @AYAVA soccer stadium last year (pre-game for San Jose earthquakes against Galaxy New York).
#1 Tip for Clients: Don't wait too long to book a band especially during high season (in the summer). Ask the band for advice to put on an amazing event beyond the music.
Romantics: For Lovers Past, Present, and Future | Cover Band | Sarasota, FL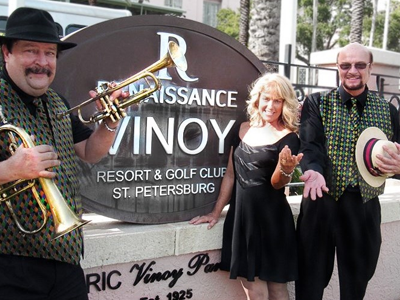 Fun Fact: I once owned the Leon Merian Big Band. Leon Merian was one of the primary lead trumpeters of his era. Leon played lead for Elvis, Sinatra, Sarah Vaughn, Danny Kaye, Judy Garland, Tony Orlando, Gene Krupa and so many luminaries that I began the Biography on his life "The Man Behind The Magic Horn" which was finished by another of his students, Bill Bridges. ABC, CBS, NBC, Broadway and major motion pictures like Ben Hur all saw so much of Leon that he was even mentioned by name in the Broadway Production "The Sidemen." He was a combination of a monster musician and frankly social wild man. Leon was lead trumpeter for the Burt Parks Orchestra which played the Miss America Pageants where his trumpet section included Doc Severinsen and Clark Terry. Leon could have been offered the coveted role that Doc played for The Tonight Show with Johnny Carson but his wild arrogant behavior just didn't fit in network television. He was also tapped to play lead trumpeter for The World Jazz Ambassadors Tour conducted by Benny Goodman, but when Leon insisted on being payed for rehearsing with this famous band, he was replaced by the beloved Louis Armstrong.
I founded a 501 C (3) Not for Profit called Pass the Torch Music Mentoring Program which operated for over a dozen years in the school systems of five counties in Florida. Numerous concerts including All County productions featured teaching music improvisation with the help of great professional celebrities like John Lamb (Bassist for Duke Ellington), Jeff Berlin (Bassist for Van Halen) and Lillette Jenkins Weisner (Extraordinary Pianist and neighbor of Mr. & Mrs. Louis Armstrong).
Most Memorable Event: For two years, The ROMANTICS have played The James E. Rooster Memorial Pub Crawl in Ybor City. The pub crawl celebrates the mythical populator of Ybor City's Chicken Infestation. This is the local version of Mardi Gras. The Tampa Bay Times did a color picture of our first pub crawl and the feeling of strutting down the middle of 7th Avenue (that resembles New Orleans) is one of life's rare treasures!
#1 Tip for New Members of The Bash: Leading a band is both a demanding business and a calling. Revel in the accomplishments of the band. Do not protectively posture yourself. This is not a job for the faint of heart and you must always recognize that your musicians are the life blood of your band. Every gig involves two sales: The sale of your band to the venue or host, and the much more important sale of the gig to your band mates. You must share respect and trust for your band mates. Even if you can pull it together in the short run, people who don't share this respect and trust are toxic whether they mean to be or not. If you don't honestly ask people what they want (to protect your ego) you will fail until you grow past that. You must reach out to the people that hire us. They are dealing with a frightening unfamiliar field that demands you earn their trust.
But above everything else: HAVE FUN.
__
Thank you to all of our amazing members for sharing a little bit more about themselves and for providing some helpful tips for other bands!