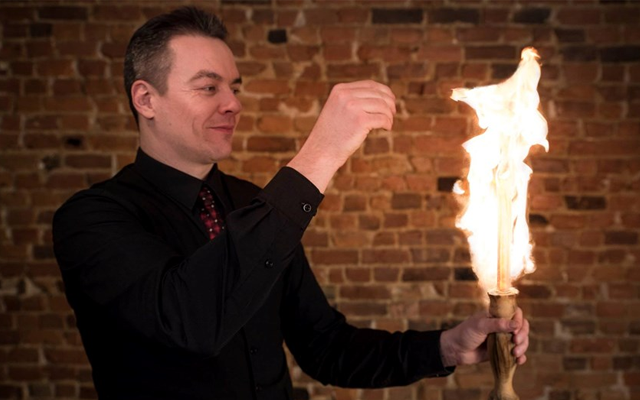 Congratulations to Crepmaster the Magician for being the top booked member of The Bash (formerly GigMasters) in August! Crepmaster secured 18 bookings last month, and has over 300 bookings total on The Bash.
We caught up with Crepmaster himself to learn how he got started as a magician and how he has been so successful.
How did you get started as a magician?
When I was 6 years old in Kindergarten, there was a black box with 3 doors. Nobody was playing with it. I discovered that from the back we could switch things from door to door without the person in front knowing. Actually it was a magic kit for kids. So I got others to put an object in one of the doors and then hit the door with the magic wand. From the back I was slowly making the switch. When they looked in the door where they put their object in, it disappeared! Opening the other doors, they found it moved!
I loved impressing others with that.
Then, when I was in third grade I saw
David Copperfield
on TV. I really started to be obsessed with magic. Some adults were teaching me magic tricks with cards and I was performing them to others. At 11 years old a friend and I discovered a magic store in Montreal, QB. We bought some stuff and started performing for kid's birthdays and classrooms at school (and getting paid for it!). So proud at this age!! However, when I got to high school, I stopped doing magic by fear of being judged by others.
About 9 years ago I started wondering why I wasn't performing magic for living. I eventually picked it up again and began practicing and performing. Today, I perform magic for kids, adults, teenagers and elderly people.
You have over 300 bookings on The Bash - What do you believe attributes to your success? What's unique about your magic and performances?
I'd say the main thing that sets me apart from others is my excellent communication and my ability to respond to ANY type of comment lightly and in an entertaining way. I LOVE people yelling "I KNOW HOW YOU'RE DOING IT!" or "IT'S EASY TO UNDERSTAND" and so on. I handle it in a light, friendly and very entertaining way.
Another thing that sets me apart is that I cover a very large area without a traveling fee. I've had some other magicians in the Quebec Province make comments about me performing almost for free. The secret that allows me to this is mentioned in my Crepmaster's News Bulletin #8. I perform in English, French and "Frenglish". Frenglish is a popular language in the Montreal area.
Do you have an event that you're really looking forward to performing at this year?
No, not a specific one. I really focus on the quantity of shows. As I learned from Grant Cardone (one of the sources that got me to be up there) one cannot reach quality without massive actions and quantity. But my favorite show to perform is my 60 min VIP show to a small group of adults. The routines are INSANE!
Do you (or your clients) have a favorite magic trick?
It's really different from one person to another but I'd say that most of the time, the last two routines of my 60 min VIP show are the best. But I have many many short & sweet effects in my walk around magic that often keeps people talking about it long after my performance.
Tell us about your experience with The Bash over the past 6 years:
A while after I started performing again, I was looking for a site to list on without having to pay a bunch of fees and would get me exposure to leads. I saw a The Bash add on Facebook. It addressed all my problems, including getting a website. Even today I don't have a personal website but am on many platforms that give me plenty of exposure. Even if I'm French I use The Bash as my main site. The text on my profile is in English and French so all people including the "Frenchies" can get it. I'm now the most reviewed Magician in Canada on The Bash AND on independent sites. I book everything through The Bash. It's an investment.
Clients Love Crepmaster!
"I had booked Crepmaster for a 70th Birthday party, and things could not have gone smoother from the beginning. He was very attentive and asked questions to ensure that everything would go well at the party. We thoroughly enjoyed his performance, as he made us laugh, dazzled us with all his tricks and left us all wondering how he had done them! Crepmaster is very friendly and was able to get our entire group participating in his performance. Would recommend Crepmaster for any type of event, as his tricks vary a lot and leaves you wanting for more. Thanks for a great event Crepmaster!"
- DANIEL B. | MONT-ROYAL, QC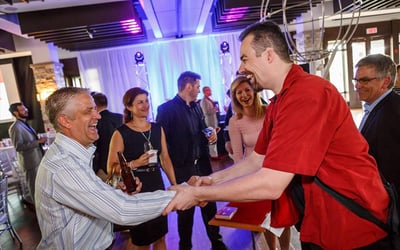 Congrats to Crepmaster the Magician and as he would say, may the magic be with you!