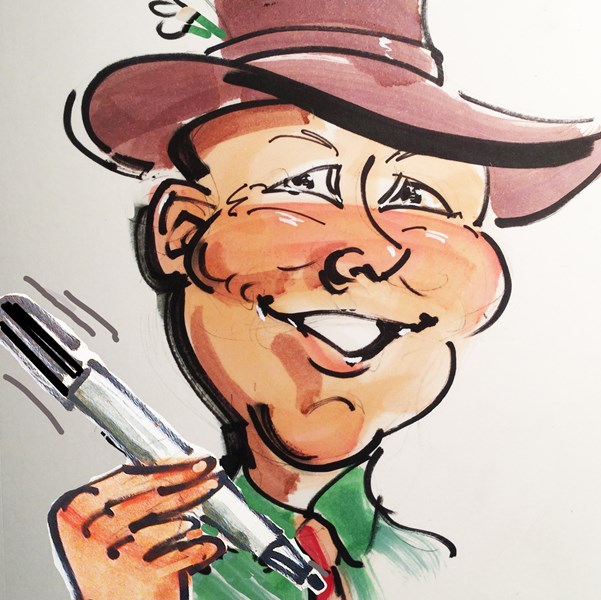 Meet David Delano, the top booked Caricaturist on The Bash in August! David joined The Bash in 2015 and has since raked in over 115 bookings! We caught up with David to learn more about him, including his unique experiences and education that have shaped his caricature techniques.
Tell us a little bit about yourself:
I was born in a nuclear laboratory on the side of a volcano (Los Alamos, New Mexico and the Valles Caldera)! From French-Huguenot stock by way of New England and New Mexico, I'm a prolific and many-faceted artist. As a young man I roamed The Great American West, driving old cars or motorcycles and often hitchhiking to discover the greatness of our country and its multivarious population; drawing caricatures in localities along the way both to improve my art and support my travels. Since adulthood, I have traveled extensively in Mexico, the Caribbean, and Europe, studying the art and especially caricature techniques of both New World and Old World masters. I learned some of my more sophisticated and esoteric techniques from simple yet generous Mexican peasants that paint and carve "Retablos" (indigenous religious art), Italian painters and carvers of religious and secular art, and from Arabic speaking artists that draw caricatures on the streets of Paris. My academic art education consists of a BA in Fine Arts (painting) from ArtCenter College of Design in Pasadena, California. I currently live in Vienna, Virginia and am married with two teenage sons. I draw caricatures in five states and Washington, DC.
What do you think makes your art stand out from others?
I think a combination of a lifetime's worth of experience and intensive classical training has given me the ability to seize the essence of the subject. I'm flexible, reliable, friendly and willing to draw anything that you can imagine in your wildest dreams, on the street or in the salon.
What has been one of your favorite events this year that you've worked and why?
The one that stands out in my memory is an African baby shower. The most impressive aspect was that preaching, singing and praise from the participants were continuous throughout the event! Also there were golden thrones on the dais for the prospective mother and father and sumptuous costumes, jewelry and hairstyles. I was quite impressed!
Tell us a fun fact about yourself that most people might not know about you!
I am a licensed pilot and used to have my own airplane. I am also a painter and easel artist, check out my work at delanoart.com.
What do you feel has been the key to getting booked on The Bash?
Just being listed and having a profile has gotten me lots of first class gigs! I'm sure the great customer reviews and the performance badges have also made a big difference in people's willingness to push the "Book Now" button!
What has your experience been like on The Bash?
I have had nothing but GREAT experiences with The Bash/GigMasters. They deal with changes, problems or concerns over the phone or through email quickly and efficiently. Excellent service!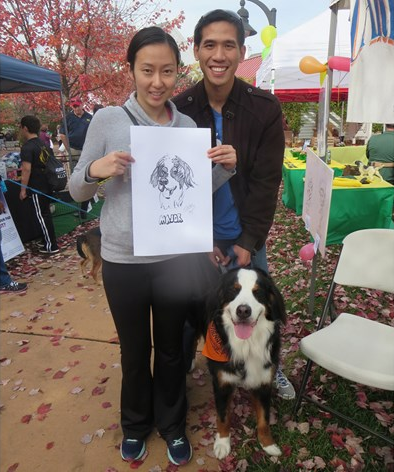 Clients Love David!
"David was terrific! An absolute joy to have at the party. Both adults and kids had a great time with him — and the caricatures themselves were fabulous! Professional, kind, lovely. We definitely recommend!"
- SARAH C. | WASHINGTON, DC