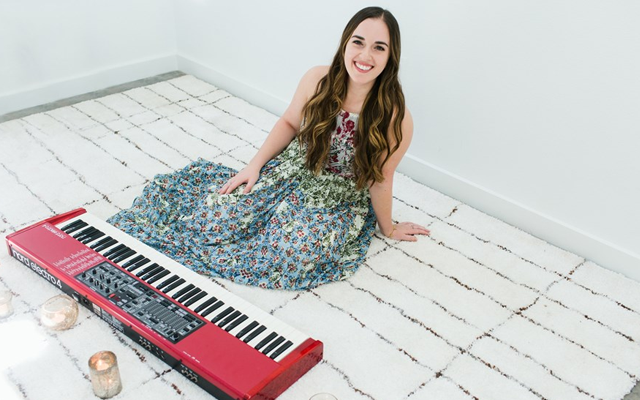 Mikaela Kahn is starting off the new year right with 7 bookings in the month of January alone! Mikaela is a singer from Austin, Texas. Her talent and contemporary style complements any event she performs at. Some professional highlights include singing with Grammy award winner Chrisette Michele and pop star Ben Folds. We caught up with Mikaela to get to know her a little better.
How did you get into singing?
I've been singing since before I can remember, always singing along to the radio and recordings my parents would play in the house. I was in choirs all throughout my childhood from the time I was 9 years old through 18 years old. Music has been a constant outlet and passion in my life and as I got older I knew I wanted to pursue music professionally. I went to the University of North Texas and got my Bachelor's degree in vocal jazz studies. I've been working professionally as a full-time freelance vocalist and pianist since about 2012 and I wouldn't have it any other way. I absolutely love the variety, excitement, and fulfillment my job brings. Getting to spread joy through music during people's special life moments (proposals, weddings, parties) always makes me so happy!
What types of events do you typically get hired to sing at?
I sing at lots of weddings and private parties. Mainly wedding ceremonies and cocktail hours, birthday parties, corporate events, and holiday gatherings. Every once and a while I get to sing for a surprise marriage proposal and those are super fun too!
Is there a particular style of music you prefer to preform?
I've always loved listening to and singing different styles of music. It's hard for me to pick a favorite, but I love singing soulful pop/r&b, romantic ballads, and Christmas jazz the most.
Do you have a favorite event you performed at?
I absolutely adore singing at weddings and anywhere that I get to witness that kind of love. One time, I was hired to surprise this man's wife at the airport as she came home from a trip. I asked the man if this was a special occasion and he said, "No, I saw her yesterday - it was only a day trip. I just wanted to do something special for her." I sang the song they had their first dance to at their wedding and he had a replica of her wedding bouquet made to give her as she stepped off the escalator. It was so sweet. I feel like I really get to see the best in people.
What piece of advice would you give to others who want to get more bookings?
My advice to anyone looking to get more bookings is to respond to requests as quickly as possible and try to build your reviews. Also, it never hurts to create a profile and website with professional pictures and great videos.
Clients love Mikaela!
"We absolutely were blown away by Mikaela's performance at our wedding! She has the voice of an angel that brought me to tears from the first song they played. She was so professional, accommodating and easy to work with, and we had numerous compliments on the music from all of our guests. She made our big day beyond special!"
- ALLISON K. I MANCHACA, TX