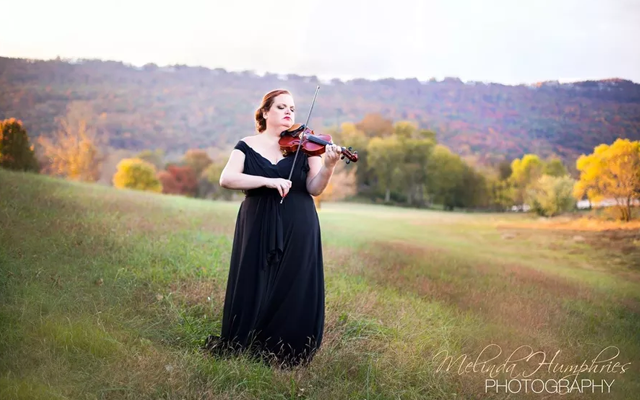 Meet Susie Shortt, the top booked Solo Musician on The Bash in December 2019. Susie joined The Bash over 11 years ago and has since raked in over 150 bookings! We caught up with Susie to learn more about what sets her apart from other musicians and makes her so successful.

Tell us a little about your company and how you got started as a fiddler:
My company began when I thought my life was over in the corporate world. I have always performed on the side for weddings, but when life threw me major curve balls, I took a large look at myself and didn't like who I was, so made a list of pros and cons. I got down on my knees and prayed to God. I am a hopeless romantic and always loved performing for weddings. So I took my 401K and made "Susie the Wedding Fiddler" happen. That was 10 years ago I took that leap of faith and I have been doing it full-time ever since. The inspiration for the name came from the Adam Sandler movie "The Wedding Singer."

I started playing at 4 years old. I was trained classically, but ever since I could remember I had the rock & roll fiddle bug. Between solos with youth orchestras, instead of practicing my part, I would be jamming with other musicians to Jimmi Hendrix, Earl Scruggs, and The Beatles. And during normal weekly lesson practice, I would put on vinyl or the radio and play along.
You have over 80 5-star reviews from past clients. What's your key to making clients happy?
I make every couple feel special. I pay attention to details from the initial quote, communication, and phone calls. I personalize each play list to their love story. I absolutely love hearing how the couples met and got engaged. Call me a hopeless romantic, I cry at every wedding I do. This is not a "gig" to me it's a gift from God and a passion. Most violinists stick with one genre, while I can play all genres of music which makes me more marketable. I just don't "play" the other genres, I perfect them as you would hear the original artist. I interpret them as my voice on the violin. I keep up with current trends and upcoming music, then create a "personalized play list" and make sure each song transitions to the next, it's a perfect blend.

What advice would you give to other performers for growing their booking numbers and business on The Bash?
We live in a digital age and you just don't stop after giving the client the initial quote. Follow up the quote by sending a text, email or phone call - it's important to engage with your clients. Don't just answer the quotes, follow up with the client, and always answer the quotes in a timely manner. Thank your clients for taking the time to speaking with you, show appreciation for their business. Make them feel special. Have reviews, audio and video available on your quotations. Lastly, always answer any of their questions professionally.
What's your favorite part about being a musician and working with couples on their big day?
Sometimes my clients book me 1 to 5 years in advance, so I keep in touch throughout the process. It's like Christmas to me when I see them, like seeing an old family friend! I get mixed emotions on the big day as I am sad it's over but the great thing is they always stay in contact with me and love it when I post pictures on social media of their special day. I always get to the venue early so I can personally spend a couple minutes with my client as we never actually meet face to face until day of so its like a mini-reunion. I explain who I am and I'm usually greeted with a huge smile and hug. I usually surprise my client with a gift on their special day and explain to them I'll be setting up and see them soon!
What do you attribute your success on The Bash to?
I have belonged to other wedding sites but what separates The Bash to the others is their customer service. They treat me like I want to be treated. I've been a member for 11 years, I feel like I am talking to an old friend whenever I have a problem or a question, they call me right back and the problem is solved. I never feel like a number as they always resolve my issues efficiently, professionally and always with a smile. This speaks volumes to me. I have also been a client, I've booked other musicians on The Bash when my clients wanted other musicians on my gig and my regular musicians were booked. I didn't hesitate one bit to hire a musician from the Bash.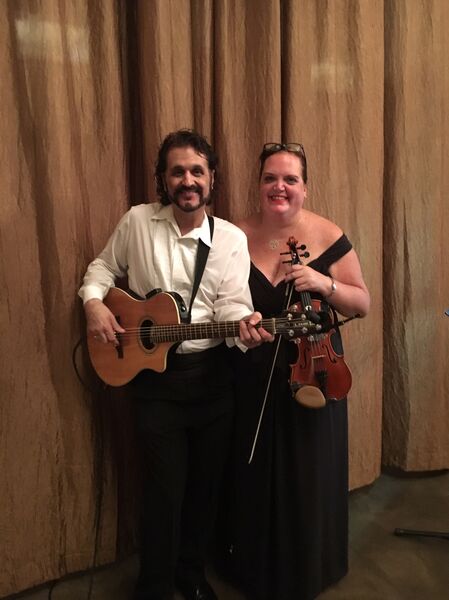 Clients Love Susie The Wedding Fiddler!
"Susie played for my daughter's wedding on Saturday and she is amazing! So blessed to have found her. Susie is so great to work with and is so talented, very professional and is very responsive. Highly recommend her to anyone looking for a musician not only for a wedding but any occasion. Thanks Susie for making Ashley & John's wedding day so special!!"
Kim G. | Opelika, AL