As the landscape of the events industry has changed over the last few months, we're seeing virtual and contactless events become more and more popular. Vendors on The Bash have adjusted the way they do business to cater to how party planners are celebrating right now.
We caught up with a few of our members to find out their secrets for performing at contactless gatherings and virtual events, and learn what recommendations they have for other vendors in the events industry during this time.

Happily Ever Laughter is known for offering children's entertainment that is one-of-a-kind, which is their trick to keeping children's attention the entire time they're playing with them! They've been at this for 14 years, and have played with over 650,000 children online and in-person. Here's what they had to say about performing both virtual and contactless events right now:

What are you doing currently to offer your services virtually or at a contactless gathering?
Families book our Fairytale Performers because of their ability to keep children engaged with interactive activities (and especially because it gives parents a chance to snag a much-deserved break)!
Our 'Online Playdates' have been extra popular because children get to see and play with their friends and family, even if they live thousands of miles away.
We're also having a blast now that the weather is warm because we get to play with children in person again. Now that lots of families have 'podded up' and started inviting us to their backyards, it's become more affordable for families.
Can you share some details about a recent virtual event?
Recently, one of our Performers said she was moved to tears during their Online Playdate. The little girl she was playing with had a dad who was on active duty, and had been having a hard time staying engaged on normal Zoom calls. Her mama thought booking us would be a good way to get her to open up on screen.
When her dad appeared during the playdate she was so happy, and he was so grateful to hear her truly laughing with him again.
What is your #1 tip for others performing virtually or for a contactless event?
Practice, practice, practice. Don't just jump in and think your original show will work online or socially distanced.

For example, it took the experience of doing online shows (we've done 500 in the last 4 months) to really help us learn how to switch up our in-person shows to be super interactive, even though we can't get close to one another. Ask friends and family (or past clients to help keep them connected to you) to do practice runs so you can take images and video clips. This helped us a ton!
What are you currently doing to focus on your business right now?



We jumped right into learning about loans, grants, and how to up our advertising to survive this.
Interestingly enough, very few entertainers are advertising right now, so the prices are pretty cheap, which allows a farther reach. One of our ads reached so far that we were picked to participate in a huge competition that the Harmon Brothers are running (they made those Squatty Potty ads with the unicorn). If we win, they'll produce a huge ad for us for free!
So, get out there and learn new things, it's a win-win.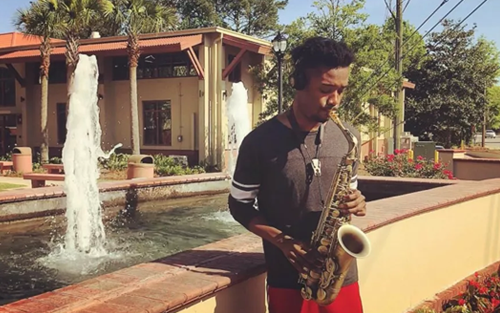 Quincy Chapman is a recent college graduate currently making his living as a freelance saxophonist based in the Atlanta area. Quincy has been playing saxophone for over 12 years. Here's how he's currently performing virtually:

What are you doing to offer your services virtually?
For my audio, I have two mics connected into a USB mixer that are used to capture the sounds of my instrument and then my accompaniment track source. I have the mixer connected into my MacBook Air. As for the video, I simply just set up my laptop into a position where the laptop's built-in webcam is in good position. This is really simple to set-up and makes accepting virtual gigs a breeze. My clients are always satisfied with my virtual services.
Can you share some details about your recent virtual event?
The most recent virtual event I had was a Zoom Happy Hour call. My client had arranged a Zoom call to connect her friends and family for an hour of drinks and good conversation. To start off the hour, I was hired to play a few songs for 15 minutes. What I love most about virtual events is that I no longer have to travel long distances to play short sets. This opens my business to many more opportunities that wouldn't be possible otherwise.
What is your #1 tip for others performing virtually?
Have fun! It may seem weird at first to feel like you're performing to a screen but as the performer, your energy is contagious. If you're having fun, your audience will have fun. If you feel awkward, your audience will feel awkward.
What are you currently doing to focus on your business right now?
Right now I am focused on keeping myself open to as many opportunities as possible. During this pandemic, I have been staying up to date with ways to keep myself safe when performing live. Although I've had to give up bar and club venues for safety, being able to perform virtual events definitely help supplement that lost income.

While Monica's profile on The Bash presents her as a Tarot reader, she is also an author and teacher focused on self-improvement, well-being, and healing. Monica works as a body-mind-spirit coach and is a Certified Rolfer. She has a scientific, artistic, and spiritual background and so her approach can be defined as transdisciplinary. Monica uses Tarot, Astrology and other tools to help people get in touch with their deepest resources and turn challenges into opportunities. Here's a look at how Monica is providing tarot card readings virtually right now:
What are you doing currently to offer your services virtually?
Right now I am offering sessions, classes and consultations online by using mostly Zoom, Skype, and Messenger, or any platform suitable for my clients. Most of the times, when I'm invited to a virtual party/event, the host sends me a Zoom link and so I can connect with the group and provide the reading for the participants, or for one of them. For birthday parties or bachelorette parties, they often ask me for a longer reading dedicated to the one who is celebrated and a short reading for the other participants.
Can you share some details about your recent virtual event?
The last virtual party in which I provided a reading for was a birthday. I was asked to give a 30-minute reading on Zoom to a lady for her birthday. I integrated the reading with some Astrology, and I also offered a mini-reading that was two minutes long to the 6 participants who organized her party. The budget was set for 30 minutes but I was happy to offer 15 minutes extra to the group for free. This is also my #1 tip or piece of advice; be generous. And if you have a cute cat who wants to participate in the meeting, let him/her do it (well, this is tip #2 but as you can see by looking at the picture, sometimes it happens and you cannot pretend that it is NOT happening). A bit of humor is also usually appreciated.
What are you currently doing to focus on your business right now?
Besides my work as an Astrologer and Tarot Reader, I am offering Zoom classes dedicated to women (posture, mind-body balance and self improvement) and working at online courses in order to keep working remotely as much as I can. I find that the more we keep ourselves open minded and flexible in order to find new resources, the more we can deal with the times we are going through finding and offering new solutions.

Randy is a full-time professional Magician from Philadelphia, PA who specializes in corporate and private events. Randy first became interested in magic while he was in graduate school. At that time magic was just a hobby, but somewhere between receiving his degree and working at a 9 to 5 at a major university, he decided to change careers and perform magic full time. Here's how Randy is performing virtually right now:
What are you doing to offer your services virtually?
Currently I have been offering clients virtual shows through various platforms such as Zoom, YouStream, and Facebook. In addition, I have been reaching out to people in my network informing them that I currently perform virtual shows. The majority of my virtual shows have come from word of mouth and referrals.
Can you share some details about your recent virtual event?
During a recent virtual performance, a woman fell out of her chair in amazement, after I read a card someone else 100 miles away selected, and appeared in her room at her home.
What is your #1 tip for others performing virtually?
Take time to learn about the technology to perform virtually. That includes lighting, video, and the various streaming platforms. It's not as intimidating as it sounds and YouTube is a great resource to learn about these topics.
What are you currently doing to focus on your business right now?
I am currently focusing on things such as my social media pages, marketing, and collaborating with other entertainers on a few projects.
_
Please comment below if you have any further advice or tips surrounding virtual or contactless events!