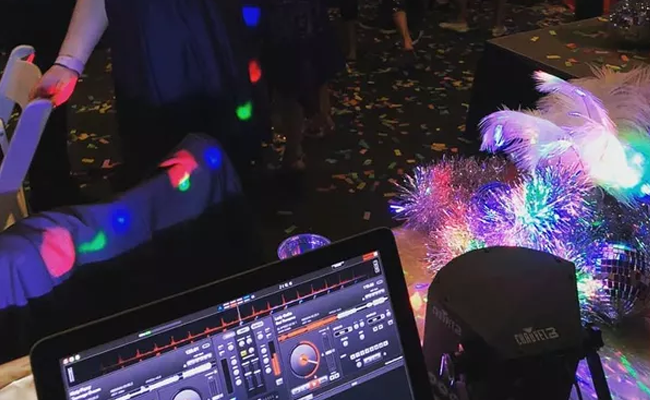 DJ Ben is a successful DJ and longtime member of The Bash who is available for all types of events—weddings, anniversaries, birthdays, and now virtual celebrations!
We caught up with DJ Ben (virtually of course) to see what advice he has for his fellow DJs and others hosting virtual events right now. Check out the video and some of his key tips for virtual events below.
Virtual Event Tips from DJ Ben
What technical tips do you have for hosting virtual events?
Camera: Using a good camera such as a C920 Pro HD that also has a good microphone is key.
Internet: It's important to make sure you have a fast connection. I just use a wireless internet connection, but make sure you shut off any other devices using internet so it doesn't slow down your connection during an event.
Computer: Macs are best, especially for DJs because they're made for broadcasting and streaming. For live streaming, I recommend using OBS.
What is key to a successful virtual event?
Sound is very important—make sure to soundcheck the event! Consider doing a free virtual event for your friends or even calling the client beforehand to make sure it sounds ok on their end. Also, record your practice session so you can see what it looks and sounds like, and then you can work on the necessary improvements from there.
Act and dress like it's any other event! Set up a backdrop (or virtual background), use lighting, and even consider using smoke machines. In terms of communicating with the client, talk to them in the same way you normally would. It's important to create the experience as you would for any other event.
What platforms are you using?
I use all types of platforms—it depends on what you're doing and what type of event it is. I've used Zoom and Instagram, for example. Zoom is great because you're able to see people and vibe off their energy to create the event.
What was the last virtual event you performed at?

I performed for the Virtual Beatles Fest at the end of March!

How are you working with your clients currently?
It's a really tough and heartbreaking time so I'm being extremely flexible right now with my clients. I enjoy making people feel good, which is always important as a DJ, but even more so right now. I try to create an escape for them and take their mind off of what's going on in the world currently.
How are you working on your business right now?
I plan to start a podcast and to start doing some live streaming. I love all types of music—I do it to have fun and make people feel good so I want to spread music around even more through my podcast. I'm also focusing a lot on social media, listening to music, catching up on different types of music, and just investigating what's out there to stay up on the latest.
Any additional advice that you have for others?
Just continue reading, learning, practicing, and talking to others who are doing this. This is all new to a lot of people, so there will of course be trial and error!


_
Clients Love DJ Ben!
"Fantastic! Top of the line in every respect. Ben is very professional and super easy to work with. Everyone had a lot of fun, danced & enjoyed the vibe!"
-Corporate Event Planner: Rick M. | NYC, NY
---
Find more tips on how to get DJ gigs, download our recent report.