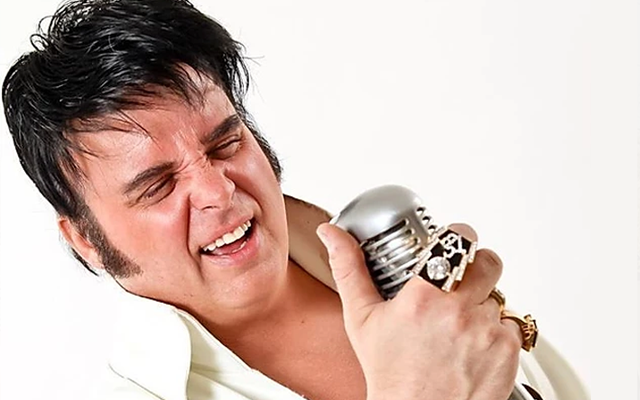 Mike Slater is an experienced Elvis Impersonator and successful member of The Bash who has invaluable experience hosting virtual events. Mike specializes in performing for birthday celebrations, anniversaries, retirement parties, and more!
We caught up with him to see what advice he has for other vendors who are performing virtually and what he's doing to focus on his business right now. Check out the video and some highlights below!
Virtual Event Tips from Mike Slater
What technical tips do you have for hosting virtual events?
Lighting: Consider purchasing a ring light to really help bring your virtual setup to life. These come with a stand, are easy to set up, and can focus light where it's needed. You can buy this off of Amazon—they're relatively inexpensive!
iPhone or iPad: I recommend using an iPad or iPhone. You don't necessarily need an external microphone for good sound. I prefer to use my iPad on a stand, along with a ring light behind it for the best setup possible.
FaceTime: FaceTime is a great platform to use for a virtual performance. I've found it is the easiest platform for party planners to use, especially if the demographic is older.
Background: Invest in your backdrop. This will make your performance look more professional and really take it to the next level!
What is key to a successful virtual event?
Practice: I recommend practicing, recording yourself performing, and watching it back. Be open to improvement and learning from each performance.
Test Your Equipment: Make sure your sound, lighting, and devices are working perfectly before the virtual event. Prior to jumping into the performance, confirm that everyone on the other end can hear and see you well.
Put Yourself In Their Shoes: Imagine yourself in the party planner's shoes and put on a performance that's worth it for them!
How are you working on your business right now?
Improving Overall Setup: I'm currently focusing on improving my background and overall setup. I'm also going through some of my items and selling them if I haven't used them in months.
Focusing on the Future: My goal is to work on my show now so that once this is over, I'm ready to start doing live performances that are better than ever!
Do you have any additional advice for others looking to perform virtually?
Use this extra time that we all have at home right now to be productive and do things you didn't previously have time for. Practice your performance, improve your setup, and get organized. Remember, when life lives you lemons, make lemonade!

Clients Love Mike Slater!
"Mike put on an incredible Elvis Tribute Show at the 'Care One at Lexington' last Friday! Mike was very engaging with the residents, and he looked and sounded just like The King! The residents loved the souvenirs that Mike passed out. Many of the residents were still talking about how much they loved the show throughout the rest of the day. I've already booked Mike multiple more times for the rest of the year. If you want an Elvis Impersonator who is close to the real 'King' then book Mike Slater!"
- Mark H. From Lexington, MA