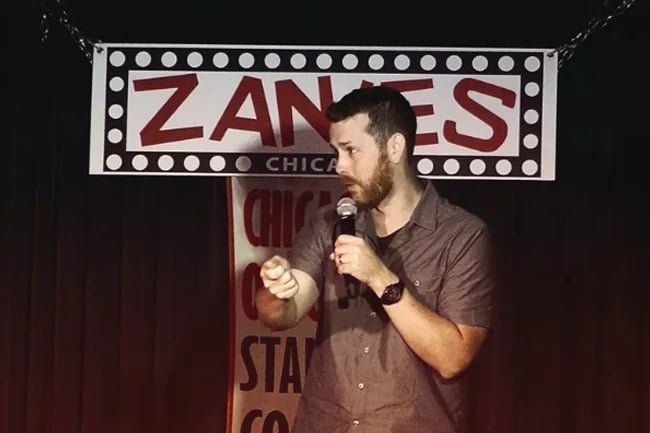 Mike Maxwell, a comedian from the Chicago area, has been performing at corporate functions, college and university events, comedy clubs, festivals, and benefit shows around the world for the past 15 years.
Mike not only has extensive experience performing in front of live audiences, but has also become a pro at virtual performances. We heard from Mike on how he's focusing on his business and what he's doing to execute successful virtual shows.
Here's What Comedian Mike Maxwell Is Doing to Perform Virtually
Tell us a little bit about yourself and how you got started as a comedian:
I'm a stand up comedian in the Chicago area and I've been performing comedy for about 15 years. I tour nationally and have been cast in various commercials and independent films over the past few years. I started comedy while attending Ripon College.
What are
you
doing currently to perform virtually?
Stand up comedy is best in person, but making the adjustment to virtual comedy shows was pretty easy. I have the event host set the platform invite and then join as a guest. Zoom shows allow for virtual backgrounds which are fun for personalizing the shows. I've done stand up on Zoom, GoToMeeting, MS Teams, and Google Meet.
What are you doing to focus on your business right now?
Each show I book has a heightened importance. I am even more focused on performing so well that I earn a good review and more importantly a referral. Some of the virtual shows I've done were for national or global companies so I have been booked repeatedly by a company for various offices across the country.
How do you prepare for a virtual performance to ensure it runs smoothly?
I found the room in my house that has the best lighting and WiFi connection. After a couple shows, I ended up buying a green screen and that has helped personalize the shows. Typically, I will write some opening jokes specific to the event no matter if it is virtual or an in-person show. Making sure the show starts off in a manner that is clearly unique to the group/company is another way I like to show appreciation for being booked for their comedy show.
Can you share some details about a recent virtual event?
In early October, one of the shows I booked from The Bash was for a startup in San Francisco. Being a 90's kid, I went with the Full House living room. The show was a lot of fun as that was my opening, again tailored to them. After some crowd work, I went into my set and we had one of my favorite virtual shows. I earned a 5 star review and great testimonial too!
What is your #1 tip or piece of advice for other comedians performing virtually right now?
Remember this is a comedy show, not a conference call. I've been part of shows where nearly the whole audience was muted and cameras off. I remind them it's a comedy show, we are all there to laugh—behind my green screen is a messy room too!
Do you have any equipment or technical recommendations for other vendors performing virtually right now?
Good internet is essential. I also like the green screen enhancement. I bought one online for about $25, it came with some clamps I use with a PVC frame I made from the hardware store. I try to keep the budget down on equipment until it's really necessary. Next up, I'll probably get one of the ring lights.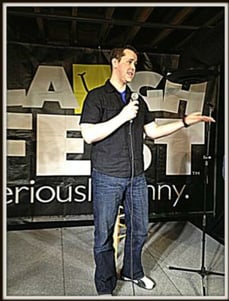 Clients Love Mike!
"Mike was awesome to work with! Our team really enjoyed our remote "Lunch & Comedy Hour" and it was great to hear and see all the laughing faces. Mike had great jokes, was engaging, and even called out a few of our employees which was a HUGE HIT with the team. I would absolutely recommend him! 10 out of 10!"
-Brittany R. From Redwood City, CA
-
Do you have advice surrounding virtual events you'd like to share? We want to hear! Comment below.