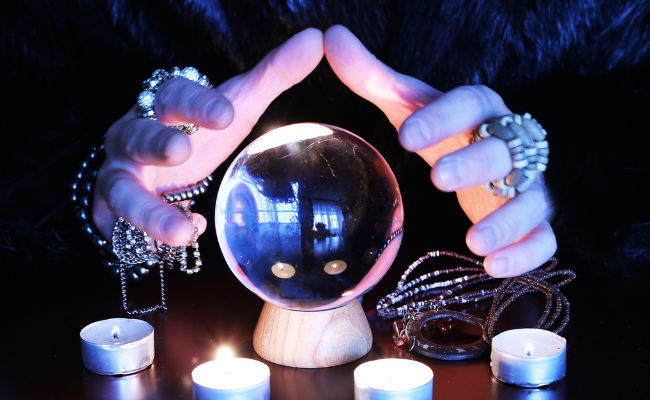 With holiday celebrations right around the corner, vendors like Fortune Tellers, Psychics, and Hypnotists are in high demand. Although these holiday events may look different than last year, vendors and party planners are still looking to celebrate safely.
We caught up with Fortune Teller Mystic Kathryn & Associates, Hypnotist Amye Scharlau, and Psychic Davida Rappaport to find out what they are doing to perform at virtual events right now and what advice they have for other performers during this time.
Hear From Top Vendors on How They're Performing Virtually
Mystic Kathryn & Associates started by offering handwriting analysis, which Kathryn studied for years. She then learned to perform Tarot Card readings and palm readings by working at state fairs and restaurants. Today, Kathryn has a team of many personalities and talents, offering a wide variety of readings for party planners to choose from.
Learn more about Kathryn and what she's doing to perform virtually right now below!
What is your favorite part about being a Fortune Teller and performing at events?
My favorite part of offering fortune telling at events is genuinely helping people and opening up skeptic minds to the possibilities of the metaphysical.
What are you doing currently to offer your service virtually?
I am LOVING the new virtual platforms. I've been offering virtual parties mostly through Zoom. We've done a few Gallery style (think John Edwards) and even more where each person gets a chance to go while the rest of their friends listen to the reading. When I offer Tarot Card readings, I have a second camera set up so people can see their cards while I offer the reading.
I have a great setup with a tree of life tapestry as my backdrop, surrounded by the Tibetan singing bowl, an Indian Chime, and my amazing incense. I make an elaborate table setup for in-person events, but I don't use my expensive stuff that I keep in my home meditation spot and I never light incense in someone else's space, so it's been really nice offering readings virtually in my own space.
Can you share some details about a recent virtual event?
I now have corporate clients contacting me about setting up one-on-ones within specific time frames. When this happens, each person signs up for a time slot and we admit them to the Zoom room when it is their turn so no one else gets to hear their reading. This is working out great! I also have lots of birthday parties and other types of events choosing to listen in to everyone's reading which is really fun as well! Here's a photo from one of the most recent virtual events I did: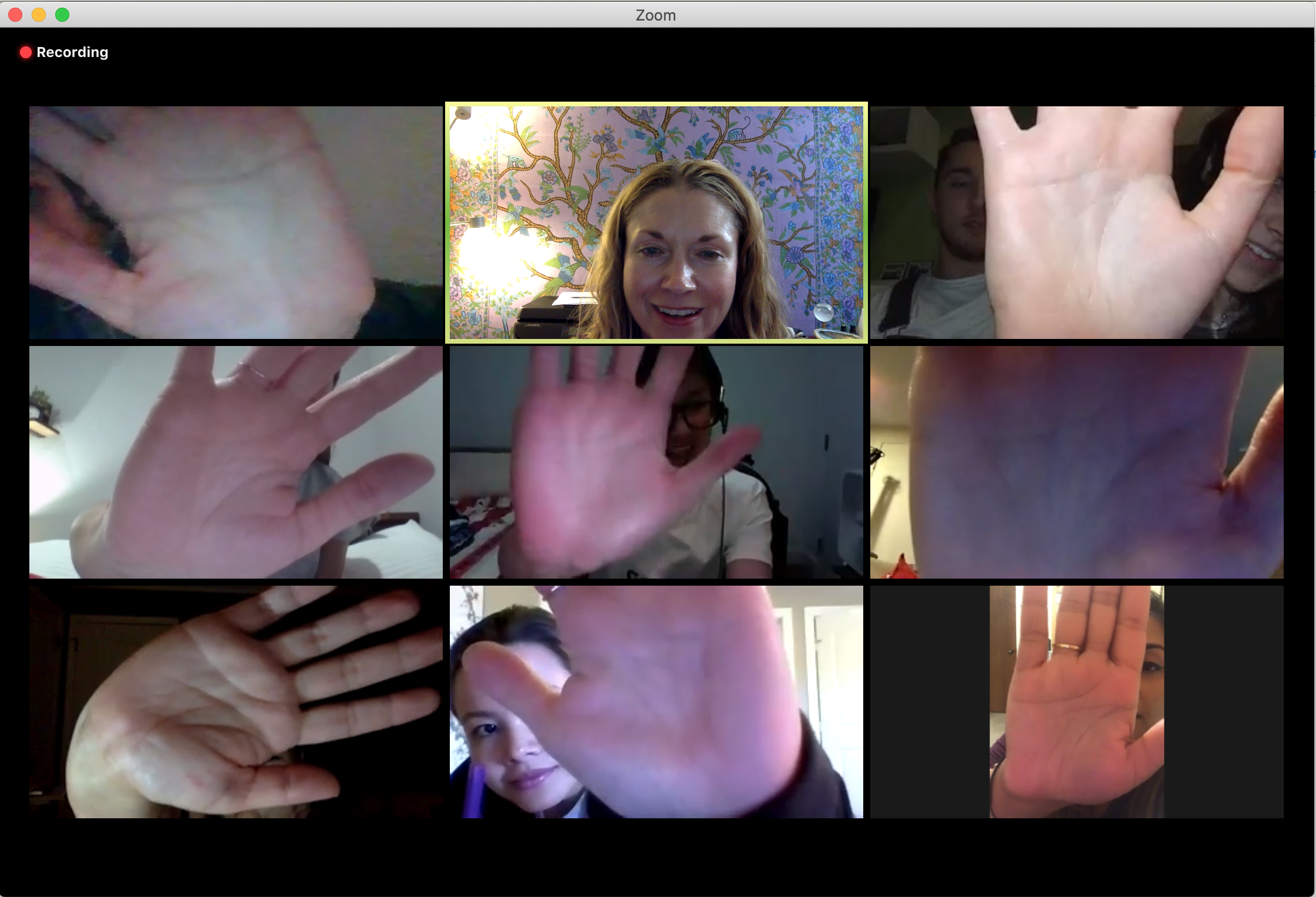 What is your #1 tip or piece of advice for others performing virtually right now?
My #1 tip is to pay attention to your setup! Invest some money in some decent lighting and make your setup something people will enjoy looking at visually. I recommend still getting dressed for your event, just like you're seeing them in person. My biggest challenge has been making sure I know what time zone each party is in as I've had clients all over, NY, Canada, CA and AZ, and even France, so making sure we are all on the same page about when we are meeting is crucial!
Meet Amye Scharlau, a successful Hypnotist from Minneapolis, MN! She is both a clinical and stage Hypnotist! Amye has certifications as an international speaker on hypnosis and is also a certified hypnosis instructor with two internationally recognized organizations, OMNI Hypnosis (the only ISO 9001 certified hypnosis program in the world) and the NGH (the largest professional association of hypnotists in the US).
Here's what Amye is doing to perform virtually and her tips for others!
What is your favorite part about being a Hypnotist and performing at events?
I bring my training, experience, exceptional interpersonal skills, and the joy of performing to every event I create, including interactive corporate motivational events to help create the community needed while people are working physically apart.
What are you doing currently to offer your service virtually?
COVID-19 has required me to design stage shows with social distancing which opened up a whole new way of looking at hypnosis shows. They are successful and VERY funny while still maintaining the highest standard of safety.
Can you share some details about a recent virtual event?
My character, Lady Amyelia, is the official hypnotist for both the Colorado and Pittsburgh Renaissance Festivals, and has now successfully transferred her skills to the virtual world! She has been reading palms and mystifying audiences with Tarot Card readings and even a live séance performed in an actual haunted Victorian home. Sometimes the residence spirits even make an appearance!
What is your #1 tip or piece of advice for others performing virtually right now?
Best advice for performers during our times of social distancing is to play to your strengths! People need joy, laughter, and meaning more than ever! I have been mesmerizing audiences from delightfully intimate social hours to full-scale corporate events using whatever platform the client prefers.
Meet Davida Rappaport, a Psychic from Los Angeles! Davida started playing with Tarot Cards and reading palms when she was a teenager and her father trained her to be a medium at age 18! She went to a dance one night and learned the DJ there was planning a Halloween party a few weeks later, so she said, "You are having a Halloween Party next week. I read Tarot Cards. Why don't you hire me?" He did and she instantly thought it was fun and a great way to make extra money working parties. Over time it became her passion, and now she's been a psychic for over 20 years!
Learn more from Davida on why she loves being a Psychic and her advice for others performing virtually.
What is your favorite part about being a Psychic and performing at events?
I love the energy of an event. To be able to spend a few minutes with someone and tell them about their life and the possibilities that await them is such a gift, for them and for me.
What are you doing currently to offer your service virtually?
I mostly stick to Tarot Cards as it's easier to do virtually and keeps things moving along very quickly. I am always conscious of time so I don't take advantage of the client. As far as platforms, Zoom works well for me, however I am open to using other platforms. Like all events, communication with party planners is very important.
Can you share some details about a recent virtual event?
My most recent virtual event through The Bash was a birthday party where people celebrated from several locations, Utah, Hawaii, California and Italy. All attendees were fun and very appreciative of their readings. With the virtual readings I performed for this event, all attendees were present so there were no secrets and all information was shared.
What is your #1 tip or piece of advice for others performing virtually right now?
My #1 piece of advice for others performing virtually is to make sure you know exactly how many guests will want to use your services at an event, whether you are doing caricatures, readings, or some other type of interactive entertainment. If the host decides to extend your time and has prepaid, you may not get your overtime pay. I recommend being very clear about payment for extra time and how it will be handled upfront. If they love you and promise to leave you a review, like regular events, they will forget, even if you send one gentle reminder.

--

Are you interested in finding more tips and advice for navigating events during this time? Download our full report.