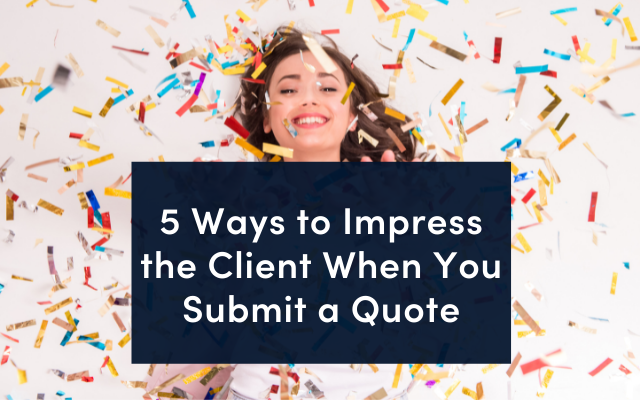 You never get a second chance to make a first impression so when you receive a booking request from a client, a friendly (and fast!) reply is your best opportunity to stand out. Here are 5 tips to keep in mind when you're submitting your next quote.
5 Ways to Impress a Client When You Submit a Quote
1. Take it personally
When responding to a client's request for quote, start it off by using the client's first name. It's also always good to mention something specific about their event such as "Thank you for the opportunity to perform at your anniversary party." The more detailed and personal you tailor your response to their specific request, the more likely the client is to hire you!
2. Express yourself
Keep in mind, the client will likely be getting a handful of replies from different vendors. So, it's good to remind them in your quote who you are and why you stand out...even if you have to copy and paste it directly from your profile description!
3. Don't be shy
It's OK to brag about your past events, experience, and accolades! Make sure to highlight your accomplishments and most notable gigs as this will help you stand out from other vendors.
4. Offer package deals
It's always good to give the client options, in case they have a low budget (or a high one!). You may want to offer a few different package options that the client can choose from based on their budget. We know pricing is a TOUCHY SUBJECT, as our members have voiced in the past, so we'll leave this one up to you!
5. Create saved responses
To save time, we recommend setting up "saved responses." You can write alternative versions to quickly reply to different types of client requests. Before you reply, you can always edit these saved responses to create that personal touch that speaks directly to the client.
For more tips on responding to clients, download our "How to Respond Like a Pro" checklist.
_
If you're a party or event professional looking to get booked for more events, join The Bash today!