The Bash (formerly GigMasters) team is excited to announce our Best of 2015 award features our top entertainers and event professionals of the year. This prestigious award goes to members of The Bash who received 4 or more client reviews (of 4 stars or higher) in 2015. We're recognizing talented event professionals who went above and beyond to satisfy their clients last year. Four reviews was just the minimum - most of our winners flew past that earlier in the year. Congrats to all of the winners!
We have notified all members and distributed the award image to their profile pages. For example, here's how the Best of 2015 looks on Anders Hyatt's profile. As one of the busiest guitarists in Philadelphia, he received 29 outstanding reviews last year alone.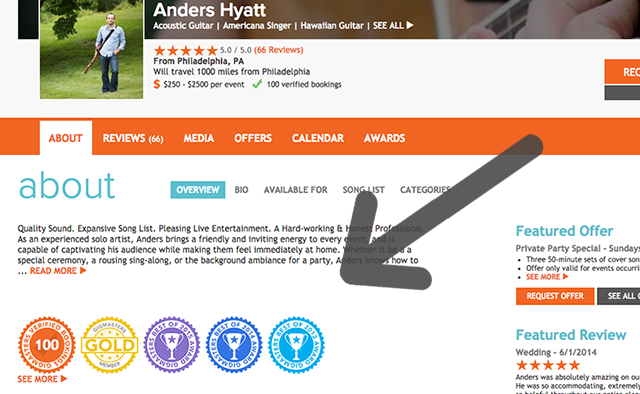 If you didn't recieve the award and you have pending reviews or bookings from 2015 please login to your Member Control Panel to confirm gigs or contact past clients. If you need help, feel free to contact us at info@thebash.com.
How to Earn the Award Next Year
First of all, keep up the good work and make sure that you confirm your bookings with The Bash. This way your clients can leave you a verified review after the event. If you earn 4 or more reviews (with a 4 star average rating) throughout the year, you'll receive the Best of 2016 award next January.
Give an Acceptance Speech!
We'd love to hear your thoughts on your experience as a member of The Bash. Please comment below...