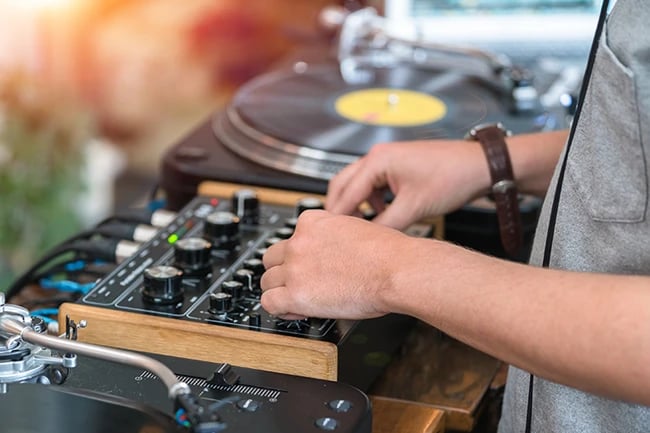 We surveyed some of our top booked DJs to learn their tips on how to get DJ gigs. Take a look at some of the findings below, including best practices for following up, advice for getting corporate bookings, and more!
Tips on How To Get DJ Gigs From the Top Booked DJs
We asked the top booked DJs on The Bash, most of them having over 20 years of experience, what their #1 tip for getting hired is. Here's what they said:
Respond quickly: 36% said responding quickly to the booking request is key to securing the booking.

Follow up immediately: 23% said whether it's a call, text, or email, following up after your initial quote is key to getting hired.

The rest of the respondents said that price point, your response to the party planner, and having photos/videos available are all equally important.
Best Practices For Responding and Following Up
How you respond and follow up with planners is key to securing the booking. Here are some best practices for following up:
How quickly should you follow up? Over 86% of our top booked DJs said following up within 24 hours is key.

What follow-up technique is most effective? Over 54% agreed that giving the planner a phone call is the most effective way to follow up on your initial quote.

How to ensure the fastest response time? 64% of DJs recommend opting into our text alerts feature.

Do you meet with the planner before getting booked? 73% said they meet up with the potential client before getting booked.

How many times should you communicate with the client before the event? Over 45% said they communicate with their client more than 5 times before the actual event.
Advice For Booking Corporate Gigs as a DJ
We asked our top booked DJs to share their #1 tip for securing the most corporate bookings. Here's what they said:
Offer contracts and accept credit card payments.

Respond quickly and make sure you're following up with phone calls.

Make sure you're promoting your business effectively.

Word of mouth and referrals are key for corporate gigs.

Always be professional, responsive, and flexible. Present your best foot forward and be able to show your work.

Always ask an easy-to-answer question at the end of your initial response

to get the conversation going.

Maintain a rapport with past corporate execs/contacts.
Tips For New DJs on The Bash
We asked DJs what advice they'd give to those who are new members on The Bash. Here are some of their top answers:
Create a great profile—post pictures, videos and really personalize it!

Getting a good highlight video is priority #1. Take videos from your phone, mix them together on iMovie, and export it to YouTube.

Follow up with the client and be responsive. Call as soon as you get the lead!

Respond quickly and clearly outline your pricing in your response. Don't price yourself too low.

Play whenever and wherever until you've established yourself on the site.

Start locally. Build your business. Do a little more than asked, like an extra 30 minutes without charge. Your referrals will be your long-term business.

Stay with it. It takes time to build your business. Don't sweat it if you don't book every gig.
Virtual Event Tips & Trends for DJs
We asked DJs about performing virtually during the pandemic and what they've learned throughout the process. Here are the top findings:
MOST POPULAR VIRTUAL PLATFORMS FOR DJs
Zoom

Instagram Live

Facebook Live
MOST POPULAR VIRTUAL EVENT TYPES DJS GET BOOKED FOR
Birthdays

Corporate Events

Other Private Parties (Anniversaries, Happy Hours, Engagement Parties)
TOP TIPS FOR VIRTUAL PERFORMANCES
Have everything set up correctly, including a strong internet connection, proper video equipment, good audio, good background, and an efficient platform.

Use a streaming app that is compatible with your system, has a server that won't crash or kick you off midstream, and doesn't cut the bass out of your sound.

Interact and respond to viewers during the event.
—