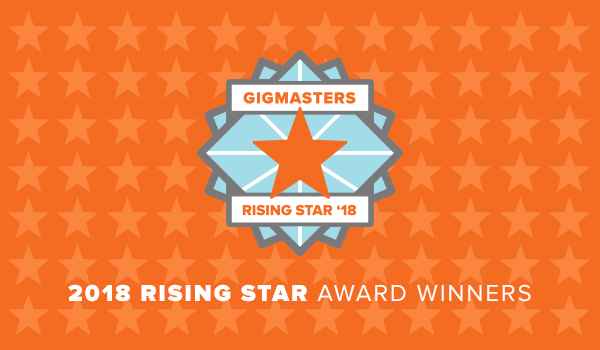 We are thrilled to announce the GigMasters' Rising Star Award winners for 2018! The Rising Star Award goes to GigMasters members who have earned the most booking dollars in their primary category in 2018.
All winning members have been notified via email and the badge has been added to their profiles. You can view the full list of the 2018 winners here.
How to Win in 2019
Keep up the good work! Here are a few tips to help for next year:
Verify your bookings. Make sure you're getting credit for every booking dollar you've earned by confirming your bookings on GigMasters.
Enroll in GigPay. Did you know that 80% of all GigMasters events are booked by members enrolled in GigPay? Make it easier for clients to book you by enrolling in online payments.
Collect Reviews. With confirmed bookings, clients can leave positive reviews for your services. Positive reviews lead to more bookings! Remember, you have the ability to send a single 'review request' to the client for a confirmed booking through your Leads tab.
Share the News
The Rising Star Award is a highly sought-after award that honors a very select group of members. Make sure you shout it from the rooftops (or from your social media pages). Use the hashtag #GMRisingStar2018 and don't forget to tag us! We've even drafted a post for you to use:
I'm thrilled to be named a winner of the 2018 GigMasters Rising Star Award! I was the Top [category you won for] on GigMasters in 2018. Check it out on my GigMasters profile [include link to your profile]. #GMRisingStar2018
Want to embed badge on your personal website? It's easy - learn more here.
Our Thanks
Our members' success is our success so we want to say a special thank you for an amazing 2018 - booking dollars grew to over $26 million last year. Congrats to those who earned the award this year and cheers to a successful 2019!
We'd love hear more about your success last year! Sound off in the comment section below!