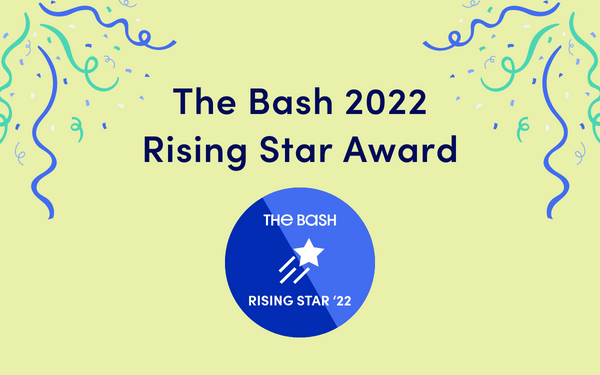 We are excited to announce the winners of The Bash's 2022 Rising Star Award!
The members who earned the most booking dollars in their primary category in 2022 have been awarded the badge on their profile and notified via email today. Check out this year's Rising Star Award recipients.
About The Rising Star Award
The Bash's Rising Star Award is a highly sought-after and prestigious award that is given annually to members who have earned the most revenue from bookings on The Bash. While celebrations returned to pre-pandemic levels in 2022, we know that it was still a challenging year for many, and we want to extend extra congratulations to all winners!
Share the News!
If you are one of the recipients, make sure to share this exciting accomplishment on your social media pages and even on your personal website.
Share it on social media. Post the news of your award on your social page, tag us @thebash, and use the hashtag #TheBashRisingStar2022. We also created resized and high-resolution versions of the Rising Star Award image for Facebook and Instagram that you can use.

Add the badge to your personal website. Don't forget, you can embed any badge or award you receive like this one to your personal profile. Learn more here.
How to Win in 2023
Want to win in 2023? Here are a few tips to keep in mind:
Follow up: We always recommend quickly following up with party planners after you send over your initial quote. Sending an email or giving the planner a call to follow up on your quote will go a long way and help you secure more bookings in 2023.

Confirm your bookings. Make your booking dollars count by confirming your bookings on The Bash. The more booking dollars you earn, the higher you'll rank in search results, which will increase your chances of winning the Rising Star Award next year.

Enroll in EventPay. Did you know that 80% of all The Bash events are booked by members enrolled in EventPay? Make it easier for planners to book you by enrolling in online payments.

Collect Reviews. With confirmed bookings on The Bash, your clients can leave reviews for your services. Positive reviews communicate trust, satisfaction, and lead to future bookings!
Thank YOU!
We want to thank our dedicated members who have continued to remain flexible, resilient, and motivated. In 2022 requests and bookings on The Bash returned to pre-pandemic levels, and we are looking forward to thousands of more celebrations in 2023!
As a reminder, our team is always here to assist you throughout your membership. Don't hesitate to contact us.