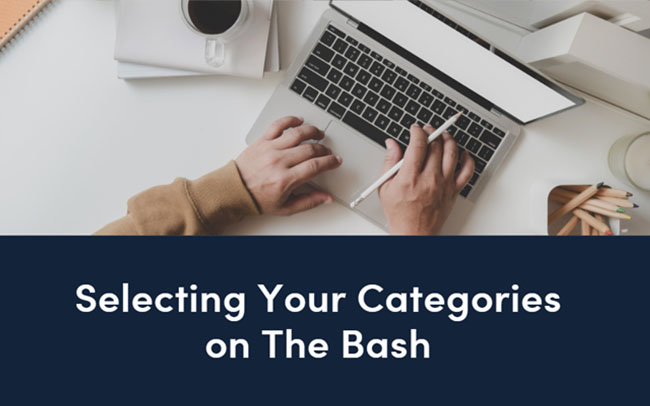 One of the first things you will do when you set up a membership with The Bash is select your categories. Your category selection determines how clients will find you on our site and will directly affect the quality of the leads you receive.
Below you can find all you need to know about making the best category selections for your business.
Follow these easy steps t
o view and select your categories:
Log into your Control Panel.

Go to the 'Profile' tab.

Click the 'Edit' button for 'Category Options'.

Select your service type, primary category, and secondary categories.

Click the 'Save' button at the bottom of the page to save your changes.
---
When you log in to modify your categories, you'll see you have the ability to adjust your service, primary category, and other secondary categories. Here's what each of those selections mean and tips for choosing the best ones for your business.
Service Type
It is important to know that the category options available to you are based on your choice of Service Type. Please see below for a list of the Service Types offered by The Bash and make sure to choose one that fits your business best.
Band

DJ

Ensemble

Event Planning

Event Staffing

Transportation

Tribute/Impersonator

Party Vendor

Personal Style

Photographer/Videographer

Speaker/Comedian

Solo Musician

Variety Entertainer
Primary Category
Once you select your Service Type (first drop-down box) you then select your Primary Category (second drop-down box). Your Primary Category is the number one way that clients will find you on The Bash. Selecting a popular category is recommended as your primary, however, top-level terms are not suitable for everyone. If you offer a unique act or provide a specific service, you'll want to choose those categories.
Secondary Categories
Next, it's time to select your secondary categories—this is where you can get specific. Depending on your membership type, you'll get to choose a certain number of secondary categories for your business. First off, it is important to know what not to do. You should not select categories that do not apply to you. If you select categories that you do not provide services for, many of the leads that you receive will not be right for you and you will miss out on those leads that would actually be a good fit. Selecting the most relevant categories will allow you to receive the most appropriate, quality leads.
You can edit your categories at any time! So, for example, if you're in a competitive location, you may want to experiment with choosing a more specific category.
We Can Help You Choose Your Categories!
If you're not sure which categories are best for your business, give our Account Services team a call at 866-342-9794. They can help you determine the best category selections for your business and location based on client demand.